The following post is part of a series in partnership with Adobe. 
This is the third post in our three-part series that follows artist Brian Yap as he redesigns a classic book cover. If you haven't followed along, I suggest you go back and check out Part 1 and Part 2—there's a lot of meaty information, including useful tips from Brian's experience using Adobe's Creative Cloud mobile and desktop apps. His reinterpretation of The Hunchback of Notre Dame by Victor Hugo is part of a crowdsourcing project called Rock, Paper, Books. In this last post, Brian shares the finishing touches and how he seamlessly works between his iPad and laptop to make it all come together:
Now that the illustration is closer to complete, it's time to export the file I've been working on with Illustrator Draw to Adobe Illustrator CC on my desktop computer. I like to use some of the more precise tools in Illustrator to create the book cover's type treatment and frame design. When I tap Send to Illustrator from Draw, the file is literally sent to Illustrator. All of the layers translate, making it easy to quickly play with color options beyond what you explored in your original.
The lettering sketch that I did on the iPad in Photoshop Sketch is placed in Illustrator as a guide for creating the title.
I have piles of color themes created and saved in my Creative Cloud Libraries so it usually pretty easy to just start generating different color explorations until I land on something I like and feels right for the piece. This is part of my ongoing battle with finding the right color combinations, so I always depend on options and getting feedback from fellow designers.
I drew the type in Photoshop Sketch, but for really classic letter forms in that early advertising ephemera style, I love working in Illustrator. Typically I trace with the pen tool over my sketch, but within that process there is a lot of shape duplications and alignments that really clean up my concept fast.
Here is a quick time lapse of the process that also includes some of the lettering effects I create:
And the finished cover!
I've been working this way, in some form or another, for the past few years and have gotten to see the technology grow along with the community around it. As more artists get involved in working this way, more exploration will take them in directions never imagined before, even by the people who created the software.
Here are a few of my favorite recent pieces I've done that demonstrate the endless possibilities (and fun!) these apps can be: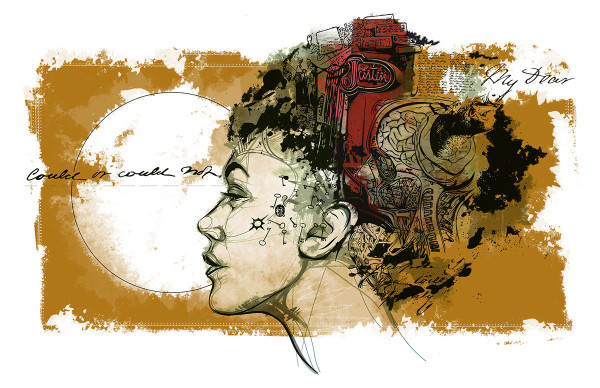 A personal experiment integrating more of the shape captures I took at a flea market, blended with a more textural illustration. This entire piece was made using Adobe Capture CC, Draw, and Photoshop CC.
This is an illustration done for the Bully Project and was completely executed on the iPad in Illustrator Draw—type and all.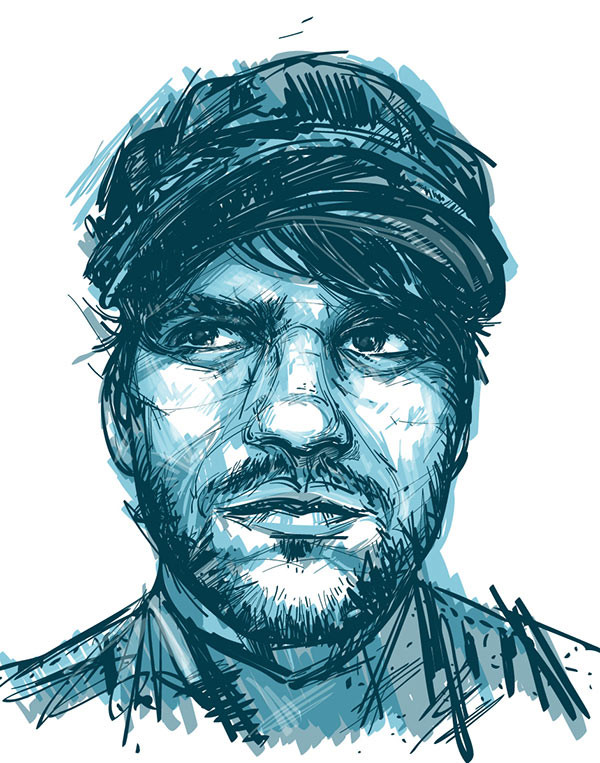 Here, I played with a looser style using Capture and Draw.
I started working as an artist in a very transitional time, but something that has stuck with me along the way is the idea that the tools I use are just an extension of myself and never control the outcome that's in my head. If I was drawing with a twig and mud, I would still be working toward the same result. I might never get there, but that vision never changes.
With any new tool, it usually takes some time to learn how to recreate my style. However, with the iPad, it was a natural fit, and lead me to take a second look at my process and push the boundaries of what's possible.
I also love being part of this new creative community. There are other artists working with the same tools doing wildly different things.
For example, Rob Generette, has been a vector drawing compadre from the beginning. He has a great style and approach he takes with Adobe's mobile apps like Draw and Capture.
You can see more of his work here.
Jenean Morrison is someone whose work I love—it constantly surprises me. Her illustration has an incredible textile and pattern approach and she uses Draw, Sketch and Capture.
You can see more of her work here.
Caroline Blanchet takes the loose style I wish I could capture to a whole new level in Draw.
See a ton more of her beautiful work here.
Follow me on Behance for more tutorials and examples of working this way and Twitter @briankyap where I hope to share more and more other artists working in new ways.
See Adobe's full family of mobile apps.

Design From Around The Web