The following post is brought to you by MINUS-8. Our partners are hand-picked by the Design Milk team because they represent the best in design.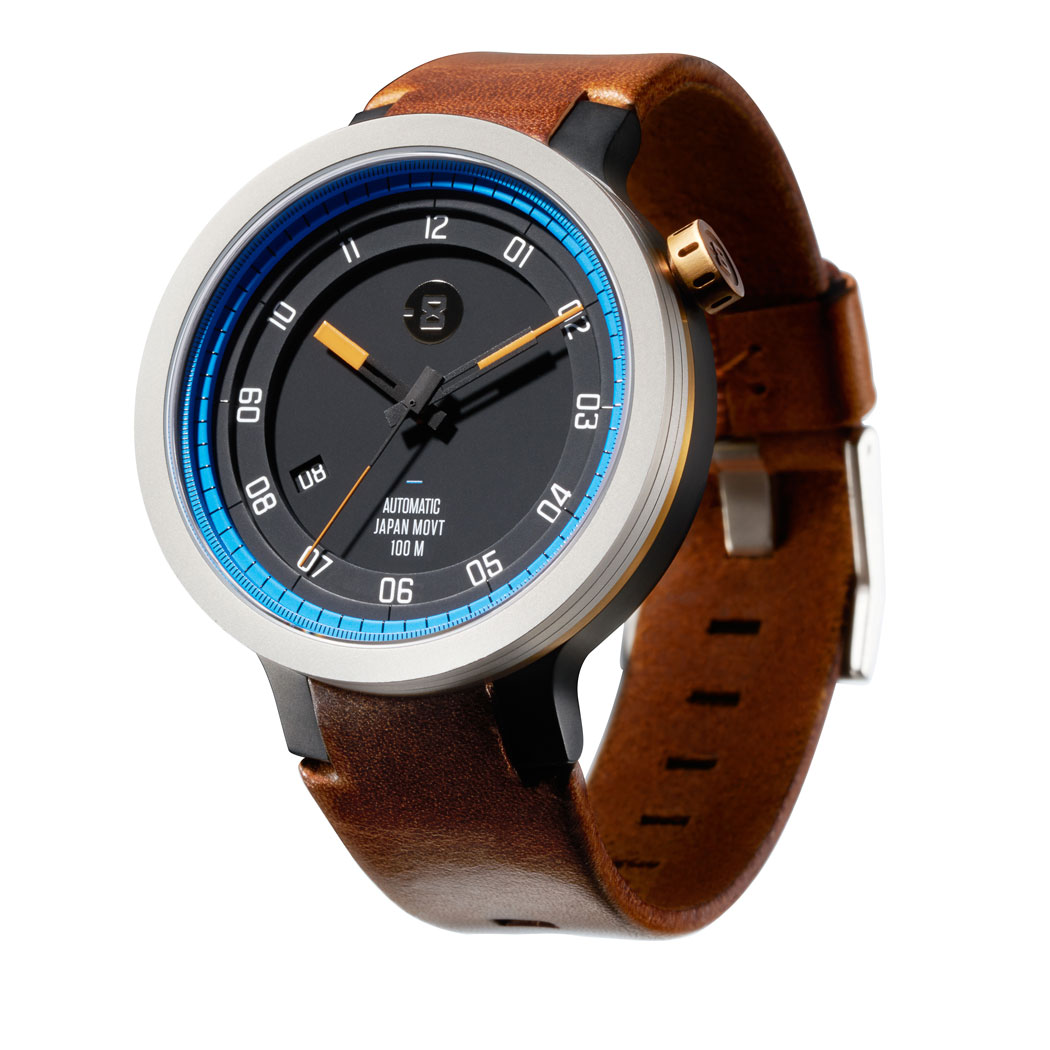 San Francisco-based watch brand, MINUS-8, has been working to put a new spin on classic watch designs for the past two years. The design vision for the company, whose name is reference to the West Coast time zone, GMT-8, comes from Astro Studios, the industrial design firm behind the XBox 360 and the Nike Fuel band. In fact, MINUS-8 actually began as a passion project by one of Astro Studio's industrial design directors. Usually, Astro works as a industrial design and consulting studio, bringing design muscle to heavy-hitting brands. In this case, MINUS-8 is really an extension of Astro's creative thinking and design philosophy. We tracked down David Whetstone, Art Director at Astro Studios, to talk about the brand's latest project, Layer Leather, a design that puts an industrial, futuristic spin on their flagship watch's silhouette.
MINUS-8 has been a true labor of love for Astro, as it sprang from the vision of a single industrial designer who saw an opportunity to do something different. David explained that, "when concepts start from a singular voice, the vision is most often more pure. It then becomes that person's job to communicate their vision to collaborators." To ensure that the vision remain focused, the MINUS-8 design team has been kept intentionally small. The team is growing organically and each season they work to refine their creative thinking and direction.
The case construction for the recently released Layer Leather took over a year to build. David explained that although most watches are traditionally built with a case, caseback, and bezel, the Layer has four individual layers in place of the bezel. When it came to choosing finishes, the layers gave the design team color and material flexibility. "We can finish each layer in a matte black, transition from matte to gloss, or integrate interesting color stripes within the layer as we've done here with the singular stripe of bronze," explained David. But with that flexibility came increased manufacturing complexity—particularly in terms of waterproofing. So the design team had to work hand-in-hand with the factory to to ensure all tolerances were tight and the watch is still water resistant up to 100M.
This was inspired by the layer-by-layer construction found in the machines that Astro studio is often found working with.
Like most design firms, Astro is constantly utilizing tools like 3D printers, CNC machines, and laser cutters to help express their design vision. "We're so inspired by the precision these machines can achieve. With each watch in our line, we look to create gestures that communicate an obsession for how parts work with one another," David said. "We then zoom in to achieve micro detailing that is evident in the form of laser etching, paint fills, and type placement." It's really amazing what machines can achieve, and MINUS-8 thrives on those capabilities.
That sense of curiosity and wonder is critical to the Astro philosophy of looking for inspiration everywhere. And that inspiration drives what's next for the brand. "Recently, an Astro team member was inspired to see our MINUS-8 take on the field watch, so that's what we're working on now," said David.

Design From Around The Web