10. A Long Overdue Documentary about Dieter Rams
After over 50 years in the business, the legendary Dieter Rams will have a feature documentary made about his life and work by Gary Hustwit.
9. Where Math and Nature Meet Art: Katy Ann Gilmore
LA artist draws intricate geometric landscapes that feel suspended in space.
8. 100 Days, 100 Illustrations by Estudio Extramuros
What happens when an architecture studio decides to dedicate 100 days to creating an illustration per day? Incredible architecture-inspired works of art.
7. Refik Anadol's "Infinity Room" Expands Perception
Artist Refik Anadol uses projection mapping and mirrors to blur the lines between factual and fictional, physical and virtual in his Infinity Room.
6. The Print-Focused Textiles of Cassie Byrnes
Textile designer Cassie Byrnes creates colorful, abstract patterns that she applies to collections of housewares, screen printed artwork, and clothing.
5. A Scratch-Off Chart of Novels to Keep Track as You Read Them
Pop Chart Lab unveiled their latest print and while being a cool piece of art for the wall, it also doubles as a place to keep track of the books you read.
4. You've Never Seen Graffiti Quite Like This
Artist Javier de Riba creates bold, graphic, tiled, mosaic-like floors in abandoned buildings everywhere using just a roller and paint.
3. A Life-Sized Caravan Made From 215,158 LEGO Bricks
What happens when you have 215,158 LEGO bricks, 1000 hours, and a team of 12 people? A life-sized caravan gets built looking just like the real thing.
2. An Old Church Becomes a Colorful Skateboarder's Heaven
What happens when you hand over a 100-year old church to an artist and give them free rein? A colorful indoor skate park, named La Iglesia Skate is born.
And the #1 most popular Art post of 2016 is…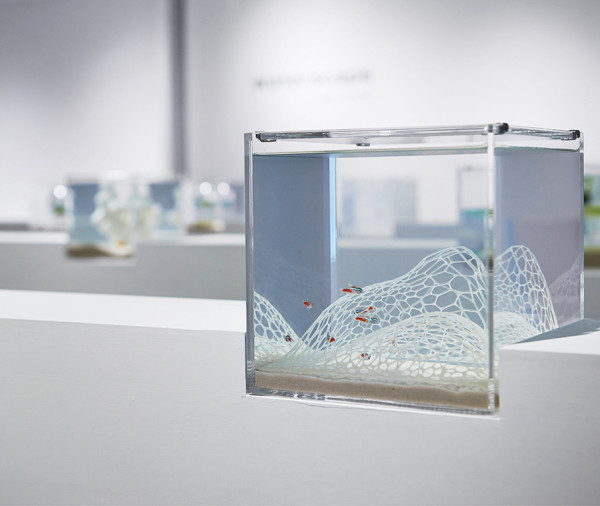 1. Haruka Misawa's Enchanting 3D Printed Waterscape Aquariums
An extraordinary gallery of underwater realms created with 3D printing and the creative compositions of Nendo and Muji alum, Haruka Misawa.