We've already seen the magic that Spanish creative agency Masquespacio can do – hello, remember Doctor Manzana?! Well, their latest project is the branding and interior design for Kessalao, a to-go Mediterranean restaurant in Bonn, Germany. They began with the name of the brand, Kessalao, which is a play on words in both German ("Kess") and Spanish ("Salao"), which roughly translates to "cool" and "amusing boy". A capital "S" helps distinguish both of these words, and taking inspiration from olive oil (main ingredient in Mediterranean food), they combined the letter with drops of oil coming off of it.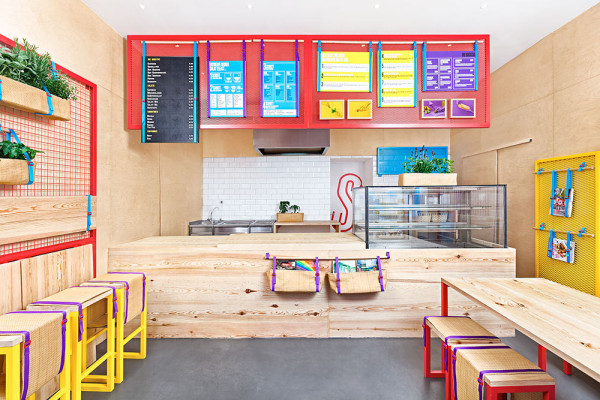 The colorful interior is set off by the birch veneer on the walls and pine on the furniture, which lets the bright colors pop in the small space.
Using some of the most popular colors in Germany, they went with red as the main color, with marine blue and yellow following close behind to remind you of the Mediterranean Sea. Balancing out those colors is purple, helping to give a completely fresh look to the interior.
Adding to the natural feel and bringing in another Mediterranean touch, they used raffia on the seats and for the pots that hold the plants, making you think of fruits and veggies that are held in raffia. It's used on the stools as a place to put your jacket or bag while you're eating. Smart, right?
Metal grates hold the tables up and let them be transformed from this bar set up to…
Two larger tables…
To one table on the side…
To a table in the middle.
If they need more floor space, they can push all the tables flush to the grating.
It didn't stop there, they tackled the entire branding for the business, as well, continuing the bold, bright theme you see in the interior.
Photos by David Rodríguez and Carlos Huecas.