There's always a trend or two that becomes quickly evident during ICFF and NYCxDesign and this year there were a few trends that seemed leftover from last year: marble, stone, brass and copper. But this year, we noticed another trend: color. Green, specifically, followed by yellows and jewel tones. We wonder if maybe this has anything to do with the PANTONE color of the year being Emerald…
Here are a few great green and yellow designs we spotted: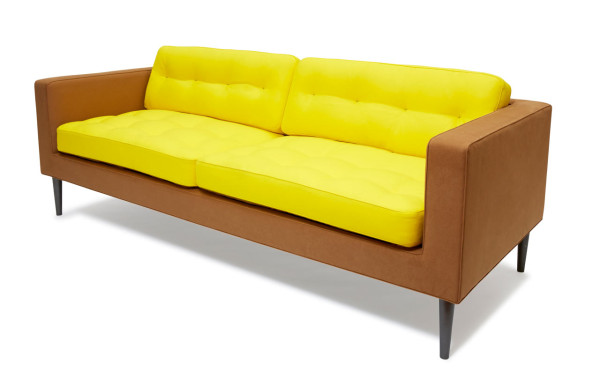 Tardi Sofa by Lindsey Adelman for The Future Perfect
Chubby Chairs from Dirk Vander Kooij
Designer Sinje Ollen created a colorful hand knitted cover made of hand dyed Italian merino wool for an Arne Jacobsen Egg Chair.
blu*stone's electric neon bathtub. Is it green? Is it yellow? I think it's both…
IKEA Stockholm Collection 2013 chair and rug
Folded Fiberglass chair by Roberto Dumont
Although this is just a small selection of pieces that we saw in this color family, the NYCxDesign color story here is pretty evident when you put all these photos together and create a palette:
Convinced you need to bust out a lemon and lime centerpiece, maybe pick some daffodils or even refresh with some new yellow or green paint? Yeah, me too. We also used Sherwin-Williams' ColorSnap app to help make it easier to quickly view the colors in all of our photos and capture trends on the spot. Here are our ColorSnaps:
Pop! Karim Rashid x HP printed wallpaper and surface textiles. Learn more about these here.
Cool. Dirk Vander Kooij chairs made from refrigerators in the year's hottest color.
Candy-coated trendy. We spotted this ottoman by Proper and fell in love. Neon is still in, y'all.
Americana. San Francisco-based design company Council brings some Americana to NYC Design Week.
Folk. VOLK was one of the only companies to do painted furniture this year and we salute them for doing it right.
Spot on trend. IKEA's Stockholm collection hit the nail right on the head in terms of color story trend. This photo and collection pretty much sums up the entire show. Bravo, IKEA.
If you want to see more NYC Design Week, view all our posts from ICFF, WantedDesign and more here.
This post is brought to you by Sherwin-Williams. Turn your inspiration into reality with Sherwin-Williams Color Selection Tools.