If you like skiing and have ever wanted to sleep in a tent on a mountain, this resort has got you covered.
The Whitepod Resort is located Les Cerniers, Switzerland in the heart of the Alps. It features an authentic mountain lodge and traditional wooden chalet both with restaurants, 7 km of ski slopes with private ski lifts, and the pièce de résistance — Whitepod — a camp of 15 geodesic dome pods surrounding a central chalet. Each dome is essentially a tent stretched over a wooden structure and platform that allows accommodations out in the beautiful alpine wilderness.
Inside each pod, you will find a wood-burning stove, organic luxury bedding and a complete bathroom. The pod camp just opened in December 2010 and has just recently added a spa.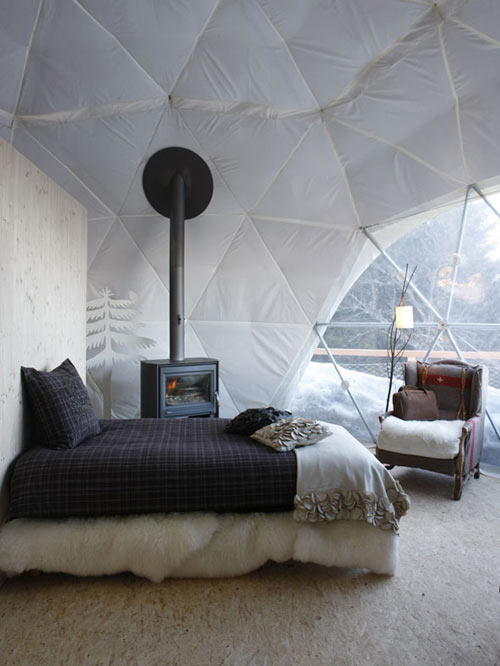 Are you packed yet?
What: Whitepod
Where: Whitepod Concept SA, Les Cerniers, 1871 Les Giettes (map it)
How much: Starting at about $430 USD to rent a pod for the night.
Highlights: An igloo-like camping and skiing experience on the side of a mountain like nothing you've ever experienced before.
Design draw: Individual domes are your shelter for the evening with just a small barrier between you and the stars.
Book it: [email protected]
Photos from Whitepod.com.
Go virtually on vacation with more design destinations right here.