While I genuinely love me some grandmotherly hand-me-downs, we thought we'd put a modern spin on something traditional this month.
We've all seen painted vases and a few tutorials on rope-wrapped canisters, and we liked that direction, but we wanted something a little more bold and graphic. I've been smitten with the half-woven look that's been popping up lately, like Alexandra Denton and Sofia Lazzeri's work, and Daniel Hulsbergen's wicker and ceramic vases.
I started browsing around on eBay for inspiration and began to create a collection for this DIY to help jumpstart it (remember we introduced you to our eBay collections last year?). Initially, the search was simply for vases, but I kept coming upon little lots of milk glass. The thing is, I really really love milk glass, but it can feel dowdy and traditional on its own. So at first, I disregarded it completely… until I realized how awesome and graphic it would look wrapped with metallic wire or bold chunky rope. And, milk—get it?—we love anything and everything milk… You can check out our milk glass eBay collection in case you want to get started on a milk glass DIY project of your own. Make sure to check out our other collections for some vintage inspiration and modern design finds.
Supplies:
– milk glass vases
– rope or string or thick-gauge wire or a similar material of your liking
– iDye (if you want to dye the rope)
– hot glue gun and hot glue
– needle-nose pliers
I tend to have reams of rope and string and wire lying around the house (always great for a quick DIY like this one), and we had a TON of this chunky white rope leftover from our hammock tutorial. While the white rope was great, we needed a more intense contrast… so I dyed it black!
I've never dyed anything and was terrified enough that I considered buying a Sharpie and coloring the rope by hand. No kidding. But it ended up being super easy. Make sure you have the right dye for your material (cotton, silk, linen and rayon get iDye natural; polyester and nylon get iDye Poly) and then just follow the instructions on the packet. My only suggestion is to keep the pot lid on tight, and maybe wear an apron. To wash the rope afterward (as recommended) put it into a thick stocking, knot off the stocking and throw it into the washer with a mild detergent.
From there, everything was pretty straightforward. With a few different kinds of rope and wire start playing around with how you want the different vases to look.
Once you're ready, start gluing. The hot glue worked out really well, because it formed a super-strong bond but in the few instances when I wanted a re-do, it (carefully!) came off the glass with a razor. The easiest way to adhere the rope was to not get fancy or tuck it in. Accept that there's going to be a "back seam" and it'll all go smoothly. Put a dab of glue at your starting point and (caaarefully) stick your rope onto it. Slowly work your way around the vase. Once you get to the top, trim, add a dab of glue, and adhere.
It also helps to use the glue sparingly—a little goes a long way—and adhere directly to the glass, not the rope below.
A couple of the vases had a more modern look, so instead of doing them up with rope, I used wire to accent the graphic shapes. Thicker wire, while harder to straighten, was a little easier to work with since it was stiffer and held its shape. To attach the wire, measure out lengths that are just a bit wider than the vase.
Cross one end over the other, and twist (again, carefully!) until it's tight enough that it holds, then snip off any excess.
A little dab of hot glue will hold it in place if need be, and you can always use rope as a clever way to hide any loose ends like I did with this guy: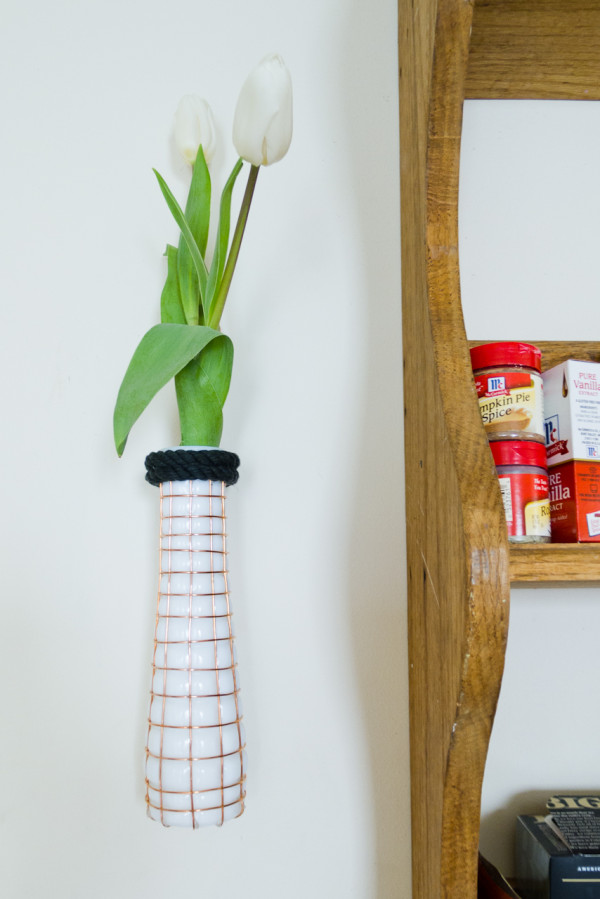 I'm really happy with how everything turned out. With a little creative thinking and some time to play, old stuff you might not consider can get a whole new life.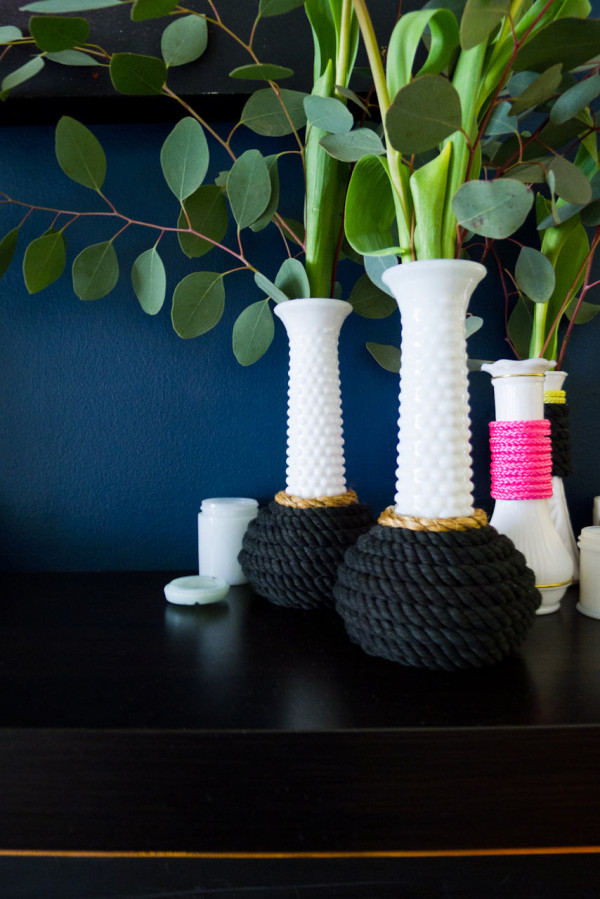 Inspired to modernize some milk glass now? Check out our eBay milk glass collection where you can grab a great deal on some new and used vases to create your very own modern milk. Be sure to take a look at our other collections, too, featuring great design finds from the Brutalist, Mid-Century and Memphis eras, as well as current design icons.
The Design Milk collections were curated as part of our collaboration with eBay. The thoughts, ideas and projects in this post are our own.

Design From Around The Web