Remember when we mentioned that we were going to Milan to the final event of the Electrolux Design Lab for 2012? Well, we went and met the top 10 designers in person and listened to them present their designs — they were most impressive! Stay tuned for the winner but in the meantime, here's a more in-depth look at some of our favorite designs.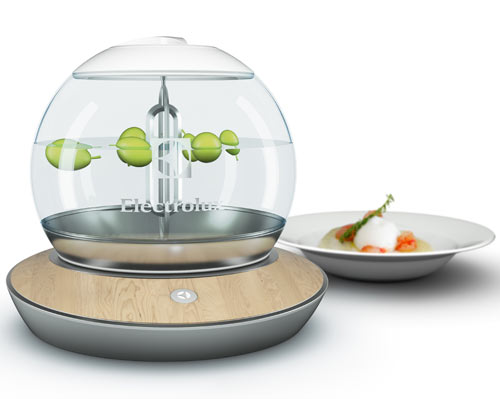 Industrial design graduate Yunuén Hernández who hails from Mexico designed the Mo'Sphere, a molecular cooking appliance meant to aid the average cook in flavor exploration. After watching videos of famous chefs on TV and seeing their passion for cooking, Hernández discovered that molecular cooking was all about mixing ingredients to make food interesting and healthy. Delving into the world of senses and mixing them up with food flavors, she decided she wanted to enter the competition.
Being from Mexico where often times you design just to produce a product or something physical, the Design Lab gave her a chance to dream and really think outside the box which her design definitely shows.
Spummy is the creation of recent industrial design graduate Alexandre de Bastiani that utilizes nano-technology by making an edible foam. While most people assumed it was just a flavored foam to eat, the designer explains that the purpose of Spummy is to help novice cooks in the kitchen by experimenting with flavors that they're not used to. Instead of running out and spending tons of money on ingredients for a recipe that has the potential to be a cooking disaster or something you hate, you can get a taste of it to see if it's worth your time, effort, and money.
Taking inspiration from the animated movie Ratatouille, de Bastiani saw how each flavor is totally unique but by adding flavors together it created something completely new. It also comes from personal experience with him and his girlfriend attempting to cook and making mistakes and wasting ingredients. We've all been there, yes?
Danish design student Christopher Holm-Hansen's Tastee design happened to not only win 3rd place, it also won the People's Choice award! After listening to the humble designer talk about his entry, you definitely understand why it was one of the top contenders. The well thought out spoon-looking device was based on nanotechnology and helps you by tasting the food alongside you and assisting you with your recipe. The device uses taste receptors that indicate what ingredients you might want to add to help balance out the flavors of your food. It can even give you suggestions based on your taste preferences.
The judges and the audience seemed to love his idea and the consensus was that this was the most likely product that they could see being produced and sold in the market. Holm-Hansen will finish his Master's degree soon and hopes to work for either a company in Denmark or even Electrolux due to their visionary thinking when it comes to products of the future.
Here are a few photos from the final event where the students presented their work and the winners were announced:

Electrolux's Chief Design Officer Stefano Marzano speaking
The social media area was hopping with tons of people Tweeting, Instagramming, and Facebooking photos and their thoughts of the event.
Stay tuned to see the winning design!
Thanks to Electrolux for hosting us in Milan for the exciting 2012 Design Lab finals.

Design From Around The Web