Besides spotting lots of trends at the international tile and bath fixture exhibition, Cersaie, I also came across so much good stuff it makes me want to rip apart every surface and cover everything with some of these incredible tiles. I also want to replace every bathroom fixture I come in contact with with these innovative finds. Here are just a handful of my favorites…
Bisazza has partnered with some creative talents over the years, like Marcel Wanders, to design lines of tile for their company. Wanders' Frozen Garden hexagon tiles with surface indentions would look incredible on a wall in your bathroom or even your living room to make a bold statement.
These Elvida triangular shaped white tiles from Vives do away with basic rectangular shaped tiles and add a bit of puffiness to each one making them appear more three dimensional.
Hexagons showed up everywhere at the show, but Settecento took it a step further by using a monochrome palette and incorporating some textured tiles.
I feel hard for the Paillettes line from Lea Ceramiche. I love how important the grout is on these because it really makes the circular penny tiles pop, like in the black and white combinations, or become more uniform, like with the bronze color.
Also from Lea Ceramiche, but from their Slimtech line, is the Mauk collection cut into the trapezoid shape that they call Spina. By using contrasting colors, the repetitive pattern becomes 3D like. I loved their added use of mirrors in the display.
From Cerim, a company that belongs to Florim Ceramiche, comes these Moonlight Cubes tiles that come in either gray or red. Reminds me of the game Q*bert!
These mosaic tiles from Appiani gave me all kinds of ideas. I love the pattern they created with random 8-bit numbers.
I couldn't get enough of the Gamma Due booth which was showcasing their Ornamenta brand. At the top of my favorites is their Mix and Match line that comes in four color palettes that feature 20 different solid colors. On top of that there are 20 tiles (in those same colors) that come with various patterns on them.
Just imagine what you could do with the colors you use, patterns you pick, and how you'd lay them out. The possibilities are endless!
With a look of printed cardboard, the Miseria e Nobilta series from Gamma Due's Ornamenta line is really cool. Felice (above left) comes with a white "V" pattern printed on a cardboard-colored porcelain tile. Don Gaetano (above right) features a black pattern that almost looks like spaghetti.
Natucer also has its own Q*bert-like tile with cube-like patterns printed onto hexagon-shaped tiles.
Tagina's booth had walls covered with these 3D "X", "O", and square tiles that created a pixelated look.
Designer Patrick Norguet worked with Lea Ceramiche to design his Waves patterns made with their Slimtech tiles. The linear pattern comes in three color palettes: blue, green, and grey.
Remember when we featured the WaterDreams installations from Front and Nendo for Axor? Well, the ideas have come to life with the help of Axor, who turned the ideas into real bathroom fixtures. This one above is the one from Front, with its oversized, rain shower head that will surely get you clean.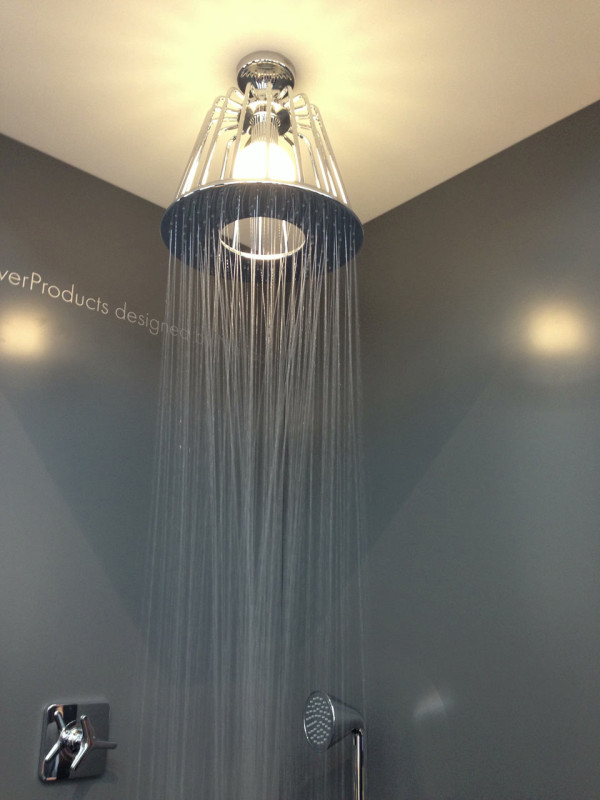 Leave it to Nendo to think outside the box by bringing light into your shower head. The LampShower from Axor cages a lamp inside what looks like a lampshade frame but is actually a shower fixture.
Designer Jaime Hayon worked with Bisazza on a bath fixture collection called The Hayon Collection and this table-like design replaces the typical pedestal sink. A faceted sink sits upon a marble top table, complete with a beautiful copper faucet.
Our trip to Cersaie was supported by Ceramics of Italy.

Design From Around The Web