Located in Möriken, Switzerland, the Findling house designed by Ken Architekten is a concrete cube of a house with two sections taken out of opposite corners. One of the cut-outs faces the road and forms the entryway, while the other frames up views of the countryside.
The two incisions also shape the living plan and how the space flows on both floors. The ground floor features the living areas that have diagonal views through both missing corners of the house. The upper floor houses three similarly-shaped bedrooms.
I love the concrete grid laid out in the yard !
The exterior concrete is coated with a metallic acrylic glaze that gives the surface a beautiful reflective quality and changes colors depending on the light.
One of these things is not like the other…
The cut-out sections are covered with glass which fills the white interior with tons of light.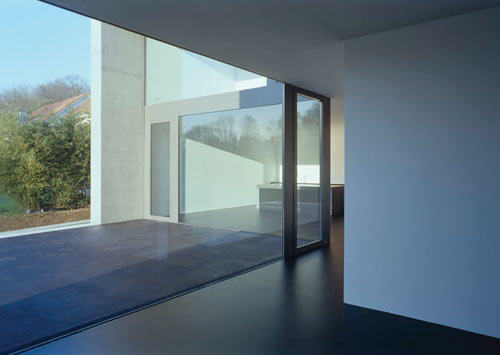 Photos by Hannes Henz, Zürich.

Design From Around The Web