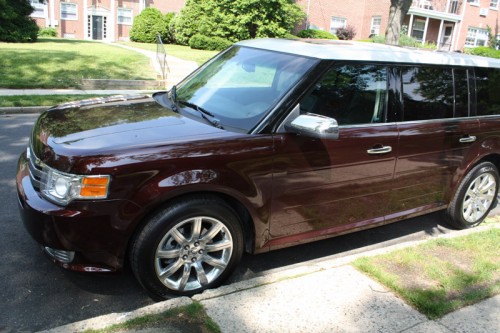 As you read in my previous post, my family has had a close relationship with Fords, and this was one of the main reasons why I chose to test drive the Ford Flex. I wanted a reason to share the history of Fords through my own family history.
My family has owned more Fords than most other families that I know. In fact, it started with my grandfather's 1932 Model B, and continues today with my Dad's 1964 Galaxie 500 and Econoline van. When I spoke with my dad about the Fords he and my grandfather have owned, I couldn't help but laugh as he rattled off a ridiculously long list of cars:
My grandfather:
1932 Model B
1954 Victoria
1960 Fairlane 500
1956 Sunliner Convertible
1957 Fairlane 500
1967 Galaxie 500
1988 Mercury Marquis
2002 Mercury Sable
My father:
1960 Fairlane 500
1965 Mustang Convertible
1964 Galaxie 500
1965 Mustang Fastback
1973 Gran Turino Sport
1974 Lincoln Mark IV
1975 Pinto
1975 LTD Station Wagon
1979 Lincoln Town Coupe
1993 Explorer
1997 Expedition
3 Ford Econoline vans
1964 Galaxie 500 [again!]
Me:
1993 Escort Wagon
Test drive of the Ford Flex!
My dad has practically come full circle with his cars, once again owning the same car he owned in his youth. He's looking to collect a few more old Fords, including a Starliner and Thunderbird. Maybe another Mustang too, perhaps? By that time, they'll need to build a special house just for their cars!
For my Dad, I think Fords represent something other than just a way to get around town. The deep history of Ford, and the role Fords played in his youth have made a significant impact on him. Fords represent something simple and yet fundamental about my dad: a working guy from New Jersey who likes fixing things, playing bar games, fishing, and spending time with his family. We should all be so lucky to live like that.