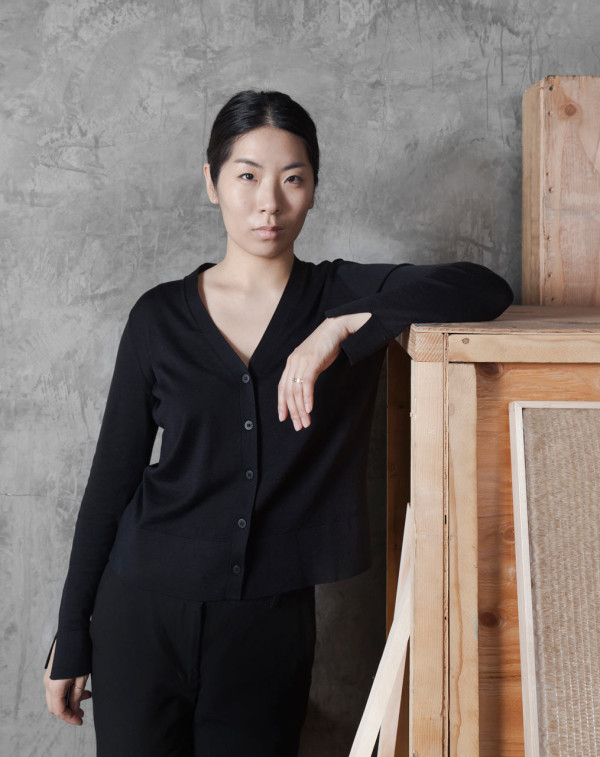 Seoul-born Mimi Jung studied at both Cooper Union and HGK Basel and then settled into Brooklyn and launched her own creative studio called Brook&Lyn. She started making bold jewelry which quickly gained notice. Eventually, Jung and her husband, Brian Hurewitz, began collaborating on textiles, furniture designs, and interiors, and within the last couple of years they made the move to Los Angeles, which has led to Brook&Lyn becoming Early Work. On top of her work with her husband, she's become known for her weavings, where she creates woven wall pieces and environments that let users experience them through movement around and through them. This week's Friday Five lets Jung share a handful of her favorite things.
1. Hiba wood oil and wood chips
I bought this set on my last trip to Tokyo. Before every meeting I like to add a few drops of the hiba oil in a bowl of hiba chips. In an instant the room is infused in a deep musky woodsy aroma. Hiba oil also eliminates unwanted odors and relieves stress, enough said!
2. SodaStream
You can fully control the amount of carbonation and the device is minimal enough to leave on your counter. I like to add half a lime and some freshly grated ginger to my carbonated water. This is my daily treat.
3. Bassike
I was first introduced to Bassike as a client but now it's genuinely what I wear on most days. It took me a very long time to convert my NY style to LA. Bassike was the answer, it's sophisticated casual wear for a minimalist. At most meetings, openings and dinners I'm wearing something of theirs.
4. Muji Sketchbooks
I will sketch on any given surface. It's almost dangerous to give me a pen without paper. The Muji sketchbook is slim enough to carry in my purse at all times.
5. Uber
I live in LA and don't know how to drive. I wish you could accumulate loyalty points with Uber, I would have enough for a round trip to NY and back.