Gandula Is Like Traditional Deckchairs, but Better
Gandula Is Like Traditional Deckchairs, but Better
1/7 Photos
2/7 Photos
3/7 Photos
4/7 Photos
5/7 Photos
6/7 Photos
7/7 Photos
Picturing yourself somewhere along the Mediterranean? Oiside has redesigned the common deckchair you might be imagining yourself lounging on into one that's more up-to-date and efficient. Gandula is made using harder wearing materials and fast-drying fabric for an improved design that maintains the essence of the traditional furniture design. Available in individual and double versions, the foldable chairs can be fixed in four different positions that lock to prevent the frame from suddenly slamming shut.
Gandula is named after the Spanish term for this type of seating commonly used around the Northern Mediterranean, literally meaning "lazy" or "leisurely". The deckchairs' frames are available in aluminum, iroko wood or a combination or both to remain lightweight. High-tech fabrics are a mesh that can breathe while avoiding the dreaded 'sail effect' blow-out. Fabric colors and frames can be alternated with wood at certain points, and can be selected in any combination. Oiside also allows for customization using other colors, in addition to the ones typically offered.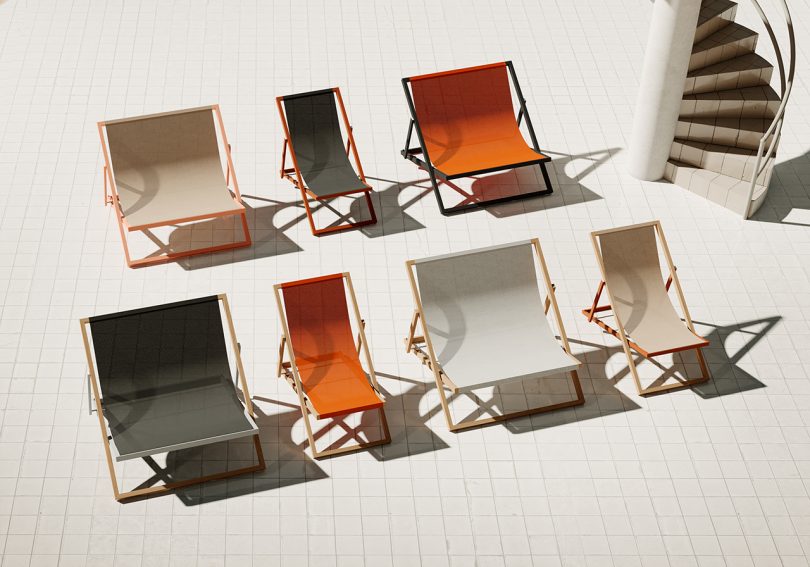 To learn more about Gandula deckchairs, visit oiside.com.
Give Modern. Give The Best.
From a Beast Blender and cult-favorite portable candlelight to puzzles and retro classic keyboards, the Design Milk editors have curated the best of the best modern holiday gifts for 2021.