Herman Miller and Logitech's previous projects together primarily focused upon ergonomics and productivity from the angle of workspace collaboration. The Embody Gaming Chair steers toward "productivity" of a different sort – the first gaming chair from Herman Miller made in partnership with Logitech's gaming imprint, Logitech G.
Designed to keep e-sports players as comfortable as designers, coders, and other devotees of Herman Miller's original Embody (designed by Bill Stumpf and Jeff Weber with the aid of a whole cadre of physicians and PhDs in biomechanics, vision, physical therapy, and ergonomics), the chair has seen a few distinct additions to tweak its comfort and performance specific to those reaching for a keyboard and mouse for online competitive duties.
The most obvious distinction between the Embody Gaming Chair and its office-equipped counterpart is aesthetic. With a business up front, party in the back TRON-like cyan highlighting the iteration's distinct personality, Herman Miller also worked with gamer's outfitters Logitech G to modify the original Embody specifically to address ergonomic issues associated with users who sit hunched over a keyboard while gaming for hours on end. The resulting tweaks are an easier to swivel and responsive chair, with an emphasis on lower back support and increasing forward lean.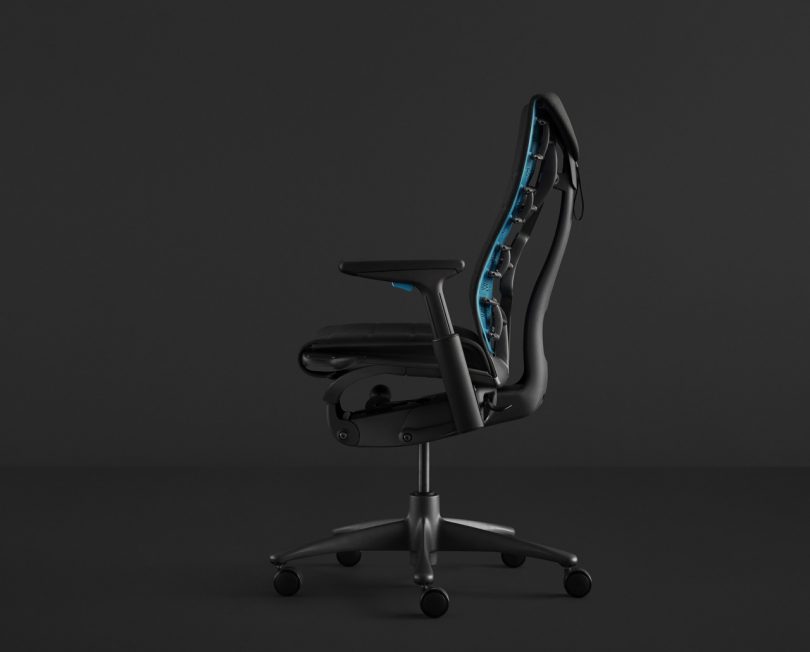 Another issue associated with gaming for any extended period of time: the accumulation of body heat and sweat. To address this issue, Herman Miller added cooling foam with copper-infused particles, both for supportive posture cushioning and also to reduce heat buildup.
While the Embody Gaming Chair is marketed toward gamers and streamers, the sum of its improvements seem to be just as desirable and applicable for work done behind a computer, whether it be while working from home with Adobe Creative Suite or competing in League of Legends.
The Embody Gaming Chair is available for $1,495 in matte black with cyan detailing, with the original Embody available in various other colorways for $1,355.