Bloot Architecture, an architectural practice in The Hague, The Netherlands, transformed a 1950s holiday home by adding a dramatic rooftop extension. The compact home sits hidden in the woods and the new addition gives the feeling of living high amongst the trees.
The design had to meet with the strict building regulations of the area as far as maximum height and a sloped roof, while still giving the home views of the surrounding greenery.
Almost the entire extension, inside and out, was constructed out of wood. The exterior and roof are clad in untreated larch, keeping it as natural looking as possible.
Instead of buying a lot of furniture, built-in pieces, like the beds and storage, were constructed to fit each space perfectly. A landing between the two new bedrooms houses a bathroom sink.
A few steps up from the landing, there's a really cool, simple bedroom that has a slanted window to make you feel like you're living in a treehouse.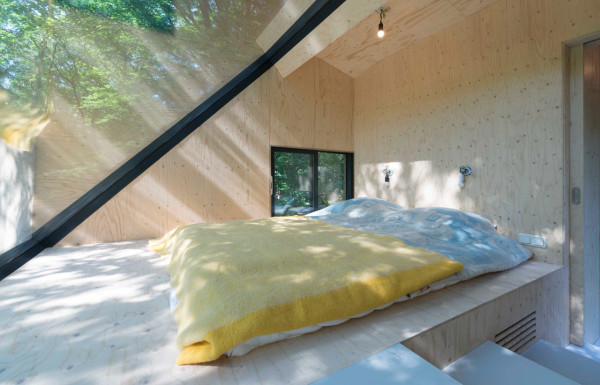 A set of hanging stairs in the original living room provides access to the new extension.
Photos by Jeroen Musch Photography.