Home in Pulle is a minimalist house located in Zandhoven, Belgium, designed by Contekst. The floor plan was guided by the surrounding green environment, with an emphasis of light and space within the interior. The resulting lines created by the initial floor plan helped the architects choose the positioning of materials in order to create a calm and ambient space.
Specifically, oak grey and natural stone heavily define the character of the space, providing a consistent, yet striking, aesthetic to the concrete floors and white walls. On the ground floor, the architects decided to use wood and natural stone horizontally in order to create a larger perceived space.
The stairs appear as though they can be stowed away, and curves slightly to the upper level, beckoning residents to view the upper level. In contrast to the ground floor, the wood and stone on the upper floors are oriented vertically to create a taller perceived ceiling height. Concrete elements are mixed with stainless steel and warm wood while a singular lighting strip extends throughout the hallway.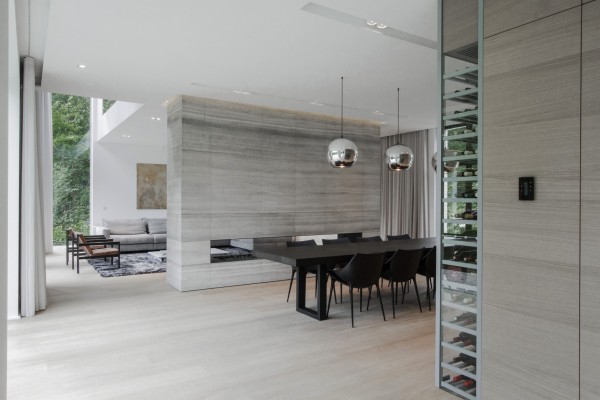 Photos by Nils Van Brabant.