We're very excited that it's almost complete, including the furnishings. We still have a few nit-picky things we're working on, and a couple more things we'd like to add, but overall, we're able to go out there and enjoy it. Just in time for Summer!
There are lots of things I would do differently looking back, but hey—hindsight, right!? Let's just focus on the good stuff. First of all, we love our wooden wall. It warms up the space and it's a nice place to sit, too. The decomposed granite is very "Palm Springs" and a nice contrast to all the stone and other materials in the yard.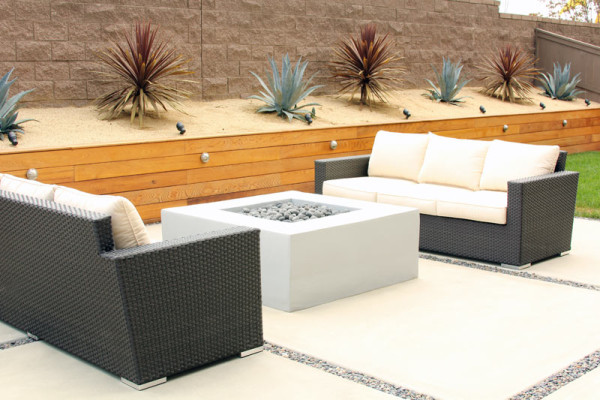 The couches are from Sunset West (a local San Diego company) and are very comfortable. Let me tell ya—it's hard to find modern outdoor furniture that's affordable! But we lucked out with these because they're also very comfortable. We're hoping to add more seating soon—maybe some loungey chairs or chaises for my afternoon naps hanging with friends. As you can see in the image below, we have lots of extra space on the patio:
If only we had enough room for a pool… !
Our outdoor room was one of the major selling points for us, and we knew we wanted to get it finished ASAP so we could use it. Now that the evenings are warmer, we're grateful to have a usable space for eating dinner al fresco, watching TV and hanging with friends. I'm still not entirely sold on the table/chairs and rug placement. I keep moving them around every week to see what works best for us.
One of the things I wanted to explore for this room was the possibility of screening it in. In the winter, it gets chilly out there, even with the fireplace (which gives off a minimal amount of heat). Plus, in the mornings, sometimes I'm in the kitchen and the sun scorches my eyeballs. Not to mention all the dirt that settles out there! We found a local company that installs humungous electronic screens. Hallelujah! This was not cheap by any means, but I think it's totally worth the splurge to be able to use the room all year round.
The screen keeps the room shadier, warmer, cleaner but we still get a nice breeze and some added privacy.
I'm not going to Photoshop out the fact that some of our blue fescue plants are browning, or that our grass has brown spots (see above photos). I have to face the reality that we live in California and we're abiding by the recommended water conservation efforts. It's hard to keep any lawn green here in SoCal, and even harder when water is scarce. We made the decision to have real grass but to keep it minimal and add more hardscaping. All of the plants we chose are drought-friendly, and also easy to keep alive (even for me!).
When you enter from the gate, you're greeted with a line of snake plants in modern black planters – we were able to salvage all those rocks from the backyard dirt and reuse them as drainage in the planters. Snake plants are safe from my not-so-green thumb, and drought-friendly!
I'm looking forward to using this space every day while putting the finishing touches on it. And now we're off to tackle the front yard!
Things we are planning to add:
– lounge chairs / chaise lounges of some sort
– a sculpture
– heat lamp
– umbrella / shade sail? Still in debate.
– BBQ area?? I won't hold my breath for this one.
List of products:
– Gazing Ball by Blomus via Allmodern (no longer available)
– Couches by Sunset West
– Chairs / Ottomans by Sunset West
– Side table by Heller
– Basket by Bend Goods
– Watering can by IKEA
– Outdoor rug by World Market
– Bench by Heller
– Blue planter from Home Depot
– Ceiling fan by Modern Fan Company
– Outdoor Table and chairs by IKEA
– Nelson Bench
– Black rectangular planters from Nice Planter still available in square at Allmodern
– Doormat by Chilewich
– Yellow bench by Heller
– Outdoor room concrete tiles by Concrete Collaborative