If you recall, we finished up our guest room and quickly moved on to our backyard… aka "brownsville" but ran into some delays so instead we focused on other fun stuff like the kitchen and bathroom faucets and organizing some of our clutter. But we're back to being focused on the backyard—after all, it's going to be summer before we know it.
Once we received our housing association's approval, it was time to get started. We revisited the plans, made some tweaks and hired a landscape company to execute. Normally, we're comfortable doing yard work ourselves, but in this case, with the drainage, irrigation, leveling and other important items that needed to be addressed, we decided to leave it up to the professionals.
We're actually nearing completion of the major parts of the landscaping and starting to see the light at the end of the tunnel. However, in the beginning, it felt kind of hopeless and overwhelming. Our yard was full of tumbleweeds and all I could see were neon spray painted lines… although it was helpful to mark everything out, I couldn't really visualize it yet. Here's our general plan again:
We couldn't afford to do a poured concrete wall or firepit, so we opted for cinderblocks, covered in gray stucco with a flat finish.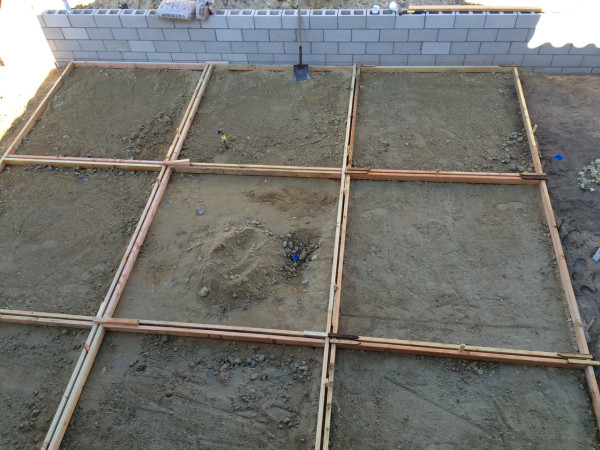 However, after seeing it completed, we felt like there was way too much gray, so we covered the wall in cedar. It instantly warmed up the space.
We are extra excited about the firepit because it will likely be the place around which we spend most of our time. There's nothing like hanging with friends in front of the fire on a chilly winter evening in San Diego.
For our outdoor room, we got some Concrete Collaborative Trails pavers in 9″x18″ in their Acier color.
We discussed various paver sizes from 4″x18″ to 18″x18″ but I chickened out on doing anything super creative, and opted for something fairly neutral (I know, ho-hum!). We also discussed patterns for the patio from stacked to staggered on the short edge, and after laying them all out, we decided that we liked the traditional staggered the best. These tiles are gorgeous and we were extra impressed at how they were crated, lovingly, with foam pieces in between most of the tiles. I have to say, it's nice to work with a business that takes so much pride and care in their product.
Now that most of the big stuff is complete, we're focused on adding plants, furniture and decor. Stay tuned for the final reveal…