Olga Akulova had a client that desired an apartment that reflected KENZO style home details. They began in 2012 by removing non-load bearing walls and opening up the apartment by creating zones that were separated by sliding doors, a stone island, and industrial concrete columns.
The two-person truffle breakfast table was designed by Akulova.
The homeowner loved the natural texture that appears on the unaltered concrete columns, mixed with the poured polymeric white flooring, and the wooden decking material that covers the ceilings and the balcony floors, as they give the feeling of the KENZO style that she loved.
The living room area, which doubles as a guest room, looks out to views of the garden, city, and river through the glass windows. Behind the sofa, they used a Poliform marble table as a console that doubles as a desk and even occasionally gets used as a family dinner table.
A wall of metal shelves, designed by Akulova, creates a sculptural focal wall in the living room while also providing storage space.
The bedroom has two entrances that open the space up when the sliding doors are pushed aside.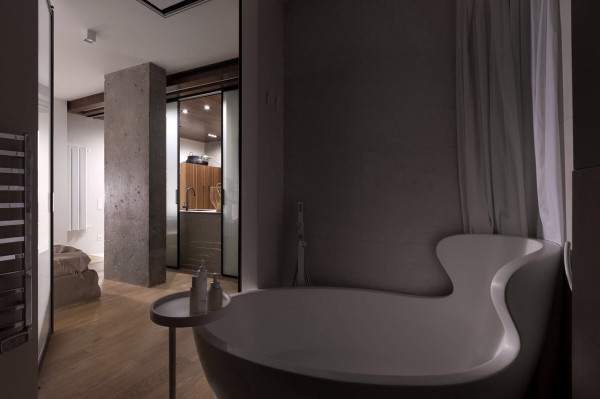 How amazing is that tub? It was inspired by Arne Jacobsen's Egg chair and was designed by Nada Nasrallah and Christian Horner of Soda for Rapsel.
A vertical garden brings greenery to the interior of the apartment and acts as a divider between the guest room and the guest toilet.
Photo by Andrey Avdeenko.

Design From Around The Web