I am so giddy about this post! After my experience playing around with a new Ultrabook, I had a fun idea to work with a designer to create a product that was inspired by the lightweight, fastness of the laptop. Intel was generous enough to support this fun project, so I called NYC-based designer Brad Ascalon to see if his studio would be up for the challenge.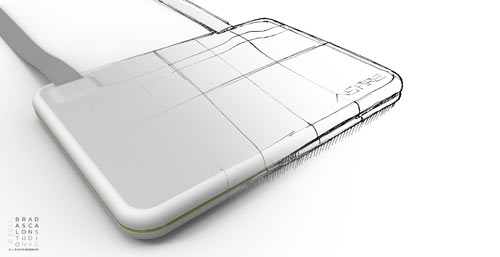 Laptop bags these days are still a bit bulky, and since the UB is 2-3 magazines thick, it'll fit in just about anything. I asked Brad to take a look at the same Acer Ultrabook that I had a chance to check out last week and create a laptop bag inspired by his experience — in just two days! Here's what he came up with:
The bag itself is made from either molded neoprene or plastic casing with a hard-shell plastic interior, keeping it lightweight to match the lightness of the computer. The exterior protects the computer from water damage, while the interior keeps it nice and safe from dings and dents.
The optional exterior plastic case can be interchangeable and customizable with your own design, logo or pattern giving the user the option to express his or her creativity and personality. Furthermore, the fastening band and the carrying straps are customizable — the possibilities are endless.
Everyone who owns a laptop goes through the process of taking it from A to B, removing it from their laptop bag and plugging it in. Brad's design utilizes wireless charging technology, a technology that is becoming more popular within the communication and electronics realm. In other words, the inner tray of the laptop bag is the charger.
The carrying strap contains a USB male connector at one end and a plug on the other. Release the strap end and you're able to plug your laptop bag directly into an electrical outlet. Or, use the USB port to connect directly into another computer, allowing the bag to charge directly from that second computer. Lastly, that same USB port can allow for the laptop bag (with built in memory) to act as a thumb drive on its own. This speeds up the processes we've become used to.
The Acer Aspire S3 features speakers on the underside of the laptop, just near the perimeter, which allows for a cleaner look to the design. Being that entertainment is one of the most popular uses of today's laptop, the same charging tray located inside the laptop bag features two amplification cavities where the speakers are located in order to allow for the sound to reflect upward, offering an even better and more audible sound quality.
Brad explains the inspiration behind his design:
We live, work and move more quickly than ever before. Even the simplest of necessary tasks (i.e., charging a laptop) can eat up valuable time. This new take on the laptop bag questions not only what our rituals are with regard to our technology, it begins to challenge and redefine what the laptop bag is and our relationship to it. This is a vital way of thinking about the future of computing and our role within that future. We have to work better, quicker and smarter. Everything that we live with should accommodate this way of working and living, not impede it. Working with the Ultrabook on this project has proven to me once again that Intel understands this way of thinking. My goal was to design a bag that gets to the core of what this new computer is… fast, smart, lightweight, sophisticated and ripe with possibility and potential.
To see more work from Brad Ascalon Studio NYC, click here.
Think this bag is a good idea? What would your laptop bag look like? Share your design in the comments, or join the conversation on Twitter or Facebook.
This article is part of the Technology and Design series, brought to you by Intel®, creating a better future with next-generation technology. Read all of the Technology and Design articles here.