A few weeks ago I finally managed to read a book that's been making the rounds on the international bestseller lists for the past year—The Life-Changing Magic of Tidying Up: The Japanese Art of Decluttering and Organizing by Marie Kondo. Three days later, I had managed to donate four boxes of books, six bags to the Goodwill and recycled four bags of papers. Being relatively unsentimental when it comes to things, the volume of clutter that I managed to rid myself of, was astounding. The difference between this book and anything else I've tried was that Kondo suggests that rather than deciding what you should get rid of, look at your things and decide what you want to keep (or as she says, brings you joy.) The freedom that comes from living with less is why the micro apartment/home holds so much appeal.
Not only is tiny living advantageous from the financial and environment perspective, but it's also a way to ensure that you're surrounded by those things that do bring you joy. If you haven't already donated or gotten rid of unwanted items, it might be a good idea to get the Kondo book and perhaps take advantage of a service like MakeSpace, who can help you make the jump to smaller living by managing those things—from Christmas decorations and baby clothes to ski gear and camping equipment—that you just might not have space for. MakeSpace picks up your stuff for free, stores it for you, and then brings it back whenever you want. In the spirit of all things space-saving, we've rounded up some of favorite examples of tiny living. We even found a few rental options, just in case you'd like to give tiny living a tiny audition.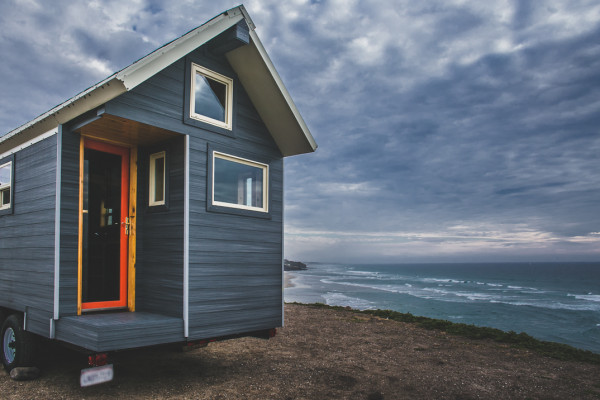 This summer, California-based Monarch Tiny Homes launched with the Half/Half, a mobile micro living home that comes half finished—all the structural work is done—fully insulated, water, sewer, power and gas lines pre-installed—and you do the interior. The $22,000 price tag is appealing, but if you'd like something a little more finished, the Twenty-Footer comes move-in ready—at a significant price bump of $47,000. It's a bit more expensive, but not spending weekends installing a toilet and tiling the shower might be worth it.
Getaway, a Boston-based company that just launched this summer, gives you the tiny house experience before you make the full plunge. The tiny cabins on wheels (160 square feet) were designed by Harvard Graduate School of Design students. Each cabin is guaranteed to be a two-hour drive from Boston. You reserve a cabin and then only learn of the exact location 24 hours before your reservation. They're outfitted with a comfy queen bed, a stove, a toilet and shower, as well as, classic books and board games—all while being completely off-grid. They had such fantastic success with their first two cabins that they've just launched a third—The Clara!
This tiny house is located in Portland, Oregon and constructed in 2012 as a giant DIY project entirely from salvaged and reclaimed materials. The wood-clad windows were salvaged from a horse farm in the Oregon countryside, the teak wood floors were salvaged from high-end construction jobs and the kitchenette stove/refrigerator were sourced from the Hood River History Museum. The best thing about this house though, is that it's the perfect way to see if tiny living is for you—the house is available for $145/night on Airbnb.
Location, location, location! That's what Mary Helen Rowell, was thinking when she rented this West Village apartment. As for the 90 square feet? She'd make it work! And she has. Mary also happens to be a fan of the Marie Kondo method, and in addition to streamlining her belongings, she uses Makespace to rotate her closet seasonally. Not having to look at winter coats during the summer months has been a huge help in making the most of her 90 square feet. For more about how Mary makes it work, head over to Makespace.
Brooklyn architect Tim Seggerman, was brought in to renovate this Upper West Side brownstone studio and turn 240-square feet of space into something comfortable and livable. He used birch wood to craft panels that cleverly hid storage, created a loft bed space and unified the entire space. (He even managed to fit a washer and dryer in there!) See all the photos here.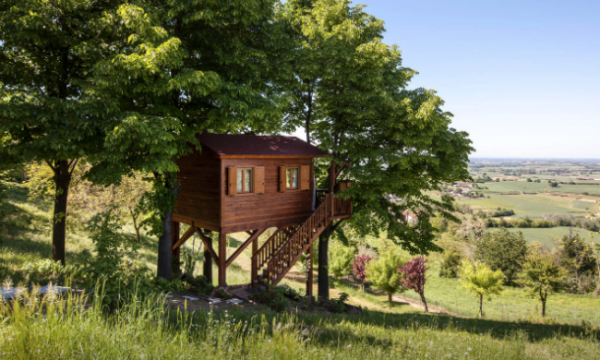 Of course, the U.S. doesn't have a monopoly on tiny living. This gem in San Salvatore Monferrato, Italy has nearly all the amenities of home (it is missing a kitchen, though) in a tiny tree-house sized package. There's even a bathroom way up there. It's available for $163/night from Airbnb.
Confronted with the challenge of making 425 square feet look and feel spacious, Specht Harpman Architects worked with what they had—and what they had was 24 feet of vertical space, so they designed "living platforms" to create rooms within rooms. In addition, they utilized every inch of available space including under the stairs (storage and the bathroom space). See all the details here.
Polish designer Szymon Hanczar makes living in 140 square feet seem completely doable. The apartment contains a loft bedroom, bathroom, kitchenette, a table, bike storage, a washing machine, clothing storage, and a hammock. It's not intended for family living, but it's perfect for a single person, which was exactly what Szymon intended. See all the details in this small space here.
This 315 square foot home by Mizuishi Architect Atelier in Tokyo, Japan was designed to take full advantage of every inch of space on an odd-shaped lot. It's compact and clever enough to be home to a couple and their young daughter.  See more photos here.
When Robin Falck was designing his cabin retreat in Finland, he had a big incentive to keep it small. Anything under 96 square feet can be built permit-free. So Robin built a 96 square foot cabin with a 50 square foot sleeping loft — all for under $10,500 plus labor. See more photos of this Finnish get-away here.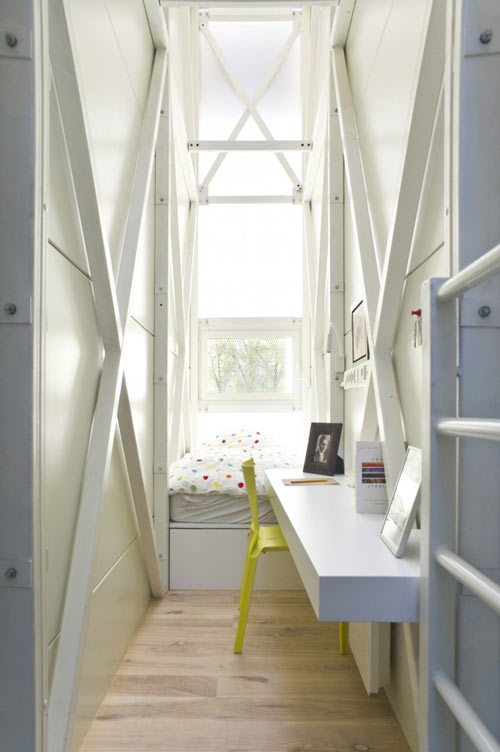 The second Polish home to make our list, this four-foot wide home might test even the most ardent tiny house supporter, but architect Jakub Szczesny designed the space with details that make it feel more spacious than those four feet might otherwise suggest. For example, the roof is constructed of a plastic, semi-transparent material bringing in additional light to make it feel larger. But even though it's fully functional, according to Polish law, it's too small to be used as a full-time home so it's been converted into an artist-in-residence space. See more photos of this narrow home here.
Learn about how you can create more space in your life with MakeSpace, who is generously offering Design Milk readers $50 of free storage. Just schedule a pickup at makespace.com or download the MakeSpace app and enter code DESIGNMILK50 to get $50 off.