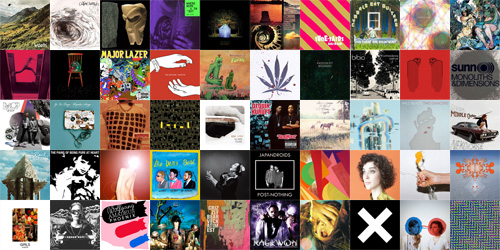 I know that we're already in 2010 and why look back? Well, 2010 is too new for new music, so let's take a moment to look at Pitchfork's 50 best albums of 2009 (above, top left is #50, bottom right is #1). Obviously Pitchfork doesn't take into account the album artwork when they select their faves, or some of these would have made it onto the worst album list. According to NPR's All Songs Considered, there are a number of gems in this bunch, including the Animal Collective optical illusion cover and Dirty Projectors' odd blue and red duo, who also happens to be #1 and #2 on Pitchfork's list. Coincidence? Do you agree with All Songs Considered's picks or do you have some personal faves that didn't make the cut?
I remember when I was a teenager and CDs were the big new thing (remember those tall rectangular boxes!?), I would get an album and study that album's artwork. I felt like it helped me connect better with the songs, the melodies, the lyrics, and the band in general. One of the things I dearly miss in the electronic age is listening to an album for the first time while leafing through the CD booklet and staring intently at the album cover, trying to understand the band's message. Even though musicians still have album covers, I feel like they function a bit differently now, at least when purchased electronically. It's unfortunate, but I don't pay as much attention to them now as I used to.
With respect to the album cover designs above, do you see any design trends? Any anti-trends? Which covers are your faves?