The Toronto office of IA Interior Architects, in collaboration with their New York office, completed the new Toronto offices of Scotiabank. The workspace was designed to house the financial firm's agilists, engineers, and tech developers, who work together to serve more than 23 million customers throughout 55 countries.
Named the Digital Factory, the offices were thoughtfully designed as a way to encourage productivity among the staff, while also enticing the top tech talent into coming to work for them. The firm's commitment to its employees is evident throughout the design, which encourages collaboration, creativity, and adventure.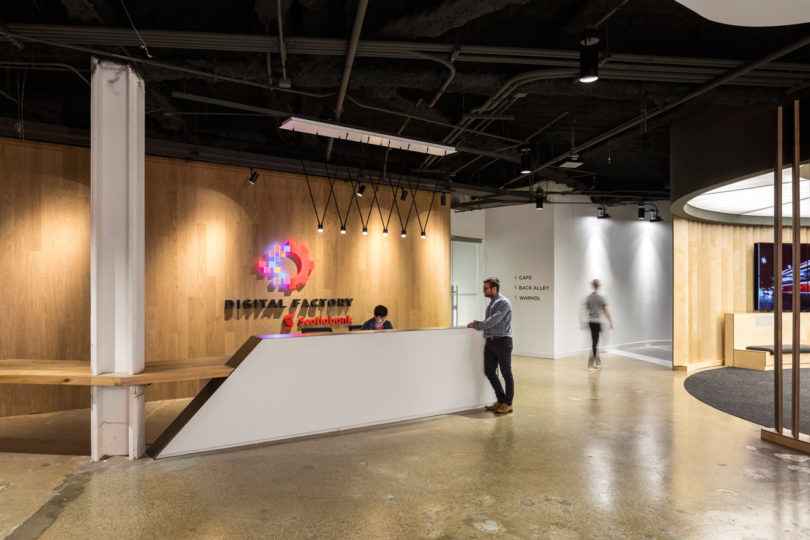 After observing the firm's ways of working, they discovered that the staff generally gathered in a central area to collaborate, present work, and for various activities that would end up overtaking work areas. To fix the problem, IA created a 32-foot diameter rotunda to act as a place to gather.
A massive wall of LED panels streams live data about the company's organization, including customer feedback.
IA used bright colors to distinguish the six "neighborhoods" to help make the city-block-sized interior easier to navigate. Each of the neighborhoods is broken down into themes according to breakthroughs in art, storytelling, architecture, gaming, music, and film.
Scotiabank offices are packed with amenities, like a full-service kitchen, a game room complete with ping-pong tables and custom wall-mounted Scrabble and checkers games, a bowling lane, a tech stop, a fitness center, and a speakeasy bar hidden behind a bank vault inspired door.
Photos by doublespace photography.

Design From Around The Web