Signature Kitchen Suite's 48-Inch Pro Range Features a First: Built-In Sous Vide
The following post is brought to you by Signature Kitchen Suite. Our partners are hand-picked by the Design Milk team because they represent the best in design.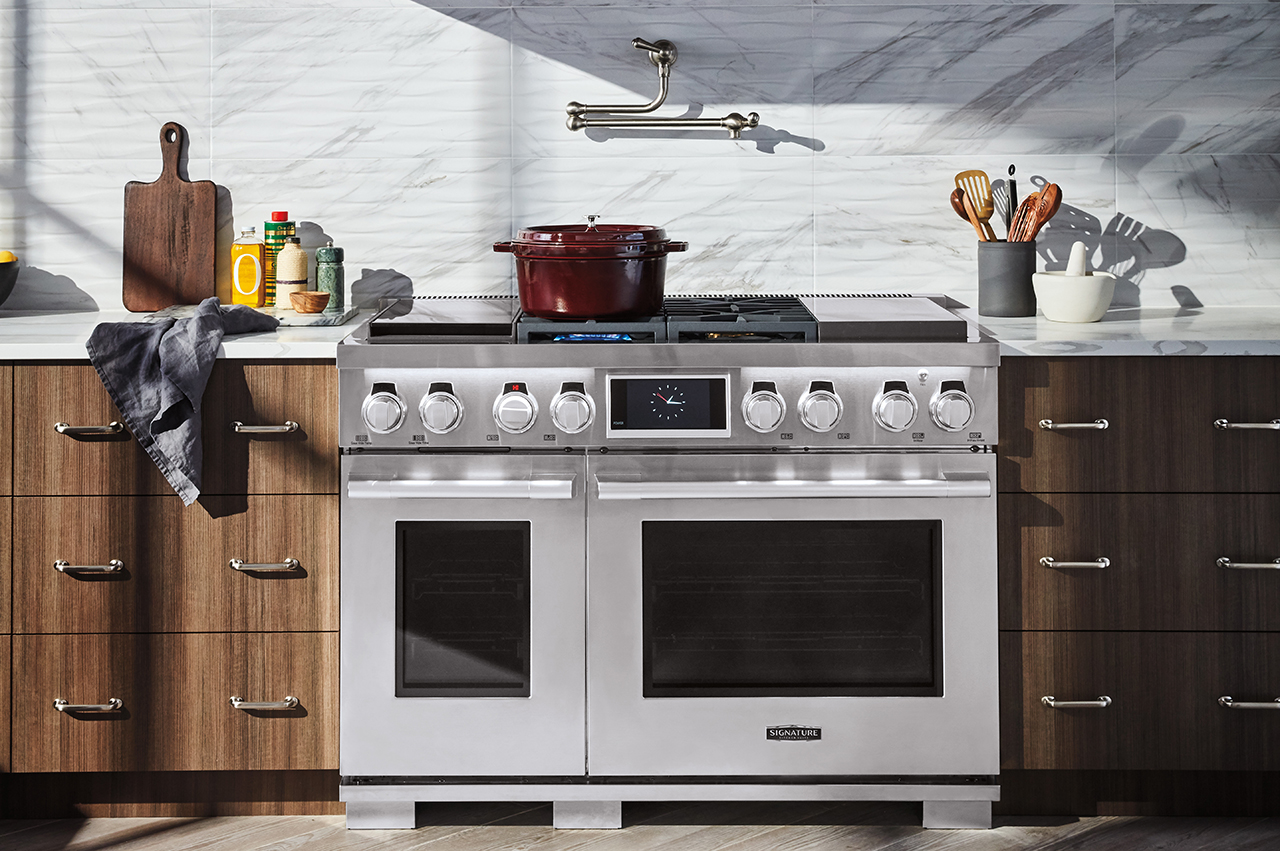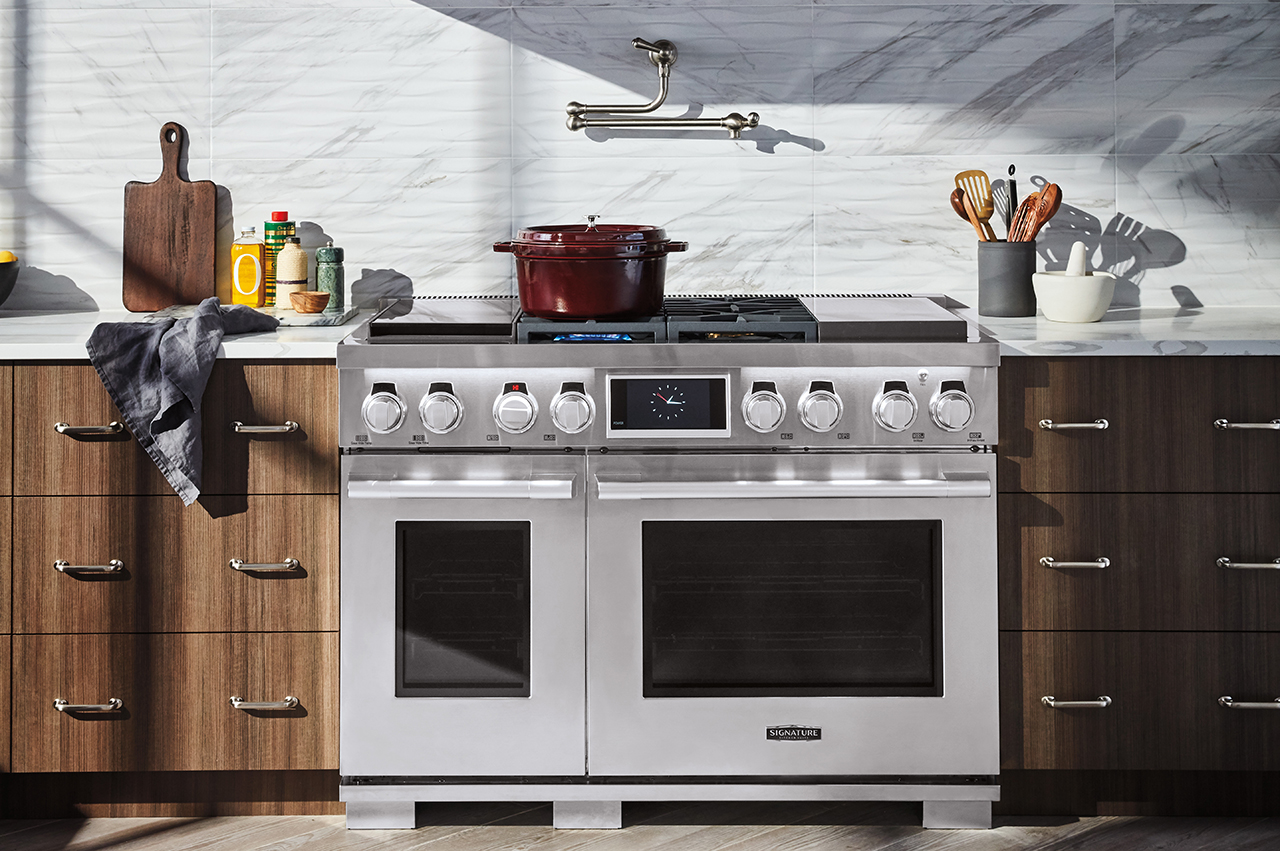 Signature Kitchen Suite's 48-Inch Pro Range Features a First: Built-In Sous Vide
1/5 Photos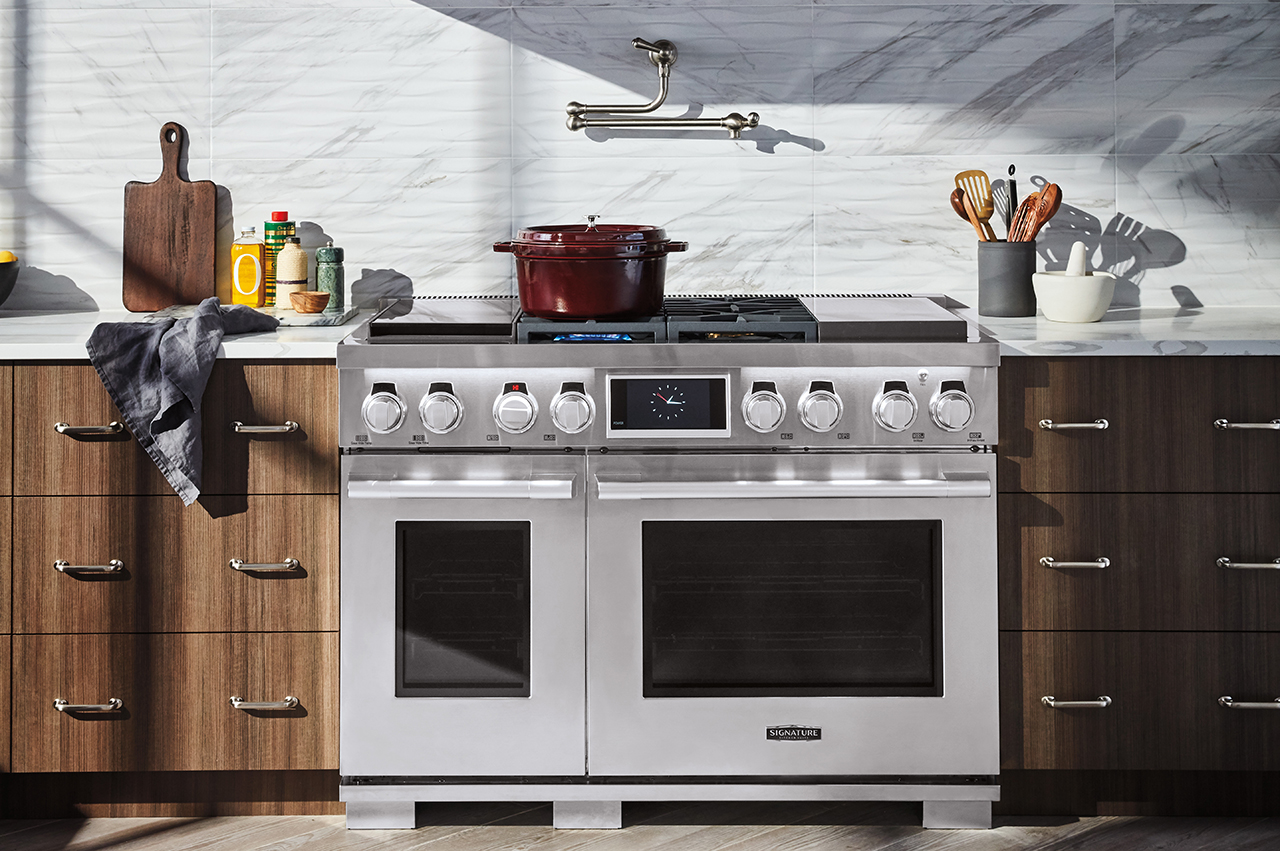 2/5 Photos
3/5 Photos
4/5 Photos
5/5 Photos
Luxury kitchen appliance brand Signature Kitchen Suite believes that precision, performance, and versatility are the path to creating the perfect meal. Today's home chefs are a new generation of forward-thinkers who love to combine their passion for food and appreciation of technology and innovation. These are a few reasons why Signature Kitchen Suite has engineered its 48-inch Dual-Fuel Pro Range with Sous Vide & Induction to be the first of its kind on the market, with built-in sous vide, induction, and gas – all on the cooktop!
The 48-inch Dual-Fuel Pro Range's built-in sous vide (sue-veed) is an industry first, delivering the ultimate in cooking precision directly on the cooktop. French for "under-vacuum," sous vide is a cooking technique where food is vacuum-sealed before being submerged in water at a constant, precise temperature until perfectly cooked. You'll get professional results every time, capturing the full flavors of your meal without having to babysit all the while. Sous vide has been the go-to cooking method in some of the world's best restaurants for years, and for good reason – it brings food to the exact temperature chefs look for while delivering perfect doneness every time.
If you think that's where the features of the 48-inch Dual-Fuel Pro Range end, hold on. Two Ultra-High Burners are ready to deliver 23K BTUs of cooking power for better control over searing and stir-frying. Meanwhile, two UltraLow Burners can maintain temperatures as low as 100ºF to simmer delicate sauces and sweet confections to perfection. And when the recipe calls for temperature control, two induction zones are right there to meet the need. The zones can even be combined for use with a griddle, teppanyaki plate, or large cookware.
There's more – the Steam-Combi and Convection Oven. Measuring 18-inches, the oven combines steam and convection cooking for gourmet results. The system cooks food quickly and evenly, while steam helps to preserve texture, appearance, and taste. The neighboring 30-inch oven features ProHeat™ convection technology with a rear-wall element and fan that evenly distributes heat to every rack. By providing high-quality built-in appliances that feature leading-edge technology, Signature Kitchen Suite gives you the luxury of flexibility to prepare food in the best possible way.
Once the table has been cleared and the dishes placed in the dishwasher, there's only one thing left to do – and the 48-inch Dual-Fuel Pro Range can do it in a flash. The range's SpeedClean® makes quick work of cleaning a lightly-soiled oven with just wiping away a mess after a ten-minute cycle, using only water in the process. Have you ever met a range that can do more?
One last thing for the tech lovers: all WiFi-enabled Signature Kitchen Suite appliances are powered by the free LG ThinQ app. Simply download onto an Android or iOS device to enjoy the benefits of remote controls, ThinQ Care, wine features, recipes, and more.
Learn more about Signature Kitchen Suite's do-it-all 48-inch Dual-Fuel Pro Range with Sous Vide & Induction at signaturekitchensuite.com.