At this year's WestEdge Design Fair, these coffee and side tables from Sisyphus Industries were some of our favorite designs. The brand, led by CEO/artist Bruce Shapiro, turns average tables into kinetic art pieces for the home using a layer of sand and a steel ball. Of course, there's more to it than that as the steel ball has to move to create the mesmerizing surface patterns and that's where the hand-built robot comes in. Intrigued? Read on to see how Sisyphus Industries makes these unique tables, for this month's Deconstruction.
Each Sisyphus table begins here, at our custom CNC machine. Every piece is CNC-machined and hand finished.
Next, the team assembles by hand each and every two-motor robot, or what we call the Sisbot; the heart and inner-workings of every Sisyphus table.
The Sisbot works by moving a magnet which pulls a steel ball through the sand, creating unending patterns. The Sisbot is WiFi connected and controlled by a small Raspberry Pi computer and mobile app which plays any of more than 160 different design patterns, much like a music player plays an mp3 file. Each Sisyphus table allows for the user to create their own custom designs as well.
Post-assembly, each Sisbot undergoes rigorous testing to ensure not only quality, but Sisyphus' long-lasting performance as well.
Next up, CNC-machined and hand-finished hardwood veneers – either walnut or cherry – are sprayed with lacquer and then dried before application to the table.
Each hardwood veneer ring is then sprayed individually by hand with lacquer. This portion of the process, where a few coats are applied, takes 30 minutes total of spraying.
The rings are then moved to a drying rack where they'll sit and cure for 24 hours before being fully dried and ready to move on to the next step.
Sisyphus' metal table frames are welded by a production team before being powder coated and delivered to our shop.
At this phase, the Sisyphus steel metal frames are fully assembled, and the base of the table has been established.
The fully assembled Sisbot is installed in each metal table frame. Software-dimmable white LED lighting (a full spectrum color option is just around the corner!) is installed to surround the sandfield. Power is provided by a 12VDC universal switching supply for both the LED's and Sisbot.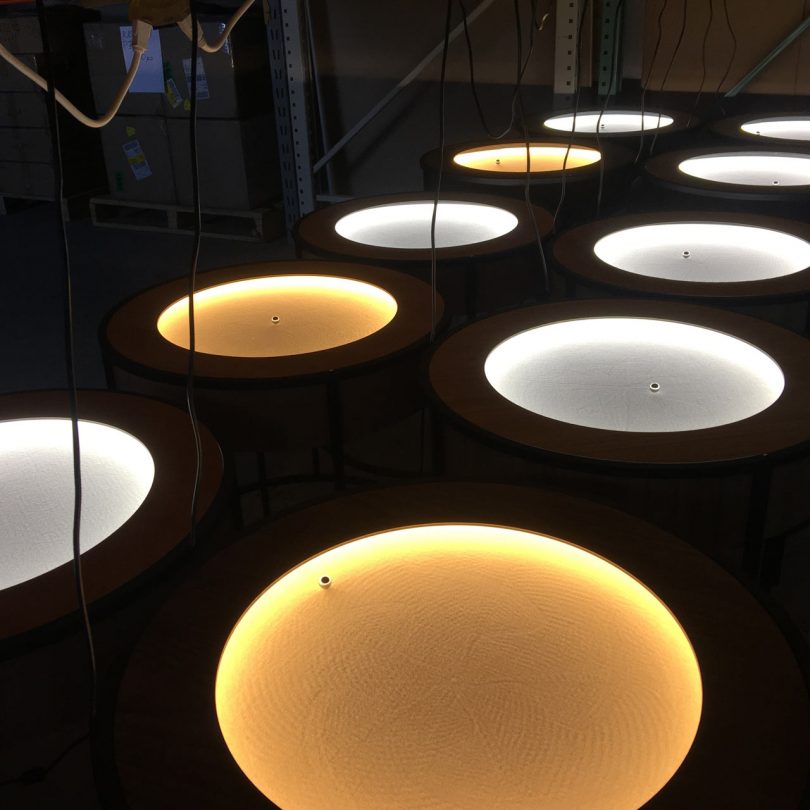 The Sisbot is then tested 24/7 at this step to ensure its long-lasting performance.
The Sisyphus Table is officially ready to be boxed and shipped off to it's new home.
Once delivered to the new owner, the real magic happens. Fine, white silica sand, the Sisyphus table's main medium, is poured and spread across the table, and tempered glass is added to the top of the table as the final step.
The finished Sisyphus kinetic art table in action.