Built on top of a sloping terrain, Sliding House, designed by MacKay-Lyons Sweetapple Architects, is a modern home where the geometry of the building separates the private and public spaces of the residence. Located in Kingsburg, Canada, the 1,700-square-foot home is situated on top of a hill that undergoes heavy winds and harsh weather.
Due to the nature of the weather in Kingsburg, certain rooms were segregated away from the northern wall to protect them from these elements. The living and sleeping spaces were all placed behind the stairs, kitchen, bath, and storage areas. The south-facing walls project a magnificent view of the sea, as well as large windows to draw in natural sunlight.
I love the materials that were used throughout this home. The high-quality zebra wood, mixed with glossy white lacquer is a combination that never ceases to amaze me. I am also attracted to the amount of natural light that enters the building through its numerous windows and openings.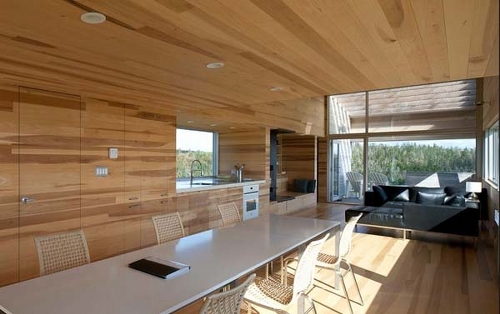 Design From Around The Web