"Type is saying things to us all the time. Typefaces express a mood, an atmosphere. They give words a certain coloring."
The same could easily be said about watches. Once a necessity, the wrist watch is now mostly an optional functional+fashionable accessory, but one still capable of coloring in the lines, communicating much about its wearer with just a flash of the wrist. Today, men and women wear watches not because they have to, but because they want to.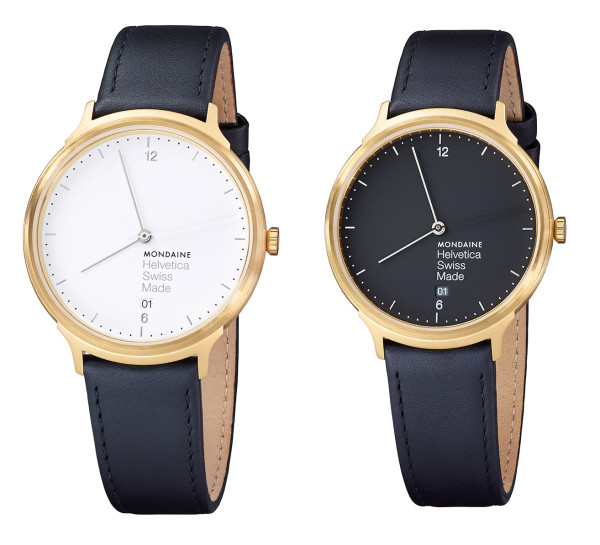 I don't know exactly when it happened, but a few years back I stopped wearing a watch. It wasn't a planned decision, just a mutual parting between my wrist and a daily timepiece, partially attributed to working from home where wearing a watch wasn't part of my "every day is Casual Friday" work attire. It was also because I found the trend toward ridiculously oversized watches both ostentatious and impractical. I've since reconnected to the sartorial pleasure of donning a watch – the trend thankfully swinging back toward an appreciation of minimalism – partially convinced by a piece with direct lineage with the most important typeface of modern times.
The Mondaine Helvetica No1 light is a designer's watch, an object communicating "mood" and "atmosphere" by honoring negative space as much as the typographic detailing it's named after. It's neither oversized nor an immediate attention getter, instead adorned with a single daring detail: the asymmetrical placement of the watches branding. The majority of the Mondaine's appeal is subtle, only noticeable on closer inspection. For example, the part where the watch connects with the strap known as the lug is a hidden nod to the Helvetica typeface: when viewed from above one can see two directionally oppositional numeral 1's shaped in Helvetica, meeting together to hold the leather strap in place. Flip the watch over and another asymmetrical engraving mirrors the one on the front, a compact list of the Mondaine's stainless steel, sapphire crystal and water resistant construction qualities (good up to 30 meters).
Otherwise, the Swiss watch manufacturer has kept the design refreshingly minimalist. I chose the 38mm white dial with an IP gold plated case option, paired with a brushed black leather band. As such, the Mondaine Helvetica No1 Light dresses up confidently when needed, but transitions well into casual situations without looking inappropriately fancy pants. During a recent road trip connecting the distance between San Francisco and Portland, the Mondaine Helvetica No1 light's stayed on my wrist while I was exploring tide pools along the Northern California coastline, hiking into the forested hillsides of Oregon, watching the sunset at the modernist enclave at Sea Ranch, hobnobbing amongst the Ace Hotel set, or dining amongst a monied set of San Francisco eaters. Its versatility was appreciated while trying to pack light, but dress well.
Italian designer Massimo Vignelli noted, "You can say, 'I love you,' in Helvetica. And you can say it with Helvetica Extra Light if you want to be really fancy. Or you can say it with the Extra Bold if it's really intensive and passionate, you know, and it might work."
Mondaine recognized this communicative flexibility of a typeface synonymous with a wide variety of brands and products, offering their Helvetica line in design weights of Light, Regular, and Bold, alongside a tech-enhanced smart watch edition. But regardless of which edition chosen, Mondaine's Helvetica series all say "I love you" to Swiss design and the 20th century modernist sensibilities its namesake represents, one tick at a time.
This post was created in partnership with Mondaine. Our partners are hand-picked by the Design Milk team because they represent the best in design. All opinions are our own.

Design From Around The Web