Back in June, I shared with you the exciting news that I am welcoming my first child – a daughter – this year. Well, she's here! Amelia Josephine Derringer arrived on 10/30/11. And as you've probably noticed, we haven't been taking any breaks here, and you won't see a change in the quality of content you've come to expect from Design Milk. I promise this blog won't turn into a baby album.
It's definitely an exciting time for us. When I made the announcement about our Little Milk, I also shared with you my nursery inspiration board. The room has been complete for some time, and I am excited that I can finally share it with you here.
To refresh your memory, this is the original inspiration board: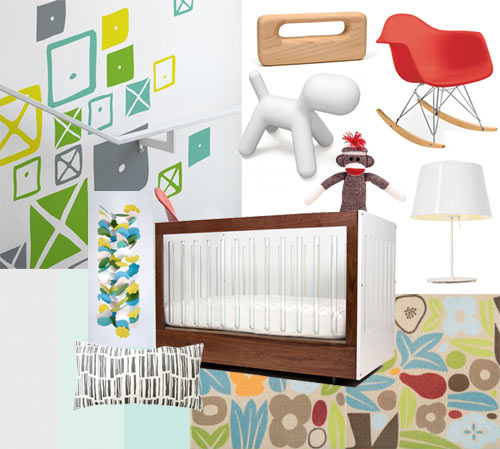 And here is the completed room:
(I'm still learning how to use my new camera, so bear with me)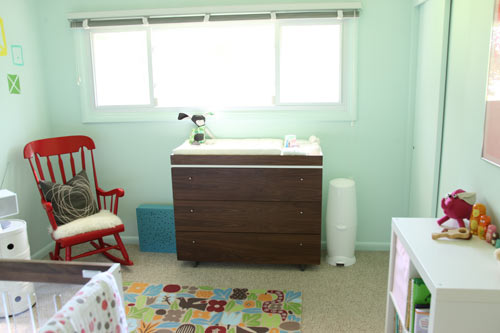 The minty wall paint is called Embellished Blue by Sherwin-Williams. It's not blue or green, it's kind of in-between. It's very soft and soothing.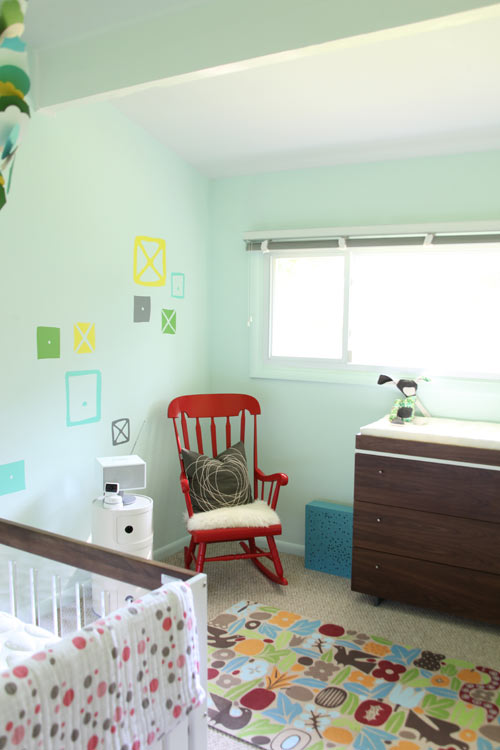 The wall decals are Eames Crosspatch from Blik, and were the first thing I bought for the room; I built the rest of the room around them. We really didn't want to do a specific theme, but we knew we wanted tons of colors and shapes in the room. The decals ended up being the perfect springboard.
Both the walnut and white crib and changing table/dresser are the Roh collection from Spot on Square and were purchased through Bobby Berk Home. Spot on Square has since created a credenza and bookshelf in the same collection, but for adults. It's excellent quality. I mentioned before that Nook sent us a few pieces including the crib mattress and changing pad to review.
And no, that's not the rocker from my inspiration board. Originally, I ordered a red Eames Rocker from Smart Furniture, but after it came, I decided that the back was too low for me. So, I had to send it back. Their customer service is off the hook. The traditional wooden rocker was purchased on Craigslist for $25 then sanded and painted with a high-gloss enamel spray paint. It was in pretty bad shape so I'm glad to have saved it.
I feel like the pièce de résistance in the room is the Alexander Girard FLOR Flora rug. I'm normally not a rug-on-rug fan but I think it's the perfect centerpiece for the room. It's very soft with great colors and shapes to entertain the little one. It will also serve as a playmat.
We grabbed an EXPEDIT bookshelf at IKEA with two DRÖNA boxes and I hung my For Like Ever poster above it. I've had that poster "for like ever."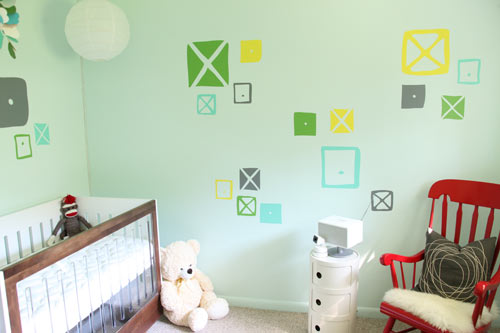 I found a place for my Kartell Componibili next to the rocker to hold our Geneva Sound System (it has an iPod dock) and our video monitor. I think there's also room for me to squeeze a few other small items. I love that I can stash burp cloths and such inside.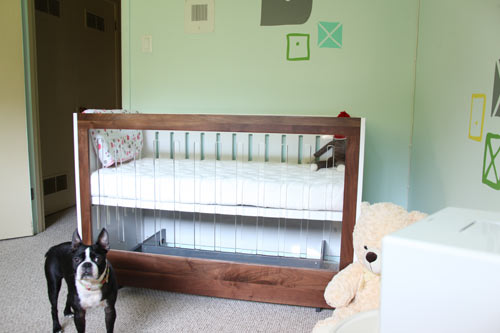 Beans is photobombing.
The details:
From top left, clockwise: Frederick the Elephant from Bholu, rattles from Little Alouette, and hand-painted nesting dolls I got from my friends at SITE NYC; Alexander Girard FLOR Flora rug; Frazier & Wing Summer mobile (no longer available); and a toy my friend Jamie made.
From top left, clockwise: Sock Monkey; tons of books from my childhood and Abraham Dinosaur toy form Bholu; a wooden lightbox that was a gift from Thomas Wold; and a Bholu Nimboo pillow with a RENS sheepskin from IKEA.
I have to express thanks to Sherwin-Williams, Nook, Bholu, and Bobby Berk Home who were so generous in helping me by donating some items to the project. Also, the good people at FLOR who talked me off a ledge when I thought the Alexander Girard rug had been discontinued.
Hope you enjoyed the tour!