It's been a while since I shared the progress of our kitchen. Since having a baby, things actually slowed down quite a bit, and then… well, kind of stalled.
The timeline came to a screeching halt when we discovered the flooring we ordered to fill in the gaps between where the old and new cabinets sat was the wrong size… we got 3/8″ instead of 1/2″. However, we tried to make do by putting a cork underlayment underneath the floor boards before gluing them in place. At first, it was perfect, but after a day or two, the boards began to sink down and the cork made them feel spongy. So, we were back to square one. Luckily we were able to return the flooring and purchase new 1/2″ boards. However, the new ones we ordered ended up getting lost in transit and took a few extra weeks to arrive. They're FINALLY in.
If that wasn't enough of a headache, we had ordered 25″ refrigerator panels and the cabinet company sent us 24″ ones, so we had to reorder and wait for those to arrive to complete the built-in fridge, along with a few other panels and finishing pieces.
Also, we still don't have a backsplash. The glass tiles we chose from modwalls have been on backorder for a while but just arrived earlier this week. It will be worth the wait.
I have to say, however, despite these minor issues, we did pretty well sticking to our original schedule — we had the cabinets, appliances, countertops, sink and faucet installed all in time for Thanksgiving and we cooked a big meal for ten people with no problems at all, and none of us had ever even used the appliances before! But more about those later… I want to gush about our sink and faucet.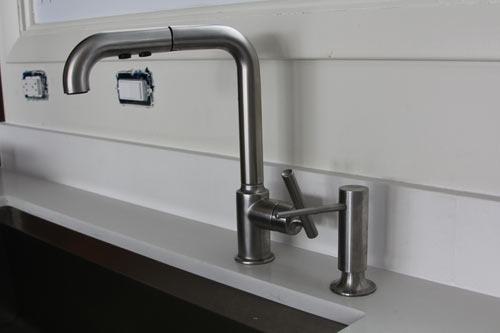 We really wanted a pull-out faucet and the one that suited our style best was the Purist® Primary Pullout Kitchen Faucet from Kohler. And that was where I was going to stop but Jamie told me one of the things she regretted not getting in her own kitchen was a soap dispenser, so we added on this modern soap/lotion dispenser. It turns out that it's a nice thing to have!
Our old sink was not only shallow, but small, too. Did I mention that it wasn't draining properly? It was so old that it had warped and collected pools of water that didn't drain. Grossville. At first I really wanted a stainless steel farmhouse sink, but after we sketched it up, it looked really weird next to the dishwasher, which is located directly next to the sink. We were also worried that the stainless steels wouldn't match. So we went for a gigantic, deep sink — the 8 Degree™ large single kitchen sink.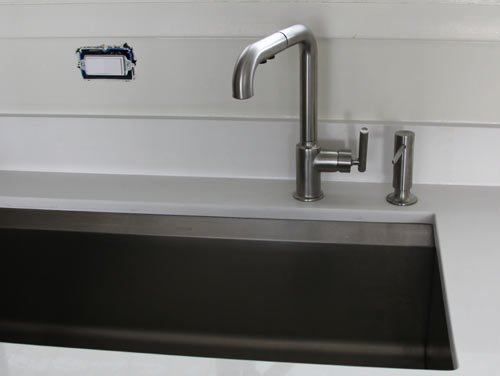 We positioned the faucet directly over the sink drain, which is offset. This works out really well since we can use the pullout to wash dishes on the other side of the sink. But it's also great because we can still use the faucet and leave some clean dishes drying on the other side of the sink.
My favorite thing about this sink is that it has two lips on the edges on which you can rest accessories. We got the wine glass drying rack (yes, we're lushes) and the bamboo cutting board. It's great to cut veggies directly over the sink and then just push them into the garbage disposal. The sink also came with a bottom basin rack for drying.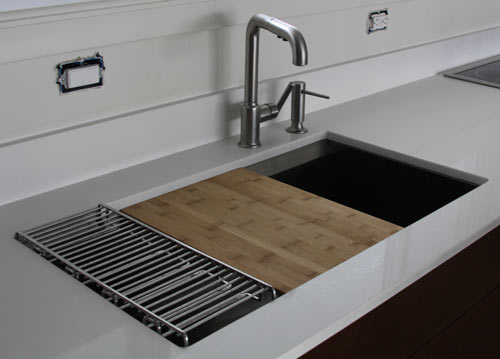 Special thanks to the following kitchen partners for donating product to the House Milk Kitchen Project: Electrolux ICON® \\\ Caesarstone \\\ Kohler \\\ modwalls \\\ Sherwin-Williams. Read more about our partners and the products we chose on our Kitchen Renovation Partners page.