Because I went into labor the evening of the cabinet installation, I don't have photos of them being installed. However, I'll get back to talking about them a little later on. I want to focus on one of my favorite parts of the kitchen — the countertop.
Jordan and I wanted a sleek, streamlined look that helped break up all of the brown wood in the room, but that also matched the white upper doors we chose (in case you forgot, here's the plan). Finding a counter surface that was not only stain-resistant, but chip, crack and scratch-resistant in the color we wanted was a challenge. We had our hearts set on a solid white, something that is almost impossible to find in natural stone.
Partnering with Caesarstone was pretty much a no-brainer. The quartz surface we chose was their Pure White polished surface from the Classico collection. We love that the surface is stain-resistant, scratch-resistant, and non-porous so you never have to apply a sealer. For our polished finish,we only have to clean with a damp cloth and mild detergent/non-abrasive cleaner.
We used a local fabricator, Delsea Marble and Granite, who pretty much took care of everything for us. Once they received the Caesarstone slabs, Delsea's team came and templated. Less than a week later we had our countertops! Their team was very friendly and helpful, not to mention fast! We wanted those countertops in as soon as possible so we could install the sink and faucet — we had a new baby to take care of!
I am loving the new addition of this extra prep area next to the pantry. Now that it has a countertop, it adds so much extra space to the kitchen for making sandwiches, feeding the dogs, holding groceries and pouring wine (obviously, the most important task of all!)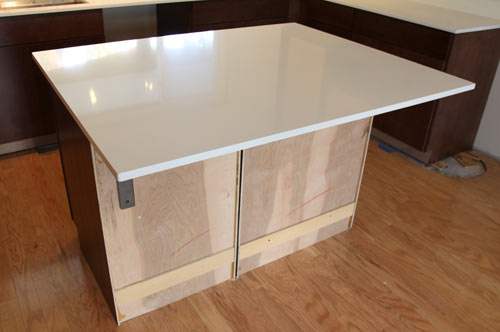 Our island also has an overhang of 16″ for counter stools, which we needed to reinforce with L-brackets.
Here's Jordan's workspace with a nice solid desktop. We had a hole cut in the top for cords so that we could wrangle them nicely inside the printer drawer. We're also going to get a grommet to put on it so you don't see the rough edges. All in due time…
The edge detail we chose was a standard eased edge, which is just a plain square edge buffed so that the corners aren't too sharp.
I'm aware that solid white and a baby seems like a terrible idea, but we're confident in the quality of the Caesarstone material and its properties that we'll have few problems with cleanup. Because they're white, I've noticed more dirt than our previous countertops, but cleaning them has been super easy.
Next, I'll share our faucet and sink (complete with sink accessories!) and then we'll get to the icing on the cake – the appliances!
Special thanks to the following kitchen partners for donating product to the House Milk Kitchen Project: Electrolux ICON® \\\ Caesarstone \\\ Kohler \\\ modwalls \\\ Sherwin-Williams. Read more about our partners and the products we chose on our Kitchen Renovation Partners page.