Last week I shared the demolition of our kitchen and told you all about our insane timeline. Now it's time for the pretty stuff. Jamie created our kitchen design after having just one conversation with me about what I wanted. We talked about layout, colors, materials and style. It didn't take her long to come up with something that Jordan and I could happily agree on.
Click on the images below for a larger view.
First, we discussed moving things around, perhaps putting the fridge where the wall oven was, but that wasn't feasible because we wouldn't be able to open one of the fridge doors because of the wall. Then we talked about putting the cooktop in the island, but that would require a hood and additional electrical work, which we decided was too much of a hassle. We didn't really have any issues with where things were located, so we decided to keep the existing layout.
What we knew we wanted was more storage space, countertop space and a larger sink. Jordan wanted a work area so that he could work at home without kicking me out of my office, so desk space was also a high priority. Additionally, that crazy huge island had to go, but we still wanted to have the extra counter space and storage, along with seating.
We also knew that we wanted a medium brown wood color with white countertops. However, having all of that cabinetry be all brown would be too much, so we decided to break it up with some white cabinet doors. At first, we were drawn toward a more European-style white lacquer door, but after exhausting our options with various cabinet companies, we found a company called Decorá that had both the wood tone we were looking for and a nice, clean white slab door — all solid wood. And even though we didn't end up finding a high-gloss white, the painted finish offers just enough of a sheen to make the doors really pop against the brown cabinet box.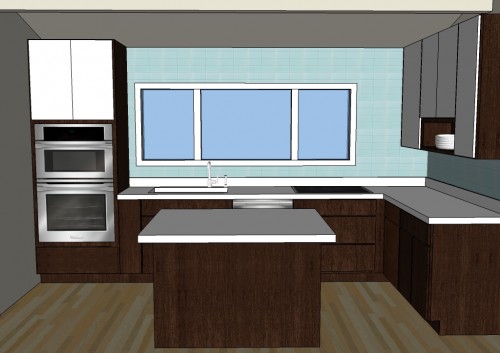 The new island will have storage on one side and space for two counter stools on the other. It's smaller than the old island, but now it feels proportional and integrated.
We discussed having open shelving on the right wall, and after drawing up a few options, we felt that an open cubby achieved the look we wanted without feeling like everything was exposed. It also breaks up that wall of cabinets nicely.
The actual layout of the backsplash from modwalls is still up for debate. We're not sure if we'll do the entire wall around the window or stop the tile at the bottom of the cabinets. What do you think we should do? Here's the rendering of the partial wall:
Jordan wanted a desk area where he could get some work done and pay bills, and luckily Decorá has a selection of specially-designed desk cabinets. Since I wouldn't be using this space all that much, Jordan designed it himself, adding a long workspace with tons of extra storage, a file cabinet and a cabinet with a rollout printer tray. This space will also come in very handy when unpacking groceries and serving food. When our daughter gets older, it'll make for the perfect homework spot.
On the opposite wall, we created a refrigerator cabinet, pantry and wine bar. We didn't want to lose the luxury of a wine cooler in the kitchen so we just moved it to this location. The tall pantry will now house our cans, sauces, cereals and such instead of the old lazy susan in the lower corner cabinet that was almost impossible to reach.
Overall, I think the kitchen achieves everything we set out to accomplish. The slab doors, brown wood tone and no-frills design stay true to the mid-century design of the home. Standing in the kitchen now and looking at these SketchUp images, it's amazing how it's all coming together. Next time, we'll talk countertop!
Special thanks to the following kitchen partners for donating product to the House Milk Kitchen Project: Electrolux ICON® \\\ Caesarstone \\\ Kohler \\\ modwalls \\\ Sherwin-Williams. Read more about our partners and the products we chose on our Kitchen Renovation Partners page.