The Marui Toclus Shared Residence in Tokyo by nendo
The Marui Toclus Shared Residence in Tokyo by nendo
1/16 Photos
2/16 Photos
3/16 Photos
4/16 Photos
5/16 Photos
6/16 Photos
7/16 Photos
8/16 Photos
9/16 Photos
10/16 Photos
11/16 Photos
12/16 Photos
13/16 Photos
14/16 Photos
15/16 Photos
16/16 Photos
Marui Toclus is a new residence located in Tokyo, Japan, designed by nendo. The Marui Group owns a number of commercial facilities throughout Tokyo, many of which located in highly convenient and coveted locations. The facilities become vacant after business hours, and the idea was to renovate a portion of the store into shared residences – switching purposes between day and night.
Residents are given access to a kitchen and dining space along with a terrace facing Inokashira Park. They are also given access to the roof floor and employee lounge within the store after hours. They can also benefit from discounts from the stores, as well as a laundromat and events area on the first floor.
The rooms are furnished with essential home appliances and furniture while rental services are provided for daily necessities. Since the rooms are small, "The trunk room is made available to store frequently changed wardrobe. To reduce moving costs, each room is equipped with a built-in bed and mattress so that residents only have to bring in minimal bedclothes."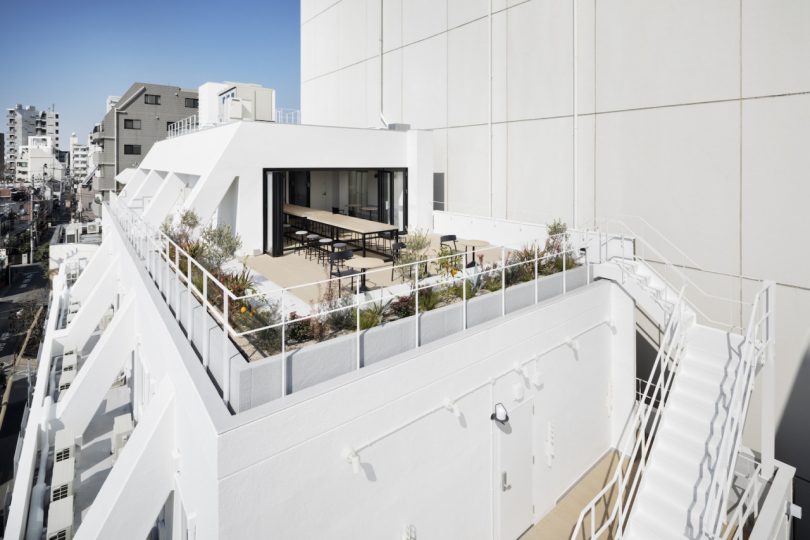 Photography by Takumi Ota.