After years of apartment living in Los Angeles, my wife and I moved into a small home tucked inside a tree sheltered canyon in the neighborhood of Mt. Washington, CA. It's a small 1930's multi-level home with an unusual floor plan, the sort of home with quirks that elicit responses like "whoa!" and "that's weird, but cool". We're still figuring out the interior, but inspired by Jaime and her backyard project, we've turned our attention outward to all of the possibilities presented by our own slice of North East LA.
Our backyard abuts against a steep hillside, shaded by a canopy of native black walnut and mature citrus trees, a section where the hill with the greenery make our yard feel secluded from the world. The previous tenants left a flattened dirt landing overlooking the property, a patch large enough to spark the imagination about smaller projects like a raised bed garden or even a modest deck.
Brushing aside the lower hanging fruit, my thoughts continually veered toward erecting a small outdoor structure. Fed by a steady diet of books like Foster Huntington's The Cinder Cone and the lasciviously titled, Cabin Porn – I began plotting, planning, and Pinteresting ideas with aspirations of  creating a special private place to kick back and relax during one of the many 284 sunny days we enjoy here each year in temperate Los Angeles.
With the assortment of home improvement projects we were already working on since moving in, I was already dropping into our local Home Depot rather regularly. Between picking up painting supplies, tools, and accessories, I'd always check out the selection of affordable prefab tool sheds sold at our local location, each visit impressing the idea of one day converting a prefab wooden tool sheds – specifically their Handy Home Majestic Wood Storage Shed – into a space finished with flooring for relaxing or use as a remote office. The potential was there. It was ultimately a timely price drop that helped nudge me toward taking on the project.
With a help of a good friend and a few days of dedicated shovel work, I got the area leveled and prepared for the shed foundation. I opted to hire the help of a Home Depot contractor to erect the shed, noting I didn't have all the required tools or material to put everything together within the constraints of a budget; unsurprisingly, the hired expertise made the project go much faster.
It took about 9 hours for the shed to be fully constructed, complete with shingled roof, transom windows, and 48 sq. ft. of overhead storage – an impressive feat noting the 1,100lbs of material required for assembly. I highly recommend the option of hiring professional help through Home Depot if your tools selection and skills are limited, live in a challenging location, or simply prefer someone skilled to build the structure for you.
Once the shed was completed I was able to take the project from there…then realized I didn't really know what the heck I was doing beyond the ideation phase. I was acquainted with most basic of power tools, but I knew I needed help as a property virgin. I enlisted the aid of my friend, Mina, a designer comfortable and skilled with wood working tools; she helped guide me through every step of using our various rental saws, instilling the important mantra, "measure twice, cut once".
The most challenging task was opening up the length side facing toward the back of our home. My intent was to expand the view and bring in more light, complementing the planned all-white interior to create the perception of a larger and brighter space within. A combination of a circular saw and reciprocating saw worked beautifully to remove the length of one side (with the help of a few strategic whacks of a rubber mallet). Under Mina's watchful eye I became adept at wielding the circular saw, if I don't mind saying so myself, using the built-in laser guide upward and along the shed's length. Eventually we ended up opening the walls even further, installing a double header for reinforcement.
The opening would allow easier work and ventilation while working from within, especially helpful when it came to painting the interior using a paint sprayer (I used the Graco TrueCoat Airless Paint Sprayer, a model that caught my eye because it doesn't require thinning out paint or primer; the variable speed capabilities would also prove handy).
I learned quickly OSB (oriented strand board) can drink up paint if applied too heavily, but the paint sprayer was up to the task of spraying even coats with just a turn of a dial. Thanks to timely warm weather, I had the interior painted only in a few hours, even when factoring in for drying time between coats (I used a Behr Premium Plus Ultra paint and primer in one). Once applied the pure white paint both protected the unfinished walls and transformed the interior into something that felt/looked more like a room instead of a tool shed.
Next was putting in a roll of TrafficMASTER underlayment in preparation for installing flooring. This was probably the easiest part of the whole project: unroll, measure, cut, attach, finished!
I had picked out a dark hued HDF click and lock hardwood flooring to install over the underlayment; the process was simple enough for Mina and I to figure out even as first time flooring installers. We cut pieces to size then locked planks into place with a satisfying "click" like a gigantic jigsaw puzzle. A few hours later, the amorphous dream became a tangible reality once the last piece clicked into place and we could look out from the shed down into the backyard.
The funny thing about any home improvement project is plans will undoubtedly change. And indeed I've since revised my initial goals. When I began the project the intent was to install sliding barn doors; now I'm in the process of building and integrating an upward opening plexiglass pane window (awaiting shipment of custom cut lightweight plexiglass). This will bring in more light even while closed and offer a superior seal to the elements; when opened it will operate as an awning. Landscaping is on hold in expectation of El Niño downpours, but I've situated a few drought-tolerant plants around the shed.
Building a small attached deck outward from the hillside from the longitudinal shed's opening could provide a spot for chairs and plants while also elevating the shed higher for drainage; a living wall of succulents are planned to soften the sides aesthetically alongside a paint job matching our home. Lastly, when budget allows there are wistful ideas of installing a small array of solar panels to bring some interior lighting without extending electrical from the main house. So many ideas, so little time!
Nevertheless, even at this stage I think I've got the start of a really great place to hangout and enjoy throughout the year. The addition of plants in and around the shed helps blend in the building and a few choice decorative pieces gives the interior a welcoming ambiance. My wife, who began suspicious of the shed initially, now approves (thankfully!); she finds sitting inside its walls calming and peaceful. When completely empty, it feels like the perfect exercise studio for one.
Friends have mentioned the converted tool shed now reminds them of a Japanese teahouse, a poolside cabana, or a treehouse. That such a small simple space could evoke all these images is a testament to the power of a little paint, some handsome flooring, and a little sweat. At the end of it all I've graduated from a beginner…well…to a beginner with a little more experience. But I am now much more confident about reconfiguring a structure and making it my own. With future plans to forge ahead investing more weekends to customize the structure beyond its utilitarian roots into a relaxing escape in our very own backyard, I'm very pleased that a daydream is quickly becoming a reality…
*Special thanks to Mina Cheong, Dan Kitchens, and Ian Goicochea for their help.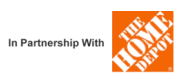 This post was made possible by Home Depot.