Brad Ascalon, of Brad Ascalon Studio NYC, believes in design that is uncomplicated, rational, and that manages to find the perfect balance of form, function, and concept. Immersed in the world of art and design from an early age, Ascalon is a third-generation designer who today is widely regarded as one of the leading American designers of his generation. He attributes his passion for his craft to the two generations before him, who instilled the value of craftsmanship, materiality, and rigor in him. Ascalon Studio was formed in 2006, and his list of collaborators includes companies such as Carl Hansen & Son, Ligne Roset, Bernhardt Design, Restoration Hardware, Design Within Reach, Gaia & Gino, Nude Glass, Skandiform, Landscape Forms, L'Oreal, Redken, and others. Brad and his wife split their time between New York City during the week and the North Fork of Long Island on weekends, so we asked what some of his favorite aspects of his Long Island neighborhood are.
While my wife and I live on the Upper East Side of Manhattan, we spend most weekends at our place on the North Fork of Long Island, otherwise known as Long Island Wine Country. The North Fork is the last 30 mile stretch of Long Island's north shore, beginning about 75 miles east of New York City. It's known for its vineyards and wineries, as well as its vast stretches of farmlands, and views of both the Long Island Sound (facing north to CT) and the Great Peconic Bay (facing south to the Hamptons/South Fork). Specifically, we are in the hamlet of Laurel, a quaint stretch between Jamesport and Mattituck, just north of the Peconic Bay.
At the end of our street, about a five minute walk from our home, is our deeded access to the Great Peconic Bay. For me, this spot is the most peaceful place on earth, a sandy seawall that rises just five or six feet above the water. I take my dog here almost religiously for morning walks with a cup of coffee in hand, starting off the day just staring at the beauty of the bay and the Hamptons coastline in the distance.
One of the things we love about the region is the easy access to dozens of local roadside farm stands selling the day's produce. Many of these farms have histories that date back hundreds of years and are still privately owned by the very families that founded them. While we give a lot of these farms our business, and although we are always discovering new ones, one of our go-to spots is Bayview Farms in Aquebogue, about a five mile drive from us. We love cooking meals made entirely from locally grown ingredients with herbs that we grow ourselves, while drinking locally grown wines from one of the fifty or so wineries in the region.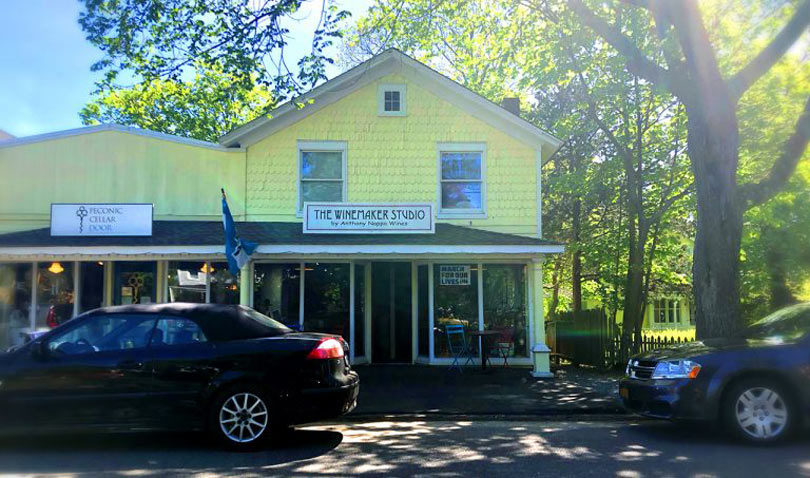 Although the first winery on the North Fork began growing its grapes in the 1970s, the region is only in recent years getting the recognition it deserves as one of the world's leading wine regions. My wife Amy and I are constantly discovering new wines that we love, but a few in particular have been bringing us back for years. Bedell Cellars, Osprey's Dominion, and Lenz are a few that come to mind. But one of my absolute favorite winemakers in the region is Anthony Nappa. While Nappa doesn't own his own vineyards, he sources grapes from various growers in the region. A number of years ago he set up The Winemaker Studio, his personal tasting room in Peconic. This is the perfect spot to break up a day and taste some great bottles. A handful of winemakers on the North Fork truly know how to harvest grapes from this very distinct growing region, and I think Anthony Nappa is one of those leading the charge at the moment.
While we're surrounded by nature in all directions, 67 Steps Beach near Greenport Village is one of the most beautiful spots on the North Fork. A long wooden series of stairs bring you down a bluff to this amazing stone beach. If you come at the right time, you can catch some of the most brilliant sunsets.
For more on Brad Ascalon, check out his Clever episode and his Where I Work.