This month for Where I Work, we soar across the US from New York to Portland to modern eco-friendly tech accessory company Grove, whose products we've featured many times on Design Milk. I've even had the pleasure of owning a few.

Ken (left) and Joe (right) of Grove
Custom furniture designer/maker Ken Tomita, along with business partner Joe Mansfield, founded Grove in 2009. At the time, Joe was running a laser engraving business that he started out of his studio apartment. We featured both EngraveYourBook and EngraveYourTech as well as Ken's furniture designs. Needless to say, we've been fans of both these guys for quite some time!
Because of his experience making furniture with bamboo and Joe's engraving skills, it seemed like the perfect match to start a company making engraved bamboo iPhone cases. Luckily both also shared a passion for high-quality products, which is what has made Grove so successful to this day. We've tried and tested their products and we can vouch for the super high quality standards. A few business loans, high-end equipment, two floors of a building (including a giant workshop), and 23 employees later, Grove is a successful, thriving business. They most recently launched a colorful iPhone case made from skateboard scraps.
Let's follow along as Ken takes us on a tour!

Wire sculpture made by Grover Arty Johnstone and Ken featuring the profiles of Grove employees in wire with their names in bubble letters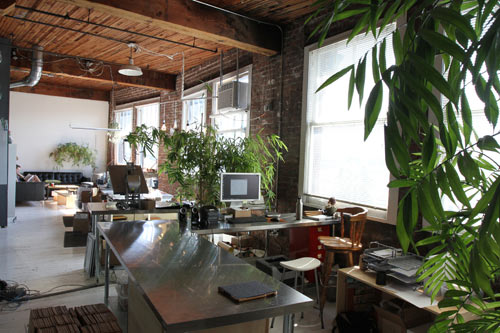 What made you start Grove?
Joe and I shared a passion for smart design and high quality products. We would often meet in the middle of the street and take a break to toss a football, brainstorming and trying to one-up each other's design ideas. On an impulse, we decided to work together to make the best iPhone case possible. Without knowing anything about heavy machinery or how to run a larger business, we took out loans, bought expensive equipment, and dove in head first. From day one, Grove's attitude has been "go hard or go home."
How long have you been in this space? What was your space like before?
We have 2 spaces in the same building. Our woodshop occupies 2,000 square feet on the ground floor of the building, and our laser-shop/office takes up 3,000 square feet on the fifth floor. We recently doubled the size of the laser-shop/office — a few of us came in one weekend and literally tore down a dividing wall with sledgehammers. When Grove first started, our woodshop was in a shared space two miles away, and we had only 1500 square feet for our laser-shop. The short commute between shops has been replaced by a five-flight trek up the stairs.
We do the dirty and dusty part of our manufacturing downstairs in the woodshop. We do light assembly, laser engraving, making of parts with our laser, and packaging and fulfillment upstairs. All the other general administrative, customer service, web programming, and design work is done upstairs as well. With an excellent view of downtown Portland, the Willamette River, and seven bridges (!), it'll be hard to ever give this location up.
What's with all the plants?
So the plants… yeah… it's kind of a funny story. Joe is upstairs and I am downstairs, and we are competitive about silly stuff, so we decided to have a "plant off" a year ago where we bought the same plants and tried to nurture them better than the other. He cheated by getting grow lights! For us at Grove, our workshop is essentially our home. We all put a lot of effort and thought into making it a pleasant place to be. We have some bamboo indoors, but the coolest thing is our bamboo grove that we recently planted. The plants are taken care of by all of us. We are kind of hippie like that – very "Portland." ;)

Noooo, we're not jealous of that view at all…
What's special about your workspace?
I have a Herman Miller Mirra chair that I picked up at a used furniture place at a great deal. I love Herman Miller office chairs. Great design, durability, quality, and ergonomics. My desk has custom red file cabinets I made with brushed aluminum fronts. Our adjacent lounge has matching cabinets with burnt natural edge walnut doors and a coffee table set. There is an old fire door I painted red, which opens up to the legendary Burnside Skatepark. Pretty damn hip!
In the laser-shop/office we have a wooden bar in our break area, which we built to attach under the windows with leather straps. Some more of my furniture designs are up here as well, including some Chaboos, a coffee table, and a shared desk. Our office plants add an organic touch to the mainly white space. We have a row of several windows on the West-facing wall that open up onto the Portland cityscape and highlight the natural curve of the edge of the building. We love the raw brick walls and being able to see the structure of the building from the inside.

Chandelier made from iPhone case part scraps
Grove is so detail-oriented and has such an intense quality control process. How does your space also reflect this?
We are meticulous in our layout. With a former architect and expert fabricators on our staff, we designed and built-out the space ourselves, rather than hiring contractors. This reflects our typical DIY spirit. Our quality control areas, for example, have intense, white "grow" lights illuminating the work area for a perfect view of our products.
When finding an office space and setting it up for your workers, what were some of the most important considerations?
Noise and dust. The handwork areas are split off and soundproofed from the shop, where power tools and CNCs are humming away. We spent a great deal of time designing the workplace to be ergonomic. Our workbenches are at different heights and people can sit or stand based on preference.
The office area is an open design encouraging communication and collaboration. Similar to the woodshop, however, the lasers (which create some intense white noise) are isolated to one corner, and a sound-softening foam half-wall separates our break area where we enjoy the view of the city.
Our space is really a jumble of different activities all taking place at once. In one open 3000-square-foot area, we have graphic design, customer service, web development, shipping and processing, light production, lasering, and even sewing! It can be kind of crazy, but it creates a tight-knit, family-like atmosphere. It's unique to our DIY culture where we do as much as we can ourselves.
How do you keep it fun?
Oh we definitely have fun! Our normal workdays can include animal sound choruses and impromptu dance parties, or even Japanese calisthenics. We have one catered lunch a month and one barbecue a month where one of us cooks on our loading dock. Being in view of the famous Burnside Skatepark and the Burnside Bridge, we get many jealous looks! We've been hiking together, gone to swimming holes, gone canyoneering, and enjoyed Trailblazers basketball games, and Timbers soccer games. Of course, any birthday is an excuse for treats. Just the other day, we set up a free, makeshift "ice cream parlor" in our break area and our team served up ice cream for each other to celebrate a couple of birthdays.
What's on your desk right now?
My 13" MacBook Air and external monitor, keyboard, and mouse. In reality, I move around all day with my MacBook Air, so I'm never at my desk. But, when I'm sitting at my desk, I like having the ergonomics just right.
Joe has a Nixi tube clock, a 27" iMac, an Intuous Wacom tablet, and a wireless keyboard and trackpad, Harmon Kardon soundstick speakers, a cross-section of a nautilus shell, an opinel folding knife, and a dead cactus. Typically, he always has a giant pile of random materials and prototypes of projects in progress. We call his desk "the cabinet of curiosities."
Tell me a story about a particular object in your office or on your desk.
A custom painting by one of our artists Amy Ruppel: back in my furniture designing days, I did a collaboration project called ProjectChaboo for which I invited 50 artists and designers to reinterpret one of my furniture designs. After working with Amy on her amazing piece, she gifted me this painting. Surprisingly, it was the first time she painted on a non rectilinear canvas.

Shipping is fun!
What's next for Grove?
Our next step as a brand is to grow away from Apple accessories. It may take a few years, but it would be nice to not be dependent on another company's product. We will introduce leather moleskines from EngraveYourBook soon as a part of Grove, and we're working on another top secret lifestyle product that will blow you away!
As we get better at manufacturing and increase our capacity, we hope to sell through retailers as well as direct to customers online. We want to stay true to our values and maintain our quality, care, and team oriented style throughout our changes. There are so many things we want to do, the challenge is going to be choosing what not to do!