Where I Work visits Jessica Rosenkrantz and Jesse Louis-Rosenberg of Nervous System at their Boston area studio. Founded in 2007, the firm designs and makes a range of products from housewares and jewelry to tools and interactive applications. Rosenkrantz studied biology at MIT and architecture at the Harvard Graduate School of Design. Louis-Rosenberg also attended MIT, where he majored in mathematics. Before joining Rosenkrantz at Nervous System, he worked as a consultant for Gehry Technologies in building modeling and design automation. Rosenkrantz acts as Creative Director and Louis-Rosenberg as Chief Science Officer. Together they lead a team of seven, and if you can't already tell, are the epitome of geek chic.
Befitting their backgrounds, the duo focuses on generative design methods, and use algorithmic and physical tools to design products inspired by natural forms. Products are designed to be affordably and ethically made. They use manufacturing methods that do not require large facilities or massive manual labor. Often, the team employs rapid prototyping methods by which all unique pieces can be manufactured at the same cost as cookie cutter ones. Materials are inexpensive, because they believe that the value of their designs comes from an intelligent and beautiful marriage of form and function, not, say, the current price of gold.

Flex space
What's your studio environment like?
Our studio is laid back. We are both basically here all day, every day, and we have six employees that work a standard, weekday schedule. I usually pick the music upstairs in the mezzanine and play a mixture of electronic and indie music. Usually there is a competing Pandora station playing downstairs selected by our other staff.

Jewelry boxes
What is your typical work style?
Our work style is chaotic and scattered, but punctuated by short bursts of extreme focus. We've tried to impose a schedule on our work innumerable times, but that usually lasts at most, three days. We typically have several different projects we're working on or thinking about. Our progress is interrupted frequently by preparing for events, getting orders out the door, and by the mundane tasks of running a business. When we have a major deadline, we stop what we're doing for a few weeks and bang out a new project.

Jewelry display bubble
How long have you been in your current space? Where did you work before that?
We've been in our space for just a year now. I feel like we're still settling in and constantly making changes. Before that we worked out of our house in the woods of western Massachusetts. It was a big house with a separate floor that we used for our office and a garage we used as a woodshop, but it was still cramped. Since we started Nervous System in 2007, we've moved all over the country (Santa Monica, Los Angeles, the Catskills, Shutesbury, Somerville, and Cambridge) and worked out of wherever we lived at that point. It's nice to finally have a commercial space to settle into.
How is your office laid out?
Our office is divided into a few different areas: double-height showroom space, production room, spraybooth, workshop room, laser room, and mezzanine office space.

Assembly table

Bamboo coaster
The production area is very organized and is where most of the product assembly, packaging, and shipping takes place. It has one, giant C-shaped desk that wraps around the whole space with shelving up to ceiling on every wall. The workshop room primarily houses our CNC router (a computer controlled 3D wood carving machine) and wood storage. It also has a sink and hot plates we use for dyeing 3D-prints. Adjoining the workshop is the laser cutter "room" that's actually a closet under a staircase.

Mezzanine office with Makerbot Replicator 3D-printer on the right
Our office/creative area is on a mezzanine and over looks the double height showroom space. Jesse and I have desks up there as does Nathan (our programmer/engineer) and Aaron (our business manager). Upstairs we also have a fridge, microwave, toaster, espresso machine, kettle, etc. And an infinite supply of Kimchi Ramen. The  showroom space hasn't truly evolved into a real showroom yet, but there's a portion devoted to showing our lamps and jewelry to visitors. We also use it as a flex space for larger projects. Our six foot long window serves as a cactus nursery. And right by the door we have a Elos saltwater aquarium for keeping live coral.
If you could change something about your workspace, what would it be?
Jesse: It would be bigger and have a ping-pong table.
Jessica: I'd love to have more windows! We only have one, which is big, but not big enough to illuminate the whole office.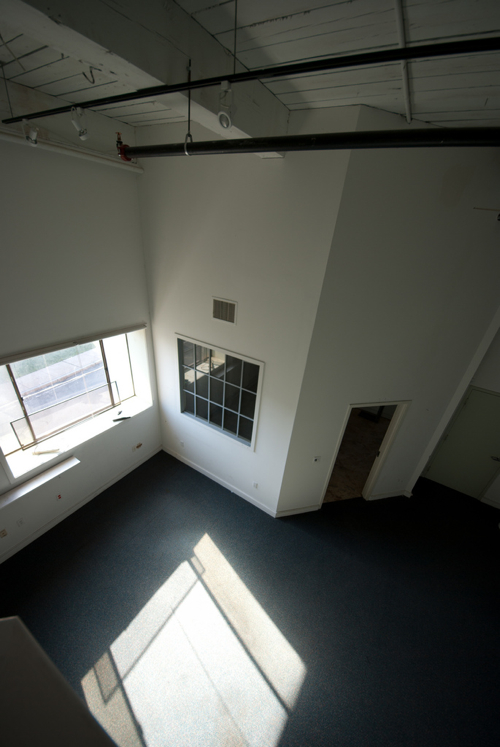 Double height mezzanine space
How do you record ideas?
Jesse: I basically keep everything in my head. I'm currently keeping a tasks list (in Gmail) of specific things I want to work on, but are not simply daily tasks.
Jessica: I'm pretty disorganized and have many different places I keep track of things, including a smattering of emails to myself, several sketchbooks, scraps of paper on my desk, yellow sticky notes on the bottom edge of my monitor, a Google calendar, and a range of Google docs.

Printed steel rings
Do you have inspiration boards? What's on it right now?
Jesse: We have a board that hasn't been updated since we moved into our new space. Lately, I've been trying use Pinboards to keep track of information I want to come back to.
Jessica: Not really but you can generally tell what I'm interested in by what books I have around. Right now they include The Cactus Primer
by Gibson, Book of Coral Propagation
by Calfo, and The Algorithmic Beauty of Seaweeds, Sponges and Corals
by Kaandorp, among others.

Generative jigsaw puzzle pieces
What's on your desk right now?
Jesse: An embarrassingly random set of objects. Scattered papers, laptop and monitor, a Kinect, a bag of chips, rainbow permanent markers, an external harddrive, a CFL light bulb, a bottle of acetone, an X-acto knife and a sample of acrylic.
Jessica: Two giant monitors, two external harddrives, Sour Patch Kids, X-acto blade, black Sharpie, sketch book, mechanical pencil, Klean Kanteen water bottle, stack of generative jigsaw puzzles, sennheiser headphones, and a printout of slides from our last lecture.

Failed 3-D prints
What kind of design objects might you have scattered about the space?
Almost every design object in our studio is something we made. We have finished designs, prototypes and experiments. These range in size from 8-foot long rippling wood tables to small experimental prints made with our Makerbot Replicator printer. The only exception is a bunch of fiberglass Eames chairs. We do have two glass cases full of natural objects though. We have collections of sea shells, minerals, fossils, and other specimens some of which have served as inspiration for past projects and others which we may investigate in the future.

Custom reaction table
Are there tools and/or machinery in your space?
We have a lot of different tools. We've got the computer controlled tools: an Epilog laser cutter, a large CNC router (which we built ourselves), a Makerbot Replicator 3D-printer, a Canon Pixma Pro inkjet printer. We then have various other tools: basic woodshop equipment (table saw, drill press, etc), a spraybooth setup with an air compressor and spray gun, jewelry tools including tumblers and a fusion welder, and tools for doing electrical work like a soldering station.  We have many hand tools and a workbench as well.

Lasercutting a puzzle
What tool do you most enjoy using in the design process?
Jesse: The laser cutter is definitely the most satisfying. It is so versatile and so fast. You are limited to 2D cutting, but you can use so many materials and unlike 3D printing or CNC routing, it is practically instantaneous.
Let's talk about how you're wired. Tell me about your tech arsenal.
We love computers and have a lot of them. There are 10 computers being actively used in the office: two laptops, two desktops for design, two desktops for sales and correspondence, a desktop that runs the laser cutter, a desktop that runs the CNC router, a Mac Mini for iOS development, and a Linux desktop used by our newest employee. After a recent theft, we've had a proliferation of external harddrives, and make sure to back up as much as possible on Dropbox.
What design software do you use, and for what? 
The vast majority of design work we do is using the software that we write ourselves. We write our software using a variety of tools. We use Processing as our go-to for sketching out ideas. We use Microsoft Visual Studio for C++ development, and we do a bunch of web development stuff just with a text editor (Notepad++). We've begun to use LuxRender as our open source rendering software. We occasionally use Rhinoceros to design components, sketch out plans, make displays and the like. We also use specialized software, including MeshLab and NetFabb, to process geometry we generate.

Silver Vessel Pendant

Orbicular Lamps
Do you have a favorite piece or collection that you've designed?
Jessica: I have a lot of favorites! My favorite piece of jewelry is the Silver Vessel Pendant.  My favorite interactive product we've made is the Cell Cycle app. And my favorite housewares design is the Orbicular Lamp. Or maybe the Pollen Lamp.
When did you feel like you "made it"? 
Jesse: I don't know if I feel like I've gotten where I want to be yet. But I do know the moment that I decided to quit my day job. Jessica was already working on Nervous System full time, while I supported us with a "real" job. We participated in the Designboom Mart at ICFF in May of 2008, and we had a tremendous response and sold what was – at the time – a game changing amount of products. We were ecstatic, and I decided to do Nervous System full time.

Lasercut Bamboo Trivets/Coasters
Tell us about a current project you're working on. What was the inspiration behind it?
Right now we're working on creating a toolkit of interactive products/applications for our website.  Earlier this year we introduced our revamped Cell Cycle app that allows people to play with a physics simulation to design their own 3D-printable jewelry designs. We're really proud of the result and it's been very popular. Many people are choosing to design their own pieces with the application instead of just picking from among the options that we designed. That's really exciting for us, because one of our goals at Nervous System is to use new technologies (like generative simulations and digital fabrication) to engage people in the design process and create custom, one-of-a-kind designs. In brief, we are making a bunch of web apps that visitors to our site will be able to use to design products ranging from cellular bamboo trivets to sculptural 3D-printed ceramics and coral-like stainless steel jewelry.

Reaction plate
Do you use any of your pieces in your own home/life?
Jesse: We use our Reaction cups and Reaction plates everyday. We've also been using some new trivets/coasters we're in the process of designing. We have frou lamps at home: Hyphae and Reaction in the living room and Pollen and a prototype Seed in our bedroom. We also built our dresser, but it's not an item we sell.

Black Interstice Bracelet
Jessica: I have a few pieces of Nervous System jewelry that I wear quite frequently. In addition to the Silver Vessel Pendant, I wear the Silver Cellular Pendant, Silver 1-Layer Twist Ring, Stainless Steel Convolution Bangle, and a black Interstice Bracelet.
Portrait and photos 1, 12, 13 by Ken Richardson.