If you've ever been in need of business cards, chances are you've come across MOO and their incredibly convenient and user-friendly method of creating them. Over the years, they've added to their product line to include stationery, holiday cards, notebooks, stickers, and basically anything you'd need to advertise yourself or your business at incredibly reasonable prices. While their business model is online, there's a huge team behind it all that make it happen, including Toby Hextall, MOO's London-based Director of Product Design. For this month's Where I Work, Hextall takes us inside his London office to see where he and his team work on concepting, creating, and delivering the MOO products and packaging we've all grown accustomed to seeing. Take a look.
What is your typical work style?
Creatively, I like the mornings the best – especially earlier when they tend to be quieter with fewer meetings. It gives time to focus on the key items for the week or day. As a central team within the business, we need to balance creative time with on time delivery of concepts and juggling multiple requests and projects. As such, I don't have a daily routine in the office, as I am a firm believer in mixing things up to keep the creativity flowing. The best days are the ones with long stretches between meetings!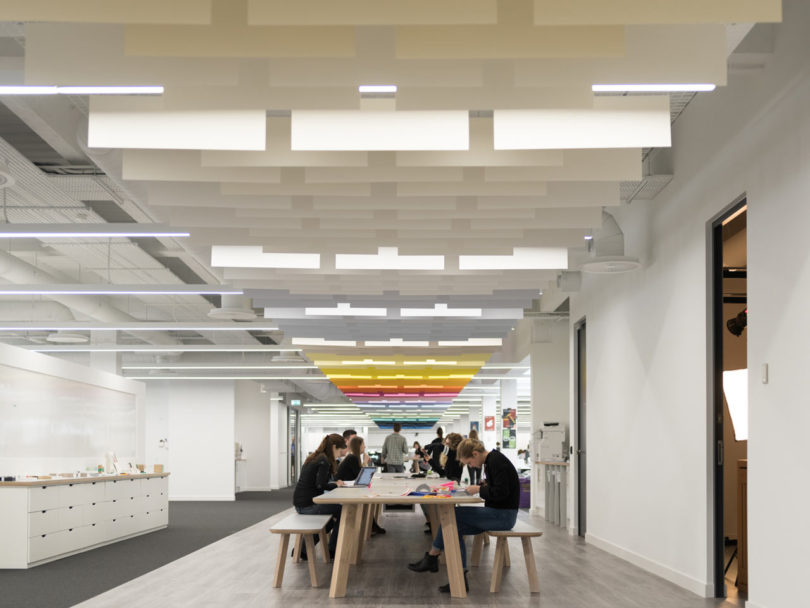 What's your studio/work environment like?
The studio is open plan and filled with samples and constant activity. It is great to see people working on different design projects within the same space – that in itself is inspiring.
How is your space organized/arranged?
There are three other designers in the team and we all work on a long open plan desk, with the design studio space directly behind us. This enables instant access to product samples, an extensive materials archive, our workshop and free flowing conversation between the four of us. Especially useful for problem solving and impromptu design discussion.
How long have you been in this space? Where did you work before that?
We have been in MOO's space on Farringdon for just over two years and moved here from our Shoreditch office. We were involved in the designing of our space within the current office and it was great that we could configure the space in a way that would really work for us, and we also commissioned specialist furniture for the studio.
If you could change something about your workspace, what would it be?
It is a great space that works really well for us, but we would always love bigger and more extensive workshop facilities!
Is there an office pet?
Not at the moment… Although one of our team members has an Ibizan hound called Mango – who plans on visiting us on our bring your dog to work days.
Do you require music in the background? If so, who are some favorites?
We have a shared bluetooth music system in the office that definitely doesn't have a favourite genre or style. We also love listening to inspirational podcasts (but always through headphones and often on the commute). I'm particularly inspired by the How I built This podcast because it is fascinating to hear stories from people that have innovated and disrupted their own industries. While I'm working I like to listen to Spotify playlist on random – it keeps me on my toes.
How do you record ideas?
Notebooks are my number one way of recording initial ideas and thinking, and the MOO hardcover notebooks lay completely flat, giving a really wide double spread to sketch across. Otherwise, I sketch on A3 sheets, built sketch models and CAD files. As a team, we store many of the concepts and models in our archive system of boxes at the back of our studio. Then we can dig out past projects when required.
Do you have an inspiration board? What's on it right now?
We have an inspiration table that is filled with materials, products and packaging that are of interest to us. It is a real mix of styles and product types, and it can often be useful to get the mind to change direction when you hit a creative wall. Personally, I draw inspiration from the city around me. I love walking through new neighbourhoods in London and finding interesting things that I can use in my designs for MOO.
What is your creative process and/or creative workflow like? Does it change every project or do you keep it the same?
We have a simple workflow that breaks projects into a couple of key phases – Discovery (concepting, free thinking and ideas generation) and Assessment/Delivery (Turning the chosen concept into a finished product). For the discovery phase this can vary greatly depending on project type or the style of the designers working on it, but for assessment/delivery I have a much more defined process to ensure that we can work efficiently with the other teams in the business. This includes formal approvals with key stakeholders, manufacturing tests, and producing a detailed final product specification.
What kind of art/design/objects might you have scattered about the space?
We have some wonderful old printing tools, like our refurbished tabletop letterpress machine. It is in full working order, and can be a great reminder of how far print has come in the last 100 years. It is both humbling and inspirational – and of course useful!
Are there tools and/or machinery in your space?
We have the letterpress, a foiling machine, a whole host of hand tools, presses and cutters, a spray paint booth and a 3d printer. We use them all on a regular basis. Getting hands on and creating stuff is always my favourite time of the day.
What tool(s) do you most enjoy using in the design process?
Depends on the job – but the tools that produce the initial sketch model (a quick 3d Print, or hand crafted sketch model) are always rewarding as they bring an idea to life for the first time.
Let's talk about how you're wired. Tell us about your tech arsenal/devices.
My Samsung Galaxy S9 phone (I use the camera most on my phone, and this new one is excellent) and a good pair of headphones are essential for travel.
What design software do you use, if any, and for what?
I use the full Adobe Suite on a daily basis for design, layouts and presentations. Solidworks for CAD, and software that runs our 3D printer and plotters.
Is there a favorite project/piece you've worked on?
Cotton paper was very exciting, as it was a big project, with a fantastic story and amazing paper manufacturing partner (Mohawk). We took the scraps from manufacturing cotton t-shirts and turned them into a cotton paper, MOO's first tree-free paper. The concept for cotton cards came to me one night and expanded from there – it was a very collaborative project that required a lot of experimenting. As with any new and exciting project, all of the backend work was very rewarding in the end.
Do you feel like you've "made it"? What has made you feel like you've become successful? At what moment/circumstances? Or what will it take to get there?
I think as a designer you never really feel like you have made it, you celebrate the wins and failures along the way with the knowledge that it will make you better informed for the next challenge. Each new project should feel like it has the potential to be 'the big one' no matter how small – that is what drives me. And a pure inquisitiveness that always challenges me to ask: what's next?
Tell us about a current project you're working on. What was the inspiration behind it?
We are currently working on an extensive and currently top secret project related to the wonderful world of colour. Part of the inspiration behind it, was to ask ourselves: what is the status quo, and what would happen of we challenged it… watch this space!
What's on your desk right now?
A cutting mat, some packaging prototypes, colour swatches and some business cards of course…
Do you have anything in your home that you've designed/created?
Plenty of prototypes of projects I have tinkered on over the years, including a writing desk and also some amazing hand packaged tea that I made for my two kids when I was out in China.