We've been intrigued with Jon Sherman since we took a look at how his unforgettable wallpapers were made 3 years ago and then again when he shared with us his obsessions in his fascinating Friday Five. Now, we revisit the Flavor Paper founder to see where he makes it all happen – the Brooklyn-based studio and showroom the company calls home. For this month's Where I Work, we get to explore the color splattered world of wallpaper darlings, Flavor Paper. Take a look.
What is your typical work style?
I generally have a regimented office day where I am in by 7:30-8am at the latest and stay until 6:30 at the earliest, but typically that is more production and managerial work. Almost all of my creative work is done outside those hours and can be back at my desk, on a plane, or in the studio depending on my situation and the project at hand. So I guess I am a combo of multiple styles.
What's your studio environment like?
We keep a controlled chaos going at all times. We're bursting at the seams with color tests, but keep them tightly contained until it's time for review and then they explode all over the studio until we make decisions. I love a clean desk, but it gets quickly out of control as we typically have 20+ projects going at once. We have to have music playing at all times. I generally run the tunes in the office and showroom, while downstairs is playing whatever the printers are feeling inspired by that day/project.
How is your office organized/arranged?
In the office we have two glass wall cubicles that our General Manager and I are in then everyone else is wrapped around us. Downstairs is all pretty open and divided up by task – ink room, dark room, printing area.
How long have you been in this space? Where did you work before that?
We have been in this space for 5 years and before that we were in a much smaller space in New Orleans that was quite similar in set up, but vastly less polished and fancy.
If you could change something about your workspace, what would it be?
I would make it three times as big! When we started to plan for the move to Brooklyn it seemed like we would have endless expansion options, but after 5 years we have grown to fill every inch!
Is there an office pet? 
We used to have dogs in the studio all the time, but it lead to hair in prints and ink on pets so now we occasionally have one of the dogs in the building in the office or studio – this is my dog Weebie keeping an eye on things.
How do you record ideas?
I use Notes in my iPhone all the time as it synchs between all of my work stations and mobile so I can update and comment whenever the moment hits.
Do you have an inspiration board? What's on it right now?
We do have one, but we just cleared it off to get started on the spring Warhol patterns, so it's unphotogenic right now. Typically I use screen capture off my phone for most of my inspiration images and then group them into an iPhoto album.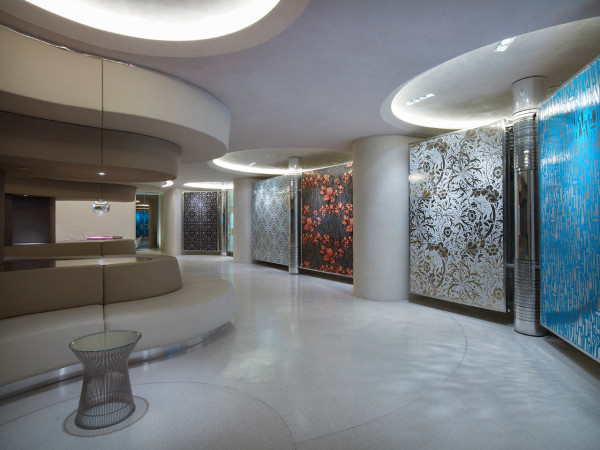 What kind of design objects might you have scattered about the space? 
Apple computers galore and Esque glass, Herman Miller stools, Kartell/Starck chairs, Tom Dixon lights, and Platner tables in the showroom, but most of our design is focused on the space and the wallpaper.
Are there tools and/or machinery in your space? 
Lots in the print studio although we keep most of it hidden until needed.
What tool do you most enjoy using in the design process? 
Apple computers and then a squeegee.
Let's talk about how you're wired. Tell us about your tech arsenal/devices.
All Mac since I was 14 or so. Really, just Apple computers (we have 12 and only 9 employees) and an iPhone. I use an iPad too, but really only as a remote!
What design software do you use, if any, and for what?
Adobe Creative Suite is our primary software, mainly Photoshop and Illustrator, for all of the creative work we do.
Do you have a favorite collection or design that your company has made? 
Love pretty much everything we have ever done, but the Warhol collection has to be one of my proudest moments. To be able to reinterpret Warhol in ways that people respond to in an overwhelmingly positive fashion is amazing.
Do you feel like you've "made it"? What has made you feel like you've become sucessful? At what moment/circumstances?
When we had our first two patterns (City Park and Cherry Forever) added to the permanent collection of the Cooper-Hewitt I felt like we had taken it all the way. I mean we had scratch and sniff wallpaper in the Smithsonian!!!
Tell us about a current project you're working on. What was the inspiration behind it?
Working on the new Warhol line and incorporating two of his most famous icons, which is super fun and a challenge as we need to take them to a level that hasn't been seen before and these two have seen it all!!! We are going more glam than ever before while pushing the artistic envelope of what screen printing, and really wallpaper, can be.
What's on your desk right now? 
My desk is pretty damn clean right now because I couldn't find something last week and went ballistic digging for it and realized I had created a Brooklyn Triangle that needed to be dealt with. Lots of Warhol research materials though this time of the year.
Do you use any of your pieces in your own home/life?
Of course! Several of the wallpapers in our collection I designed specifically for my home – Rio Crocodillo and Globetrotter in particular – but I have 4-5 others as well.