Sometimes it works out that more heads are better than one and that's the case when it comes to Fort Makers, a Brooklyn-based artist collaborative. The Bauhaus-inspired group is made up of four equally talented humans, Nana Spears (Creative Director and Co-Founder), Noah James Spencer (Artist and Co-Founder), Naomi Clark (Artist and Co-Founder), and Elizabeth Whitcomb (Artist, who doesn't have a name that starts with an 'N'), each of which bring a unique set of skills to the game. They come together to create large-scale public art installations, along with fashion and home products you can purchase at WorkOf, that display the different aspects of their personalities and aesthetics. For this month's Where I Work, Nana Spears gives us a look inside their Brooklyn studio where they make it all happen.
What is your typical work style?
We try to work from 10AM to 6PM, but we break out of this routine often. Our schedules are filled with various tasks and they're in consistent flux. I love that my job changes all the time! I work at home and at the studio. The studio is where we make things, as well as where we do image editing and photography. It's a louder spot because there is often more than one person working there. We don't have any private working spaces in the studio, so I've found that I can do better strategizing and e-mailing at home.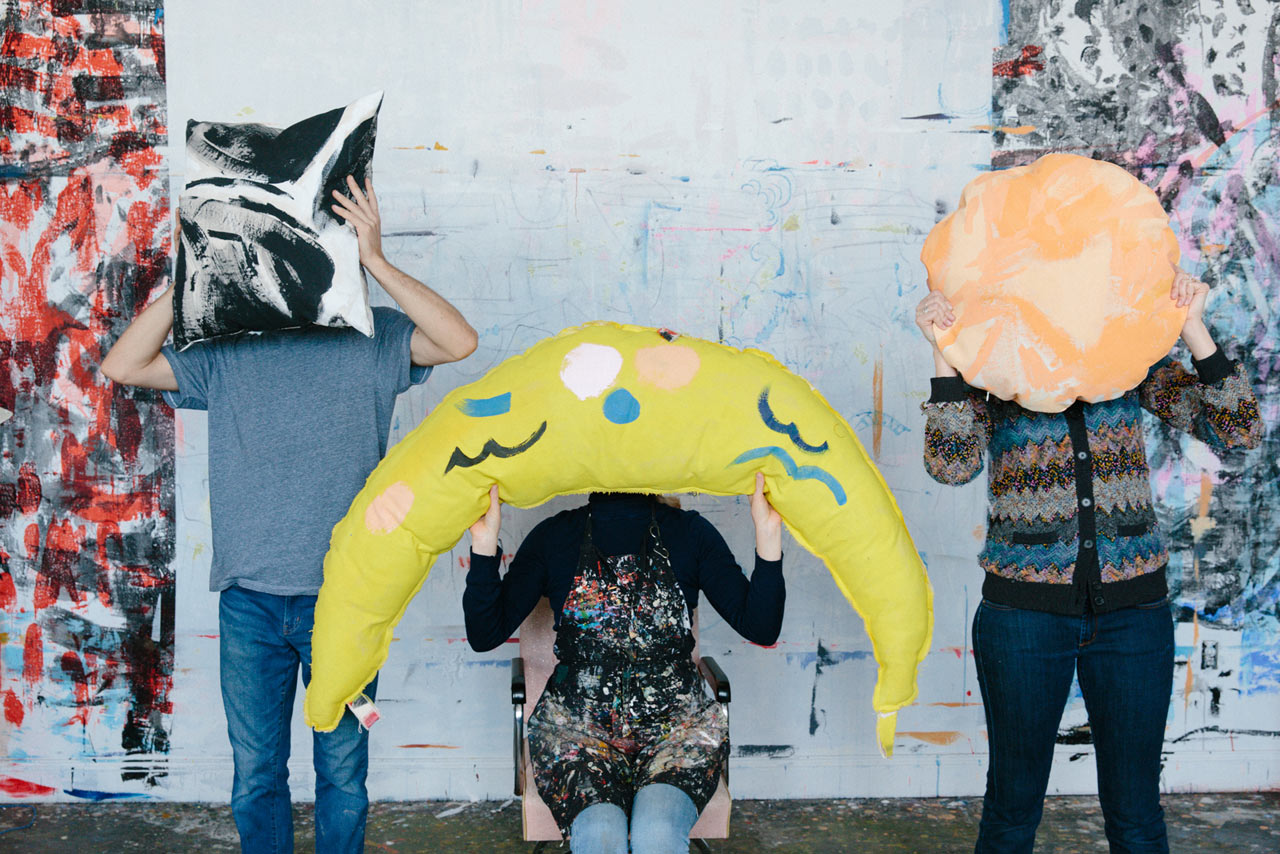 What's your studio/work environment like?
It's quite hectic, but really fun. There is art all over the place, coming out of the woodwork. We laugh about how the back closet is like a clown car. We have the stuffed, vibrant, canvas sculptures that Naomi Clark made for MoMA PS1's 2014 Warm Up stage in there, and when you open the closet they fall out at you. They're stuffed in there! Hah! Get it? Cause they're stuffed sculptures. I like a good pun.
How is your office organized/arranged?
Everyone works in an open space. It's a little short of a 1000 square ft. It houses a lot of prototypes, books and beginnings of projects. And we have way too many fabric scraps. (We're going to use the scraps for a new project soon!) We have one long desk that Noah Spencer made, and also a huge, rolling workstation that we call the boat. It's 10ft long by 5ft wide with a royal blue top and an interior cedar storage compartment for textiles. Many people can sit around this table for meetings, and I also frequently use it to showcase our merchandise. I'll cover it will painted pillows, for instance, and use it as a stage.
How long have you been in this space? Where did you work before that?
We've been in the space since 2009. I worked at Barney's as an assistant buyer before co-founding Fort Makers. Noah Spencer worked at Uhuru, and Naomi Clark studied painting at Pratt's graduate school.
If you could change something about your workspace, what would it be?
Our building has a serious freight elevator problem. I would fix that if I could. I'd also love to get the space more organized. We've been working on turning the space into more of a showroom. Oh, and our stereo is broken. We have to fix that. We have this rad Leave it to Beaver record player console that Noah made, and it looks like a big rock leaning on another rock. It has hollow compartments within in where we store a stereo and records.
Is there an office pet?
Nope.
Do you require music in the background? If so, who are some favorites?
Yes, we listen to music a lot and we've gone through some major music phases. There was a time when Naomi and I listened the XX on repeat and Noah was like, enough already. We love Future Islands. Led Zeppelin is one of my all time faves and Naomi loves Leonard Cohen. Noah lists Roxy Music, Can, Velvet Underground, Sergio Mendez, Chico Barque, Pusha T, Young Thug, Nas, Kayne West and Jamila Woods as some of his top picks.
How do you record ideas?
We have pieces of paper all over the place with notes on them. We have a scrap paper pile at the studio that we're always grabbing sheets from to express ideas. We also rely on notebooks and e-mails to record ideas.
Do you have an inspiration board? What's on it right now? 
Yup! We have many cork bulletin walls in the studio. I often have to ask around to find out who made certain objects that get hung up when I'm out of the studio. There are postcards up of art shows that we went to. The ephemera of our joint experiences in NYC shows up on the walls.
What is your creative process and/or creative workflow like? Does it change every project or do you keep it the same?
It changes all the time depending on what kind of projects we're working on. I work with artists to create and realize projects and I wear many hats: producer, creative director, marketing director, curator, bad-ass business lady.
Are there tools and/or machinery in your space?
In the studio pictured, we have textile painting, dyeing and sewing tools, plus our office. Noah shares a space in a woodshop down the street from this studio.
What tool do you most enjoy using in the design process?
My favorite part of the design process is the conceptualization of an idea, so brainstorming is my favorite tool in the design process. There's nothing better than hashing out an idea with my partners.
Let's talk about how you're wired. Tell us about your tech arsenal/devices.

I'm not very wired. I'm not a techie, but I like Instagram and I pay way too much attention to it!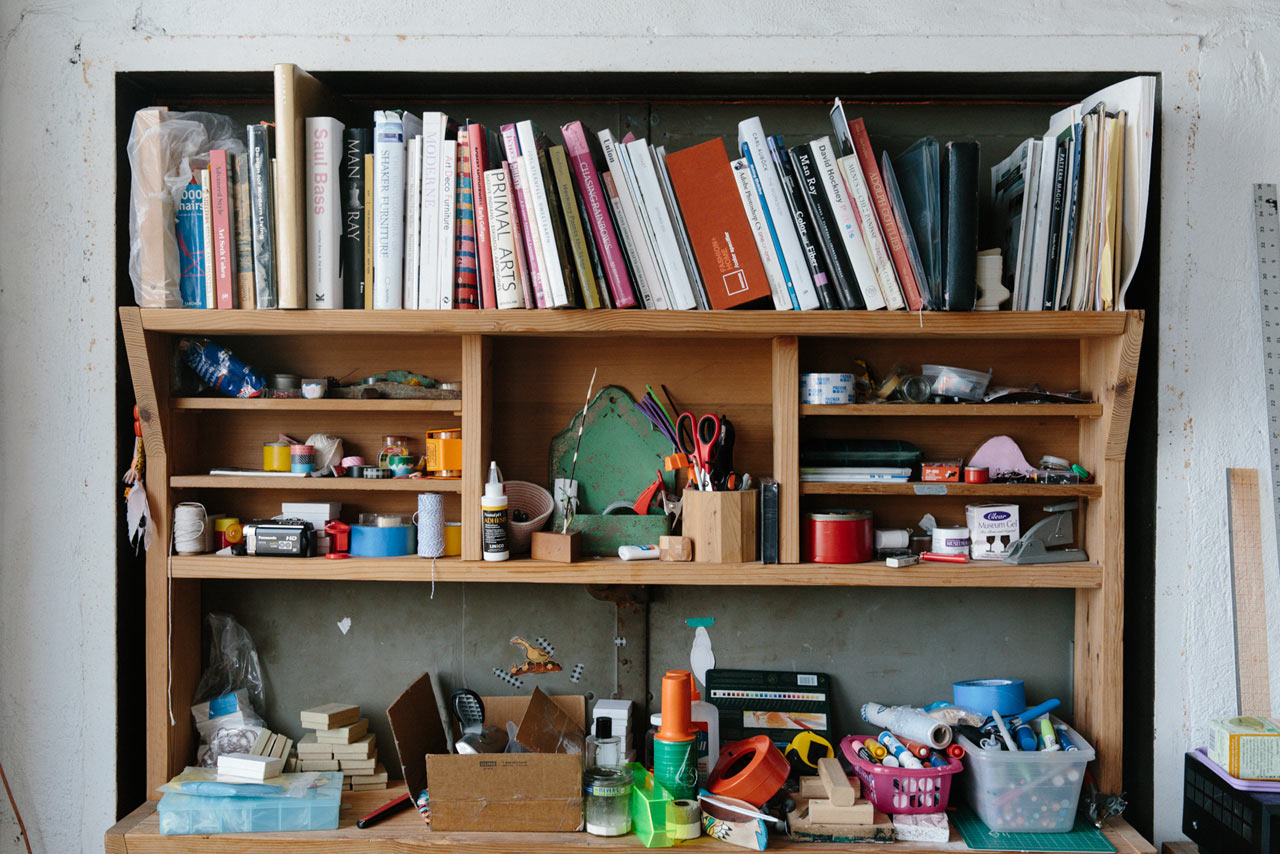 What design software do you use, if any, and for what?
When it comes to designing things, I think we're pretty old school in that we don't take advantage of all the new technologies out there. We use InDesign and Photoshop for editing images and making line sheets and lookbooks. I really enjoy making animated gifs in Photoshop! We mostly design things on paper. Noah uses CAD from time to time, but he also makes beautiful models.
Is there a favorite project you've worked on?
It's hard to say what my favorite project is. I've felt passionate about all of them, but it was beyond electrifying to see our art from the height of the Brooklyn Bridge. Naomi Clark, Noah Spencer and I designed a project titled Lawn Quilt for the Dumbo Arts Festival in September of 2013. The work is composed of canvas blankets painted by Naomi Clark. For the festival's three days, Fort Makers led participants in creating large-scale compositions that were seen and documented from the pedestrian path on the Manhattan Bridge. This was part of a larger work we call Action Painting. The work is inspired by the Action Painting that took place in the middle of the twentieth century. Rather than throwing and slinging paint at a canvas, we have devised scenes that enact art. We too feel that the point of the art is the action.
Do you feel like you've "made it"? What has made you feel like you've become successful? At what moment/circumstances? Or what will it take to get there?
I don't feel like we've made it. I feel like we've reached a lot of people, and I'm really satisfied with the work we've done, but I want to reach more people. I need a louder mic, and I'm working on it.
Tell us about a current project you're working on. What was the inspiration behind it?
I'm putting together a pop-up gallery show of Naomi Clark's Quilt Paintings. The Blanket Project was the first project that I worked on with Naomi, and I think it's one of Fort Makers' most elevated bodies of work. Clark's abstract, and vibrant tapestries were made from vintage, wool, camp blankets. I bought around 100 wool blankets back in 2008 and 2009 off of Ebay, and then Naomi painted, dyed, sewed and reworked the blankets. They're really fresh! We need to show this work soon.
What's on your desk right now?
See above!
Do you have anything in your home that you've designed/created?
My house if full of stuff made by Fort Makers. I have a whitewashed wooden record player console that looks like a big rock made by Noah. It's another version of the one we have in our studio. And I have the Sunday Chair. It looks like a prehistoric chair, like something Fred Flintstone would sit in. Plus Naomi painted a large, abstract and colorful mural in one room of my home, and in the same room we have vintage couch upholstered in canvas painted by Naomi. It's a Naomi Clark world in there!