12 Pieces of Modern Outdoor Decor We're Loving Right Now
With temperatures warming up and summer in our sights, we're already dreaming of late nights on patios, rooftop cocktails, summer BBQs, and pool parties. If you're lucky enough to have an outdoor space, embrace it and use it as an extension of your home's square footage. If the space is feeling uninspired, spruce it up (click here for tips on how to do it!) and make it a spot you want to spend time in, especially after being cooped up in recent times due to the pandemic. Whether you're planning to create a backyard oasis, a cozy terrace, or even a plant-filled window, embrace it and soak up as much sun (with SPF!) as you can for that much-needed vitamin D! To kick start your outdoor glow up, we handpicked the modern outdoor finds we're loving right now.  For more outdoor decor and accessories, head to the Design Milk Shop!
12 Pieces of Modern Outdoor Decor We're Loving Right Now
1/13 Photos
2/13 Photos
3/13 Photos
4/13 Photos
5/13 Photos
6/13 Photos
7/13 Photos
8/13 Photos
9/13 Photos
10/13 Photos
11/13 Photos
12/13 Photos
13/13 Photos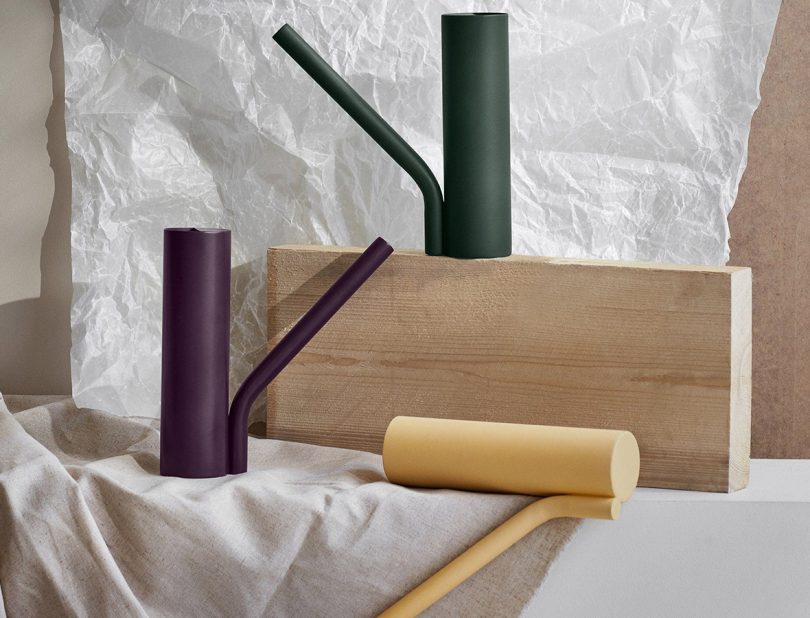 An undeniable favorite from the Norwegian design brand's debut earlier this year, the Grab Watering Can is the outdoor decor accessory you didn't know you needed. Simply designed using two cleverly conjoined cylinders, the Grab does away with unnecessary handles to create a watering can that's fun and functional at the same time. With plum, pale yellow, and dark green colorways to choose from, the Grab Watering Can is a stylish addition to any home garden.
$149
Shop Now >>
While your hose holder might not be the first thing to spring to mind when you think about outdoor decor, a tangled garden hose can be a real eyesore. The Wylie Aluminum Hose Holder is an easy fix, and keeps your hose wrapped tidily while lending a modern look to your home's exterior. Made of industrial grade powder coated steel, this chic hose holder can stand up to life outdoors without rusting and degrading over time.
$98
Shop Now >>
This Terrazzo Inflatable Pool by MYLLE will be a lifesaver for keeping cool during peak summer months. A crowd favorite among MYLLE's line of modern, aesthetically pleasing pools, the Terrazzo Pool brings a playful palette of colors to your yard, while paying homage to a classic outdoor motif. We love that the pool's elevated design delivers on quality too, with a heavyweight vinyl material that'll outlast any run of the mill kiddie pool, and a large, easy-to-use inflate and deflate valve makes set up a breeze.
$115
Shop Now >>
The best outdoor rugs are as durably designed as they are pleasing to the eye, and the Stein Mat by Heymat delivers in spades. Inspired by the meditative look of Japanese Zen gardens, the Stein Mat features a simple, 3D pattern of minimal lines that bend into smooth, modern curves. The deep grey colorway adds depth to outdoor areas and is sure to complement a variety of design aesthetics, making it a universal favorite. The only thing we love more is that it's made of 100% recycled plastic bottles!
$195+
Shop Now >>
A longtime Design Milk reader and editor favorite, Puik Design's Radiant Crystal Glasses are a must for entertaining outdoors. The multi-faceted diamond-shaped design catches the light on your tabletop, creating a beautiful display of glimmering reflections from every angle. Whether you're sipping on water, champagne, or a fresh-pressed juice, the modern design on these crystal glasses will make it look glamorous and chic. Expertly made using mouth-blown crystal glass, Puik's Radiant Glassware delivers on durability, so you can feel confident using them outdoors.
$45
Shop Now >>
An innovative reimagining of the conventional BBQ model, the Mon Oncle BBQ is the ultimate outdoor grilling tool. For starters, it's totally portable — making it fit for use on your terrace, patio, or balcony (just check your building's rules and regulations), and for picnics at the beach or park. When closed, the Mon Oncle looks like a retro modern briefcase, complete with fashionable straps and a convenient leather handle. When open and ready to grill, the BBQ's sleek perforated exterior maximizes air flow to allow for a peak grilling experience.
$450
Shop Now >>
A new addition to the Design Milk Shop, Capra Designs' Summit Planter turns large plants into sculptural works of art. The planter's angular, sliced shape gives it a modern look that adds a dramatic backdrop to lush flowers and foliage. The included drainage tray helps keep plants happy and adds height to its curved base. Designed in Australia and skillfully handmade in small batches, every Capra Designs plant pot has its own unique character that brings a personal touch to your outdoor space.
$179
Shop Now >>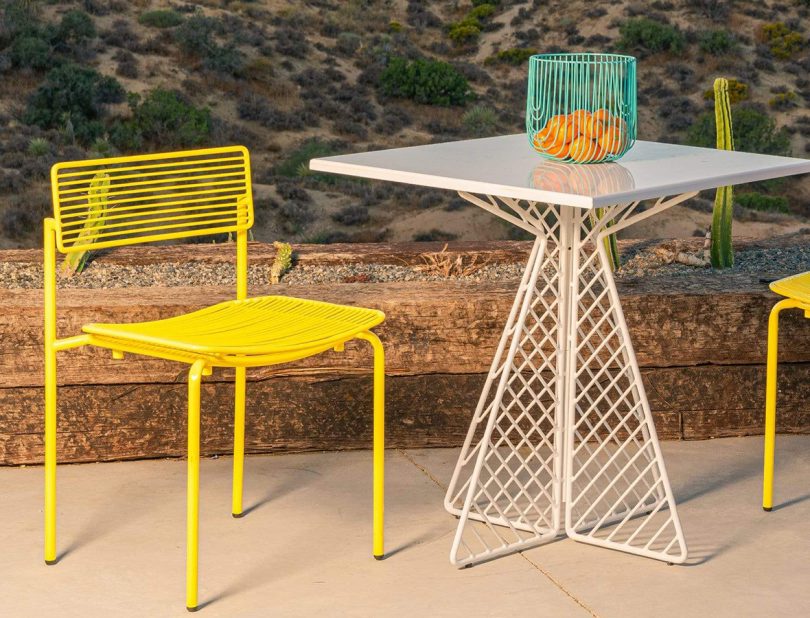 Sometimes all it takes to make your outdoor space more inviting is the right seating. The Rachel Dining Chair by Bend Goods is a staple for outdoor spaces because of its super durable, powder-coated design and sleek modern shape that works in any space. For folks who prefer a minimal look, the Rachel comes in the timeless shades of black and white, and for the color-brave who crave something bold, it also comes in a bright yellow and peacock blue. They're just as beautiful in interior spaces, too!
$290
Shop Now >>
Serveware and modern decor in one, Fire Road's Baguette Bread Board is an easy way to elevate your next outdoor gathering. With tactile curved grooves carved into its surface, the Baguette Board conveniently catches crumbs while bringing a modern, graphic twist to your tablescape. Handcrafted in San Francisco in walnut or maple wood finishes, every Baguette Board has a unique grain and coloring that makes it special. Plus, the handy leather tie is perfect for hanging it as decorative wall art whenever it's not in use!
$110
Shop Now >>
This modern birdfeeder by Dutch design brand Studio Frederik Roijé makes an eye-catching statement in your outdoor space. Cleverly designed using two different sized steel birdhouses, this architectural wonder boasts a geometric design that's stunning from virtually every angle. Design lovers will fall head over heels for the birdhouse's one-of-a-kind structure, and for the textural contrast of the modern steel material against the natural greens of your backyard.
$255
Shop Now >>
Dixie, our Director of Strategic Partnership, swears by her Uma Mini Light and Speaker for creating a glowing candlelit ambiance outdoors. "It totally over delivers in quality, style, and performance, and is one of my most favorite purchases of all time," she says. The sleek, modern design and functional details, like the leather carrying strap and next-level sound quality, make this stylish portable light well worth the price tag — and guarantee its spot as your new favorite outdoor accessory.
$325
Shop Now >>
Nothing kills the mood to hangout outdoors quite like rusting or splintering patio furniture. The Cono Table by the wire experts at Bend Goods puts those worries to rest with its resilient, powder coated design made from recyclable iron. The compact, cone-shaped base fashioned out of intersecting iron offers a geometric look that instantly modernizes your yard or balcony space. The circular metal tray top comfortably accommodates two people, making it the perfect place to perch for morning coffees or happy hour cocktails. Plus, it comes in a variety of bold, playful colorways!
$360
Shop Now >>
Shopping any of our outdoor favorites? Share a photo of your haul and tag us @designmilk to be reposted on our Instagram!