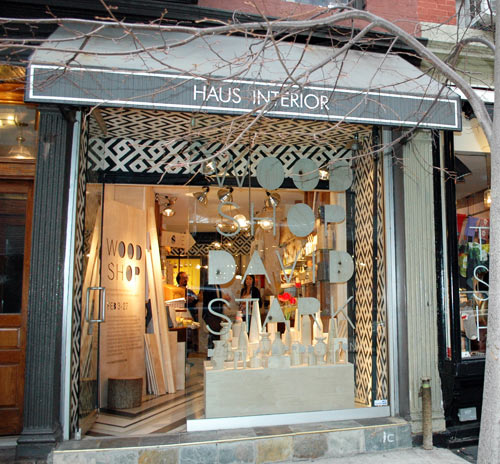 Back in February we started a regular column that goes inside design-focused shops from around the world featuring interviews with shop owners called Design Store(y). It seems that many of you are enjoying it, so we hope to continue next year, but let's take a look back at the great stores we toured in 2012:
David Stark's Wood Shop Takeover at Haus Interior
Designer David Stark developed a collection of 75 wood shop-inspired home accessories and, in February 2012, Haus Interior shop owner Nina Freudenberger emptied her shelves, ceding her boutique in New York City's NoLIta to Stark's creations. Wood Shop was an event that pushes the boundaries of traditional retail in that it was more "ambush," as Stark's coined it, than pop-up.
Object in Seattle
We travel to the opposite coast, to the beautifully spare and pure white shop, Object, in Seattle. Owned and curated by local photographer Charlie Schuck, Object was born out of his love and admiration for design, composition, and the Northwest.
MoMA Design Store in NYC
Following on the heels of David Stark's innovative pop-up at Haus Interior and the stark white space of Seattle boutique Object, Design Store(y) delves into the downtown outpost of the MoMA Design Store. We visited the SoHo location, camera in hand, following an interview with MoMA Design Store president, Kathy Thornton-Bias.
Module R in Brooklyn
After MoMA, we went a little farther downtown, and across the bridge, to brownstone-filled Brooklyn to tour Module R, an architect-owned and curated enterprise that specializes in, you guessed it, modular art and design products. Indeed, all the items in this red-fronted shop on the border of Brooklyn Heights and Cobble Hill can be reconfigured, customized, stacked, nested, and otherwise personalized. That's what we call focus. We chatted with the man behind the movable pieces, owner Donald Rattner.
March in San Francisco
We headed to the West Coast, landing in San Francisco's Laurel Heights neighborhood to tour March. Proprietor Sam Hamilton, who worked at Ralph Lauren before opening the shop back in 2002, recently relaunched her business, with a whole new twist. Focusing on the kitchen, pantry, and table, Hamilton presents hand hewn items with a modern sensibility, in addition to solid classics like AGA and cast iron cookware. Hamilton derives her inspiration from the slow food movement and San Francisco food culture. It's a fresh concept for a decor boutique, and impeccably executed.
Woonwinkel in Portland, Oregon
Also on the West Coast is Woonwinkel, which is located in Portland, Oregon. The shop is light and airy, and it's contents equally as refreshing. Woonwinkel owners Erica Essink and Kristin Van Buskirk label their look as "warm, inviting, tactile, quirky," asserting it as "a departure from the hard, slick modern aesthetic of the past." Essentially, it's modern with soul, and we're loving it.
Førest London
We hopped across the pond, and back a half century, to poke around the flawless mid-century furniture shop, Førest London, which opened this past spring. Owned by Dutch design enthusiast and London College of Fashion graduate, Eva Coppens, the shop showcases Scandinavian and Dutch furniture reupholstered by local craftsmen, vintage lamps, and select pieces of pottery. Coppens recently launched a collaborative collection with eco-friendly print designer Tamasyn Gambell, whose work is stocked by MoMA and Liberty's of London. Her Bauhaus-meets-modernist prints work perfectly with the vintage aesthetic of Førest London's Scandinavian finds.
Cubeshops in Toronto
This is a tale of how a design-minded woman, Sakiko Ichihara, who originally moved to Toronto to attend university, translated her love of her native culture into a business. Her boutique, Cubeshops, tucked away amid restaurants in downtown Toronto, carries Japanese design objects, gifts, stationary, pens, and the like. It's a great blend of daily use, practical products and fun, design-y stuff you just want. And a lot of it is unique, as Cubeshops tends to be the exclusive North American distributor of their wares. Like its name suggests, the shop feels like a cube, with a dark floor that grounds the space, and glossy white, clean-lined shelves that elevate items to museum-worthy status.
Maison 203 in Italy
Although this shop has a distinctly French name, it's actually located in the Veneto region of Italy. Maison 203, is a glass-fronted, white slice of a shop on a quaint brick street that opened in June 2010. The owners, husband-and-wife designers, curate covetable items from a respectable roster of established international designers and emerging brands.  We've long been fans of their sleek web shop, and were thrilled to discover they exist IRL (that's "in real life" for those of you not versed in txting) as well.
Holly's House in London
Holly Wick opened her eponymous shop, Holly's House exactly one year ago, motivated by the desire to bring fresh, new design to West London. Wick, who also runs an interior design consultancy, stocks heaps of fantastic items from established brands, including Moooi and Diamantini & Dominiconi, alongside indie talent from the likes of Phoebe Richardson and Andy Macgregor.
Still House in NYC
Still House, owned by Pratt graduate Urte Tylaite, is located in the East Village. The 300-square-foot sliver of a space was designed by Brooklyn-based firm Silva/Bradshaw, and features wood plank floors, a dropped wood plank ceiling, narrow wood plank shelving along the walls, and plywood display cases down the middle. Tylaite featurees items from local designers, plus pieces from Scandinavia and Japan.

Design From Around The Web