Every year, Collective Design curates a group of contemporary designers to reveal their latest works and ideas. This year's curation, collectively debuted as Collective Concept, featured 13 designers: Allied Maker, The Coast, Coil + Drift, Crosby Studios x Opening Ceremony, Farrah Sit, Fort Standard, GRADUAL, Jeff Martin Joinery, Moonish, Rhyme, Slash Objects, Vipp, and Wallpaper Projects.
Inspired by the historical sacredness of totems, Allied Maker presented an illuminating set of three large totem fixtures created in stone, glass, and wood that honor the connection between makers and materials.
The Coast Studio balances form and weight with a new lighting series called Either/Or, named after the book by Søren Kierkegaard and consists of three lamps for nightstands, tables, and floors. The fixtures spark an interplay between user and object: touch controls the lighting but because of the design, the light responds back by rocking back and forth like a cradle.
Coil + Drift showcased the arched June Floor Mirror carved from walnut wood, the Cirrus Double Pendant made of cast resin and mirror-polished chrome, and the Soren Dining Table in ash wood and black leather.
Crosby Studios collaborated with Opening Ceremony to create a playful collection of furniture, lighting, and objects inspired by a hand chair replica by Pedro Friedeberg.
Farrah Sit's lighting pieces play with the balance of weight and strength. "Ida" uses a luminous strand of neon arcs below a bar of Carrera marble while "Pingala" suspends a single stone pendant wheel beneath its neon strand.
Fort Standard designed a series of "Stacked Stone Vessels" that are made from precision cut, stacked, and laminated rings of marble.
GRADUAL's LED chandeliers called "Lightweights" are reminiscent of hanging stalactites and are made of thousands of stacked sheets of paper that let light escape between the sheets.
Vancouver-based Jeff Martin Joinery created a series of glass-blown vessels that are uncovered using their signature cork excavation method.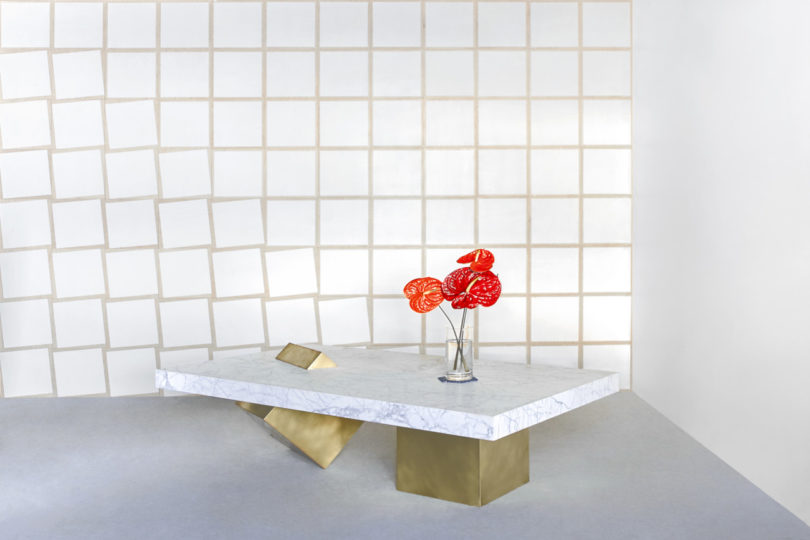 Design duo Moonish's TILT is an interplay of weight, fragility, and interdependence in a singular piece of furniture.
Rhyme presented their Insula Series of rugs inspired by Insula Art, an Irish art movement that's characterized by swirling motifs and spiral forms.
Slash Objects uses marble and brass in their puzzle-like pieces to highlight the beauty of these two materials without the use of hardware.
Vipp collaborated with Harry Nuriev (founder of Crosby Studios) to create a conceptual Vipp kitchen as a living laboratory.
Wallpaper Project's Silver Studies 13 experiments with the chemical process to create the colorful wallpaper.