This month's Deconstruction is a colorful one! Rug designer Sonya Winner, who works out of her Hampstead studio in the UK, shows us the process from design to completion of her new Bubbles Outline rug, which will be shown at Tent London this month.
The design process starts in my studio in London with my sketch book, notes, and doodles that are developed by further sketching and collage. A bit of jazz lets the creative juices flow.
Once the design works on paper, it is translated onto the computer for detail specification.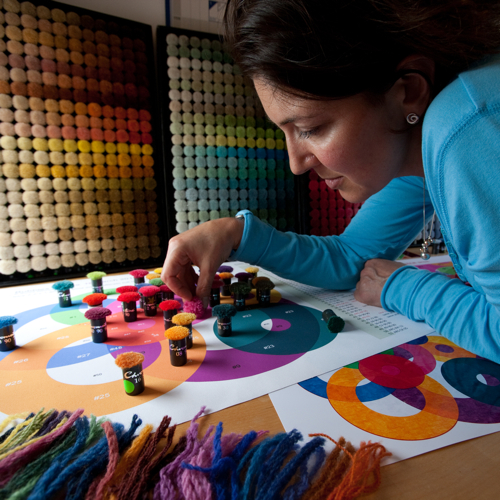 When the computer work is perfected, I search for the exact shade I'm after. Getting it exactly right really makes a difference. Usually this takes a lot of time and concentration, and often the colors I'm looking for can not be found in standard wool color boxes.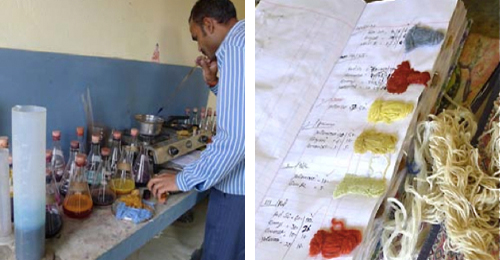 Once the colors have been selected they are flown to Nepal or India. The correct grade of wool is bought at the market and the dye master experiments with getting the wool dyed to match the colors samples we sent. Synthetic Swiss dyes and vegetable dyes are used. When the wool color has been signed off as being a good match, it is recorded in the dye master's recipe book so it can be easily created next time this design is ordered.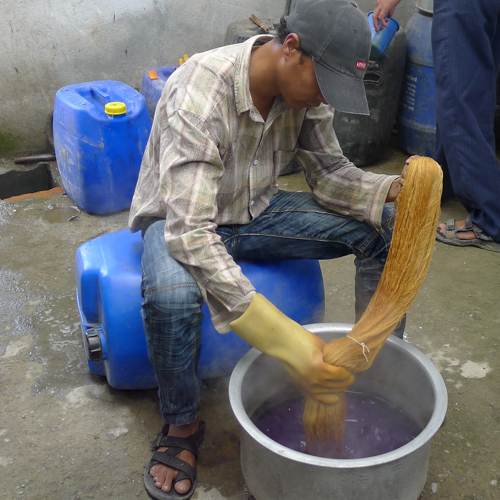 Each color is dyed by hand, then the correct amount of yarn has been calculated and weighed for each color so there is no waste.
Once the yarn has been dyed, it is spooled into balls ready to be woven. The weavers' work is highly skilled. Each weaver weaves around 12 cm  of carpet a day.
The yarn is woven, or rather knotted, around cotton threads stretched horizontally and vertically across frames. As the weaving progresses the woven area is pulled down beneath the loom as  weaving continues above. A loom can be made for any rug size.
When weaving is finished the rug is taken off the loom and washed in Himalayan rainwater and chemically free soap to remove germs and dirt, and to restore the original shine of the wool. This washing is a vigorous process using paddles.
The rug is then stretched and dried out in the sun for four to five days. After this, it is stretched using metal frames and hooks to achieve the perfect shapes.
The back of the carpet is poked with a thick and sharp needle to perfect the rug.
The final colors match perfectly.
The rug at its final destination — the clients home!