A drive away from the urban sprawl of New York City, the Hudson Valley has become a respite for New Yorkers. For years, city dwellers have moved upstate to trade cramped apartments for spacious homes, Central Park for the Catskills. There is abundant space, natural beauty, and a slower pace of life up North. But you'd be missing out if you wrote the region off as a sleepy, suburban district where people come to stroll. The Hudson Valley, a region along the Hudson River from Westchester to Albany, is a beacon of light for art and design that can rival the Big Apple. It's got kitschy hotels, sprawling art parks and modernist homes carved into the mountains. We've put together an itinerary to show that you don't have to be in the big city to have a good time.
---
WHERE TO STAY
Stickett Inn is located two hours away from New York. You can rent one of their four rooms, each with different designs and amenities (i.e. a hot tub!), or choose one of several cottages on the property. It's just a walk away from the main drag of town, so you can leave your car here and explore the antique shops and farmers market on foot.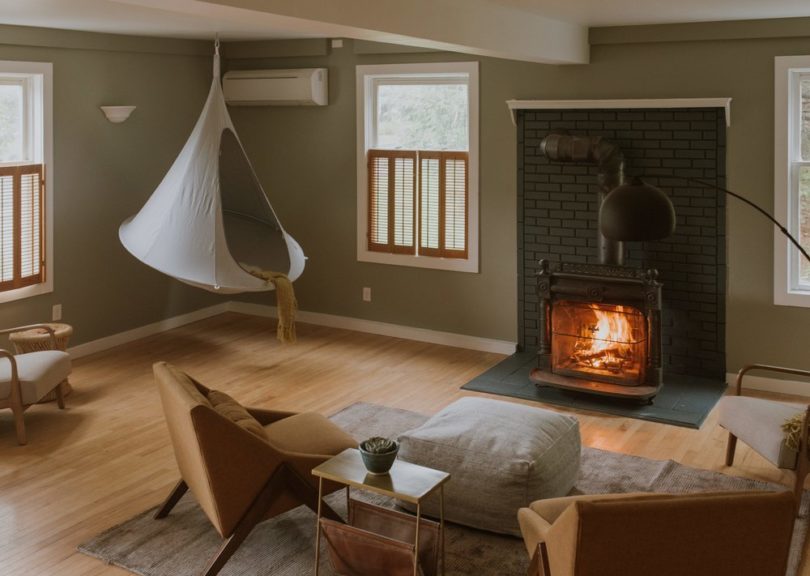 If you're not in the mood for dark wood and you prefer your pastels, wind down at the Arnold House. If you want to really treat yourself, you can even rent their Lake House, which is set away from the main establishment. It's an old school lodging but with sleek, modern interior furnishings and light colors, you'll never feel stuffy or cramped.
If you're looking for a getaway in the woods that's a little more rustic, check out Vista, part of a collection of cabins by Tiny House Resort. Situated by the Catskill Creek, there's an onsite waterfall, a heated pool, and kayaks available for a water adventure. In the morning you can cook fresh eggs from the chickens and ducks that the resort keeps, right over your own fire pit. The best part? There's baby goats on site!
---
WHERE TO VISIT
Probably the most visited site in the Hudson Valley is Dia:Beacon a nearly 300,000 square-foot contemporary art museum. "Dia" is Greek for "through" when the Dia Art foundation was started in New York, its founding members Philippa de Menil, Heiner Friedrich, and Helen Winkler hoped it would help artists realize their loftiest projects.
Dia:Beacon opened in May 2003 and takes the structure of a former Nabisco box printing factory. The museum's collection of art from 1960s to the present is known for its stunning organic shapes and use of large negative and positive space to play with scale.
Manitoga was the estate and home of modernist industrial designer Russel Wright and is now a National Historic Landmark. It is also one of the few 20th century modernist homes open to the public in New York State—the rest are now private residences. From May to November, there are ticketed public tours, exhibitions and concerts at the home. Outside, there's also 3 miles of Russel Wright designed trails that are opened to the public during the season, from dawn to dusk every day.
The home is also an artist residency and space for selected artists to exhibit their work. Esctatic, for example, is an illuminated painting by Peter Bynum who was an artist resident in the home.
Another famous draw is the Storm King sculpture park, a 500-acre outdoor museum with large scale sculptures and site-specific commissions. It's the largest collection of contemporary sculptures in the entire country. It's also open in the Winter, and has rotating exhibitions and programs that change with the season, so you'll have a reason to keep coming back.
Notable mentions: Opus 40 \\\ Bannerman's Castle \\\ Graft Cidery
---
WHERE TO SHOP
The Gilded Owl is known for high design and craftsmanship. What started as a blog by interior designer Andy Goldsborough and art dealer Elizabeth Moor became a retail space when Andy and Elizabeth redesigned a 1785 federal style house in Hudson, New York. The space is now a living gallery with furniture and art and draws everyone from collectors to design enthusiasts.
If you're shopping for something big to really brighten up your house, Hudson Valley Lighting makes sleek chandelier lights that make a statement without drawing too much attention upwards. The company was inspired by the valley but their products are now carried in a chain of stores around the country.
Finch Hudson is a great mid-century design store by Andrew Arrick and Michael Hofemann. The couple are always hunting for designers in the Hudson Valley who are dedicated to their craft to feature in their store. Of their aesthetic and taste, they said, "its an understanding that a lifestyle is a collection that implicitly values the modern's place with the traditional and that style is the union of good pieces,"
Notable mentions: CounterEv \\\ Valley Variety \\\ Red Chair on Warren
---
FINAL THOUGHTS
If you're visiting in June, Newburgh hosts an Illuminated Festival of music, dance and poetry to show locals and visitors what the town has to offer. But you don't have to go to a summer celebration to touch on the spirit of the Hudson Valley. The birthplace of the Woodstock festival and the home of "peace and music" has preserved its chill vibe and you can see it in the brightly paved streets in quaint towns that don't have to yell to get your attention. It's a modest elegance, a communal creativity. It's kept for the ones who know that New York isn't just about the city.
If you've traveled to The Hudson Valley and have any favorite spots or  recommendations for first time visitors, let us know below so we can share (and also check it out ourselves the next time we're up there).