The Taiwan Golden Pin Design Award, established in 1981, is perhaps the most prominent recognition and celebration of design from huaren ("Chinese-speaking") communities every year. While Taiwan is a Chinese-speaking country, the term of "huaren" design seeks to find commonality with other Asian territories such as Hong Kong, Singapore, Malaysia, Macau, as well as to separate from "Chinese" design, which can sometimes be mistakenly assumed to refer to design originating solely from China. This "huaren" movement is both a step towards togetherness, and a step towards a distinction, and the Golden Pin Design Award is here to show off the projects leading the way.
This year, the design awards saw a new reckoning: people are caring a lot more about their spaces and the design of them. The Spatial Design category of the Golden Pin Awards accounted for 23% of the total number of entries—other categories include Product, Communication and Social—and almost half of the 686 spatial design projects were in the Residential Space subcategory.
This trend even spilled over to the Product Design category, where more than half of the entries were for home products such as home appliances and furniture. It seems that Chinese-speaking consumers are paying more attention to their lifestyle, their living spaces, and what they surround themselves with on a day-to-day basis, and huaren designers are keen to design for this eager base.
A remarkable pattern emerges when you look at the best projects in the spatial design category, which seems to have collectively formed a new visual identity for huaren design spaces: they all have clean walls, wooden finishes, open spaces and lots of light.
Office Space
Mu-Mu Photography Studio by Han Yue Interior Design Co.,Ltd, Taiwan was designed to be organic, changeable, and creative. The designers were inspired by the "metabolism" architectural concept that prioritizes nature, humanity and space for unpredictable changes.
Residential Space
Multi-function with Balance by FU-GE Design Integration Co., Ltd., Taiwan, is a small home of 33 square meters with loft areas for better space management. The unique design accommodates two interior heights of 3.6 meters and 4.2 meters so as to create a variety of visual and spatial experiences.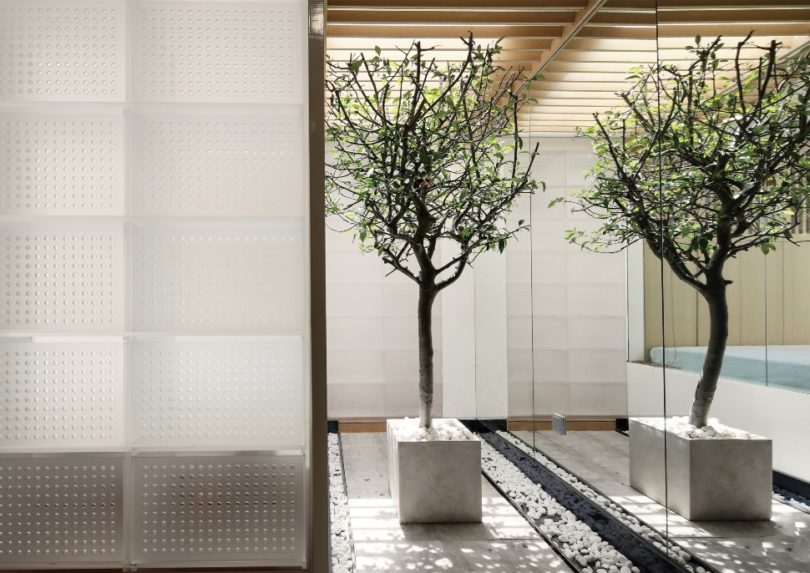 Cat House by FAN Architectural Firm, China redesigned an old home in Shanghai's historic residential Xuhui District on Heshan Road. The residents of the house—a couple and 51 cats–share one room, which spans a total of 31 square meters. To get a better idea of the residents' needs, the designers lived with the clients and their cats in the space for an entire day.
Old House in Wabi Sabi by SOAR DESIGN STUDIO, Taiwan, is driven by harmony with nature and outside surroundings, again featuring a tree-planted courtyard.
How How Living Project Lab designed by Inheressence Design Studio, Taiwan, and manufactured by Nian Feng Construction co.,ltd, Taiwan, is another residential project where nature and open space takes centre stage. The pine tree courtyard in the centre combines multiple sections and stories of the house.
J.Y. Living Experiment Studio—a personal favorite—was designed by HAO Design,Taiwan. The designers incorporated a "Living Lab", a workshop for lectures and artwork, and the space now hosts art residencies and exchanges for members to create their ideal lifestyle at the studio.
Public Space
Mirrored Shelter, located on the Longxi river outside the old town of Longli by One Take Architects, China, is part of a series of architectural installations designed with the goal to create new local landmarks and vantage points where people can rest, enjoy, and reflect. By day, the glass façade reflects the town's image. But after dark, the shelter becomes a lone glowing building on the bank, like a lantern.
Food and Beverage Space
Vicino Cafe by NEW RELAX INTERIOR DESIGN, Taiwan is a beautiful building connected by vintage tiles, rotten wood, unfinished cement walls. One remarkable features is the washed pebble floor, which encourages tactile sensations or, in the designer's words, "the loveliness of this world on an ordinary day, while waiting for a cup of coffee." As a digital worker who lives and breathes in coffee shops, I could see myself doing some of my best work in a calm and open space like this.
Jury member Johnny Chiu, founder of J.C. Architecture, is a proponent of this new spatial design that merges interior and exterior space, which creates what he calls "a sense of spatial transparency." He pushes back against filling spaces with expensive furniture or decoration. "One thing that jumps out today about the spaces is the removal of boundaries between inside and outside. Asian people, and especially Taiwanese, have this tendency to not really care about their exterior space. I think it's very important to change this spatial concept."
Another juror, Effie Huang, design director at EHS ArchiLab, identified a trend towards minimalism in built spaces, as opposed to an "accumulation of objects that was common to see in the past." Here, I recall my own home in Singapore, and how the homes I've seen in my country are often filled with glass showcases and shelves of collected things which aren't practical, useful, or otherwise necessary. Effie Huang relates the new bareness we see in this year's projects to "the rise of contemporary individualism." Perhaps, with more people now being able to build a space for themselves (it is common in many Asian countries for generations to live under one roof), this in turn paves the way for more individual choice, and the huaren community is opting, overwhelmingly, for modern, minimal interiors when they choose.