Looking for a holiday home, a young family reached out to SAOTA to design a house where extended family and friends could stay while also focusing on the view. Silver Bay is located at Shelley Point on the northern tip of the West Coast Peninsula in South Africa, which juts out into the Atlantic Ocean. The house sits on a plot of land that faces east over the bay looking towards the mountains, resulting in spectacular views.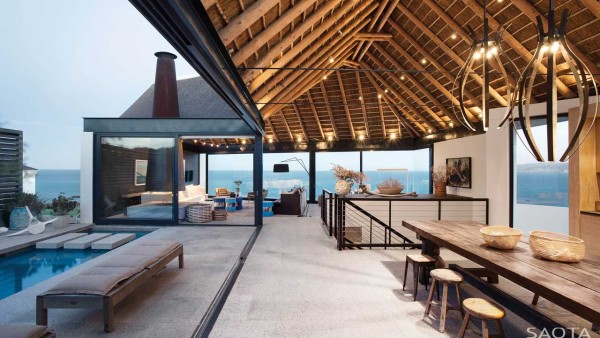 The sloped land meant placing the communal living spaces on the upper floor, while the bedrooms and a playroom are on the lower level. That meant the main living areas got the best views of the bay and the water's edge. Working with the location's wind and sun issues, the pool was positioned within a courtyard to bring daylight into the house and to make the outdoor space wind-free year round, no matter how bad the wind is.
The upper level is designed as one large, open L-shaped space centered around the courtyard and pool. The living room has floor-to-ceiling windows that frame the picturesque water views.
The project tapped OKHA Interiors to outfit the home with its comfortable, laid back furniture.
A thatched roof is supported by an I-beam around the perimeter. It allows for the open, cathedral ceilings.
The interior was left in the good hands of Antoni Associates who created a warm and cozy mix that feels very easy to live in. Natural materials are mixed giving lots of texture throughout the spaces.
The split staircase is also made from I-beams and topped off with thick, Eucalyptus planks.
The bedrooms feature curtain tracks with curved corners that give off a cavernous feeling while sleeping.
Photos by SAOTA, Adam Letch, & Enda Cavanagh.