Melbourne and Sydney, Australia-based firm Rob Mills Architects employed a monochromatic palette of concrete, honed basalt, and hand hewn timber on both the interior and exterior of this airy coastal abode. That's some fireplace wall, with ample bench seating.
This is architect Amanda Yates' own seaside home in New Zealand, as seen in Dwell.  This is, in fact, the living room of the home with the green oven that we featured last month. The sloping concrete wall seen here echoes the design of early Maori structures which were dug into the ground.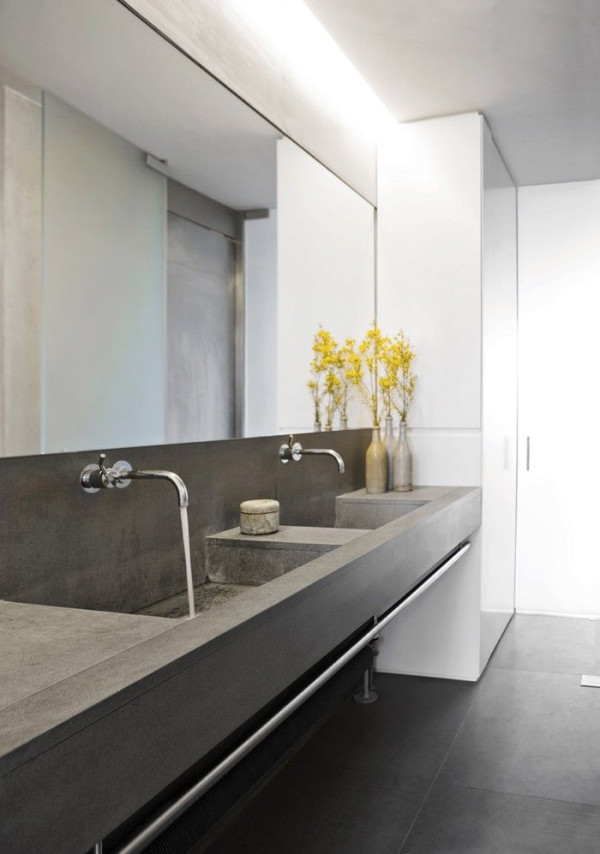 Solenne de La Fouchardiere, one of the principals of UK-based design firm Ochre, designed her own East London loft with plenty of concrete. The double trough-style sink is super spacious, and one could hang a hundred towels on the bar underneath the entire expanse.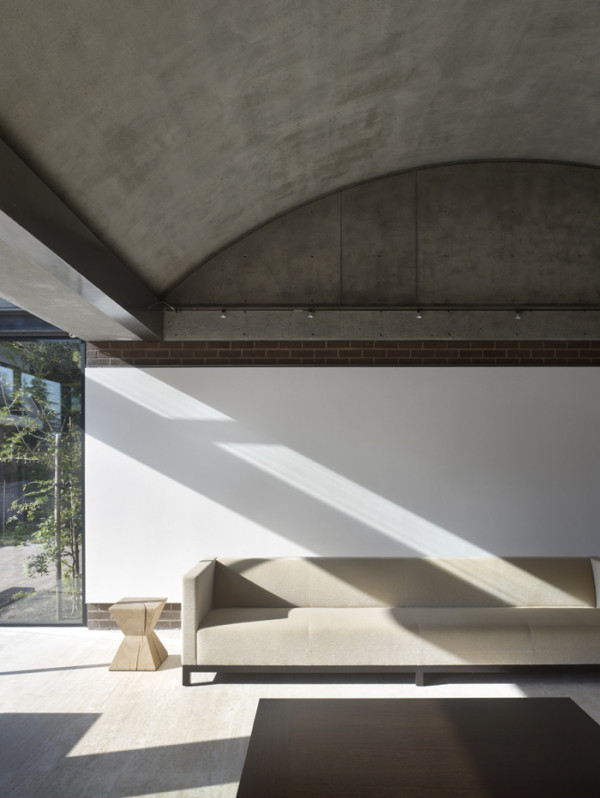 This 7,000-square-foot home in Piedmont, Caliornia was originally built in 1974 for a concrete magnate! No surprise then that the workmanship of the concrete barrel vaults (look at that ceiling!), which were cast-in-place is extraordinary. In 2001, its new owners hired Ogrydziak Prillinger Architects to remodel it to suit family life.
This apartment building in Berlin, built by AFGH Architects, has an unfinished, but very cool interior, with concrete and plywood walls. Basic and raw, but definitely stylish.
See the chevron pattern of light on the concrete pillars in the entryway of this Vancouver home designed by Petkau Architects? They're cast by water from the glass-bottomed swimming pool above. Seriously cool.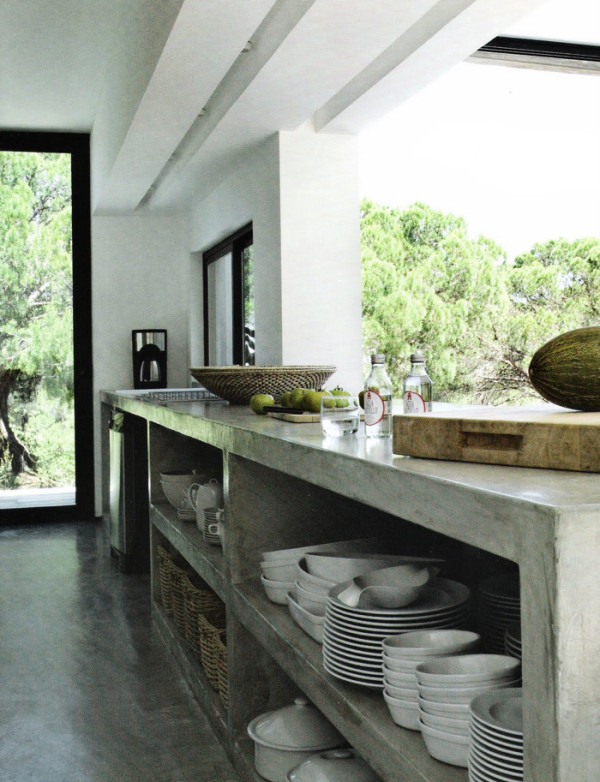 The polished concrete kitchen island with open shelving in this photo from French magazine Maison Cote du Sud, provides plenty of storage and workspace, and lends some edge to the somewhat rustic room.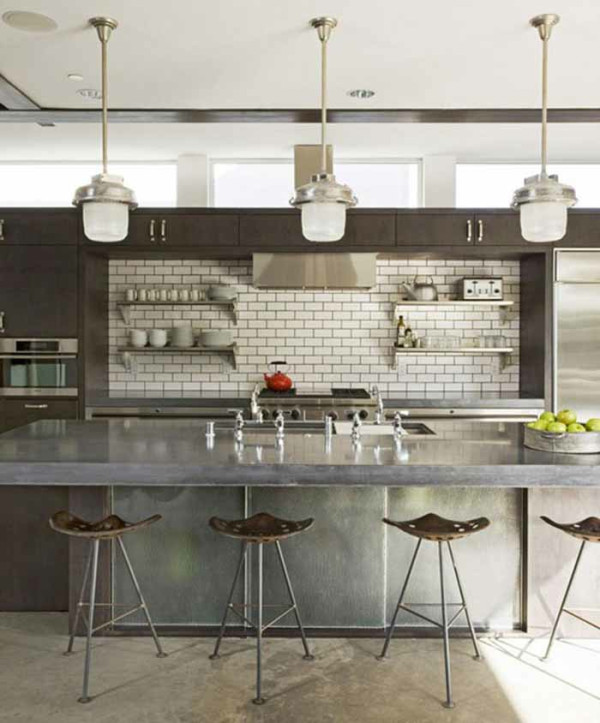 The industrial modern kitchen is proving timeless, like this one in Santa Monica, California designed by Randy Weinstein. With its white subway tile paired with black grout, stainless steel finishes, vintage tractor seat stools, factory pendants, and a polished concrete floor, it's the epitome of the aesthetic.
Concrete cubbies might not be your first choice for storing porcelain, but the chunky concrete shelving unit is gorgeous. The floor in the kitchen of this house in Sri Lanka, by architect Geoffrey Bawa, is polished concrete too.
This airy, light-filled dining space is grounded by the gray concrete floor, which contrasts nicely with the textured white ceiling.
The rough finish of the concrete island and oversize column are balanced by the smooth wood table with contemporary lines, and modern black chairs. The stainless/wood teapot adds a slightly Japanese flavor.
The wood-like effect and gray tone of these "Soleras" ceramic floor tiles by ABK work well with the contemporary concrete soaking tub in this no frills bathroom.
For more looks like these, check out Concrete Sinks, Showers, and Tubs on StyleCarrot.