Microsoft Ocean Plastic Mouse Hopes to Turn the Tide Against Plastic Waste
Microsoft Ocean Plastic Mouse Hopes to Turn the Tide Against Plastic Waste
1/7 Photos
2/7 Photos
3/7 Photos
4/7 Photos
5/7 Photos
6/7 Photos
7/7 Photos
With the majority of press surrounding Microsoft's recent Surface event focused upon the company's intriguing more-than-meets-the-eye flagship laptop, the Surface Laptop Studio, alongside other 2-in-1 form factors reflective of the company's commitment to convertible computing devices it was easy to miss the reveal of a smaller accessory – an eco-design conceived to reuse plastic detritus collected from the ocean and turn it into a point and click peripheral, the Ocean Plastic Mouse.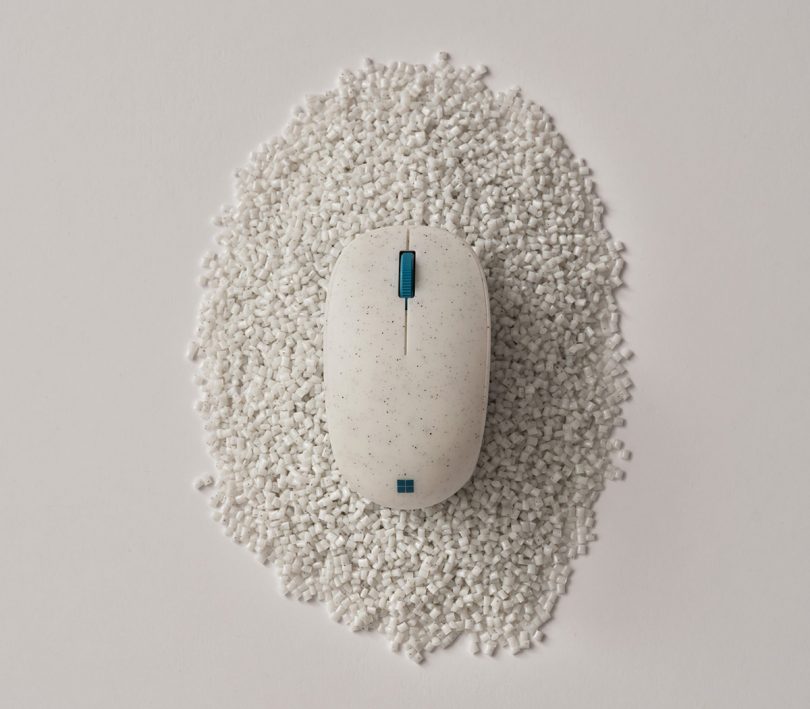 "The team wondered, why couldn't we make a resin out of plastic in the ocean and make a dent there?" said Patrick Gaule, senior designer on the Windows & Devices design team. "We started formalizing this idea. What type of resin? What kind of product? We came up with a plan to look into it. We were sure it was going to be very hard. We weren't sure it was going to work."
And thus Microsoft set out to conceive a scalable method for converting gathered plastic bottles, bottle caps, packaging and other discarded waste polluting waterways and coastlines, breaking them down into raw polymer resin pellets to form the external shell of their new mouse.
Because ocean plastic tends to already exhibit signs of molecular degradation caused by heat, ultraviolet light, moisture and salt exposure (left long enough to churn in the ocean, these plastics degrade into the minuscule nightmare known as microplastics now found in nearly every water source and ecosystem), the Microsoft team needed to discover new methods ensuring the polyethylene terephthalate (PET) commonly used to make water bottles into a material suitable for a consumer electronic device.
"The resin used is polyester, which is good for water bottle applications but not a common material used for consumer electronics," said Tony Li, a principal mechanical engineer for Surface devices. "That's the challenge. All plastics have different behavior. Polyester has higher mold shrinkage, lower heat deflection and the material has higher moisture absorption than other resins more commonly used for hardware enclosures."
The resulting design isn't made entirely of recycled plastic, just 20 percent. Microsoft says their original goal was to use half that, 10 percent recycled ocean plastic for their Ocean Plastic Mouse. But in the process of developing the resin, the team was able to eke an additional 10 percent more of the recycled ocean plastic by weight – the equivalent of half of a 16-ounce water bottle. The resulting mouse is covered in speckled plastic reminiscent of vanilla ice cream, complemented by a blue tinted scroll wheel.
But you may be wondering, "Why not 100% recycled plastic?". The chemical composition of their proprietary recycled PET plastic proved a roadblock toward this ideal goal; a mouse made entirely of recycled resin sourced from water bottles "would not meet mechanical and reliability specifications" according to Microsoft's engineering team. Instead, a resin blend combining PET and polycarbonate (PC) plastic was found to offer a balance between durability, comfort and aesthetics.
Microsoft notes the Ocean Plastic Mouse represents an early effort to integrate recycled ocean plastic as a rule rather than an exception. "This isn't the be-all, end-all," says Patrick Gaule, senior designer on the Windows & Devices design team. "This is one example, and we want to do more of this. What I really look forward to is the kind of dialogue with our customers who buy these. I want to hear why they did it, what was interesting about it to them. Because that's only going to help us going forward."
The Ocean Plastic Mouse is available now for $24.99 via Microsoft.com.