Situated in Hangzhou, China near the West Lake, the Mylines Hotel is a recently renovated hotel that features a unique theme. Through interior design, exterior design, scale, plan organization, sound and lighting, the hotel focuses on activating four indispensable senses: relaxation, romance, relief and passion.
According to interior design company LYCS Architecture, the 33 rooms inside the hotel are categorized by primal human needs and help create a sensory experience specifically for couples and lovers without leaning towards flashy or tacky. There are five categories that each room falls under: narcissism, long-cherished lust, exposure, fantasy, and romance.
The Narcissism rooms use mirrors as an instrumental element for creating the atmosphere as well fooling the eyes into seeing a bigger space. The central piece of furniture in the room acts as three separate objects: a mini bar, desk and bed.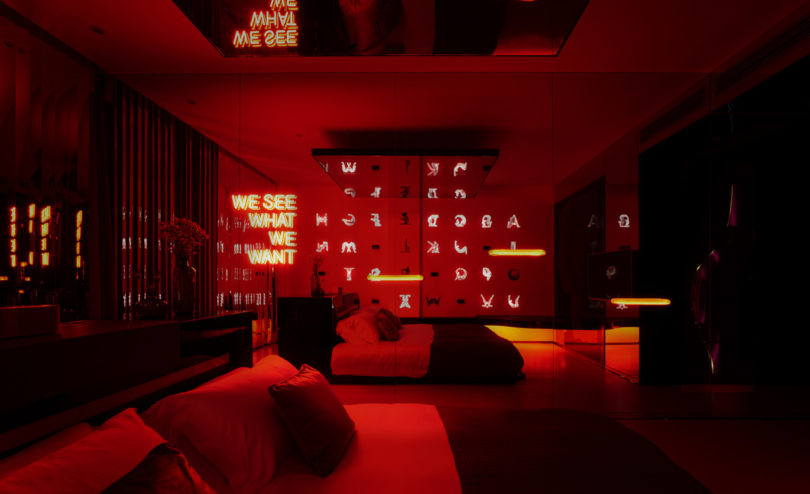 The Long-Cherished Lust rooms play on the idea of delayed gratification and feature two separate bathrooms, showers and corridors that eventually meet in the bedroom. This theme of "halves" is reflected in the fixtures, art, walls, ceilings and furniture.
The Exposure room lets your inhibitions run wild. Except for the entrance and bathing areas, the entire room is fully transparent from the inside out with floor to ceiling, one-way glass.
The Fantasy rooms have a surreal atmosphere with white floors, white ceilings, walls painted with a misty forrest and a red-blue gradient mosaic. Here, you get a sense that you're floating above the clouds or alternatively beneath the waves.
Last but not least, the Romance room features a comfortable interior, hazy lights, filmy shades and a semi-enclosed, translucent bedroom space. A mini bar and theater help set the mood for a cozy night in.
What: The Mylines Hotel
Where: No.33 Dazifu Miaoqian, West Lake, Lingyin Temple Scenic Area, Hangzhou, China
How much? Rooms start at approximately $115 per night.
Highlights: The Mylines Hotel offers a unique and rare sensory experience that caters specifically to couples and lovers (aka perfect for honeymooning).
Design draw: There are five thematic kinds of rooms that are designed to invigorate the senses.
Book it: Recommended by LYCS Architecture, book your stay at the Mylines Hotel through Ctrip, an international provider of travel services.
Photos by XIONG Wei, WU Qingshan, and HU Xianjuan.