Recent Uploads is designer Ronen Kadushin's exhibition that opened last month at Appel Design Gallery in Berlin. In the exhibit, he created six different chair designs using the Open Design method. Open Design is CAD information published online under a Creative Commons license to be downloaded, produced, copied and modified. Additionally, it is a product is produced directly from file by CNC machines and without special tooling. The concept promotes a new product and services market is a natural outcome of a network of designers, manufacturers, consumers and retailers using a common pool of open designs.
Laser cut from a 6-mm aluminum sheet and bent and assembled by hand, each chair uses a twist hinge that has been perfected by Ronen. The selection of chairs consists of three unique structural configurations, each presented in two variations.
From the designer:
Each chair draws its inspiration from different narratives: design references, emotional states, city life, and street art. As a group they realize a personal design approach that embraces free improvisation and an immediacy of outcomes, whether a computer image or a physical object. This mood resonates in the choice of raw cut, exposed material chairs.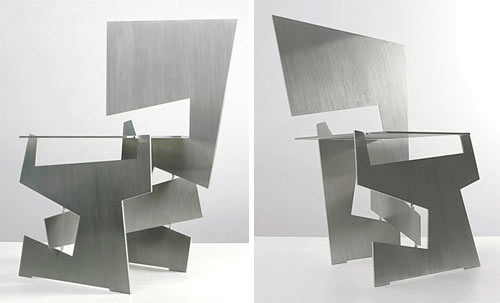 Hack
A chair with a literally "hacked" look, following a warm response to my design work from the hacker community. It is the first chair designed for this collection.
Flatveld
A homage to the iconic Red and Blue Chair designed in 1917 by Gerrit Rietveld.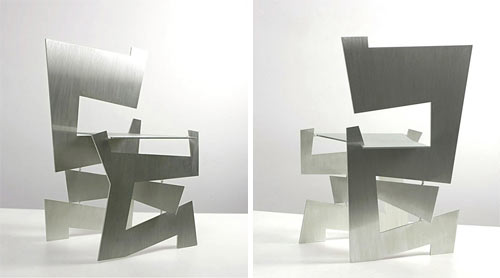 Graffiti
A typical Berlin feature becomes inspiration.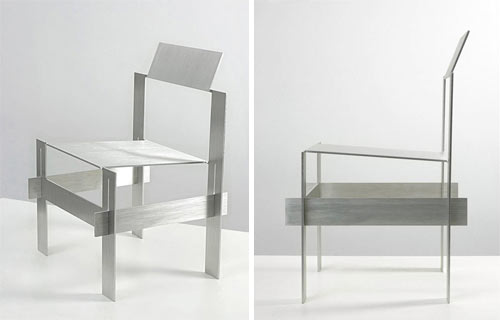 Simpleton
Trying out some good old functional- extreme geometric-formalism. Just for fun.
Vague
Unresolved and restless.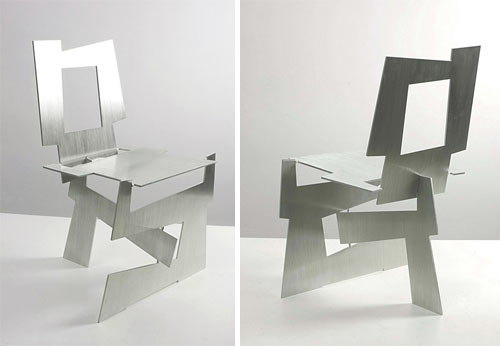 Tel Aviv
Impressions from a rough edged city I lived 14 years in.
Check out this video from the opening in which you can see him making the chairs:
Photos by Chanan Strauss.